Kaz'Out Musik Festival 2019 Artists Line Up Kaz'Apero
Arts & Culture Hot List
So let's get to know the artists who will perform on the scene "Kaz'Apero"
15hrs - 16hrs
Ila Rio
Mauritian Pop Music will be present in the 2019 edition of the Kaz'Out festival with Ila Rio. A few words to describe this artist; he is a stunning one man show, a multi-instrumentalist, who was already playing drums at three, he learned to play guitar and piano in 2015 and finally in 2016, started to sing.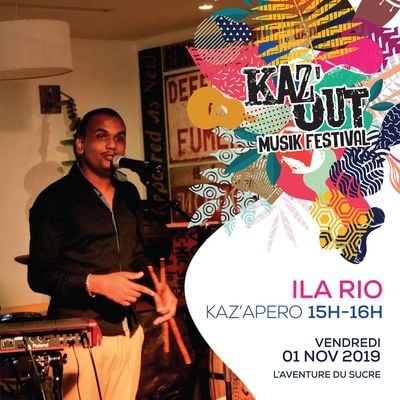 He has created all by himself his first single 'Viv to la vie', which was released in 2018 (from the composition of the music to the writing of the text). This single, is a message of hope for young Mauritian people both in terms of music and writing.
He proposes a different kind of Mauritian music, his songs are in Creole but inspired by contemporary styles, like dancehall and kizomba, among others which are mostly the music young people of the island enjoy listening to. The technique he uses to create music is also contemporary because his music is electroacoustic. He uses both musical instruments in acoustics and the contribution of technology (sampling pads).
If the young man follows in the footsteps of his father Mario Armel, a well known Sega artist, Ilario wants to stand out from the latter with a different music. He wants to make himself known for his own merits, and claims his musical identity. And that is much to his credit.
17hrs - 18hrs
The Two
Just like the old Mauritian saying goes 'Mountains never come across but mankind meets mankind', 'The Two' is an improbable encounter between Switzerland and Mauritius.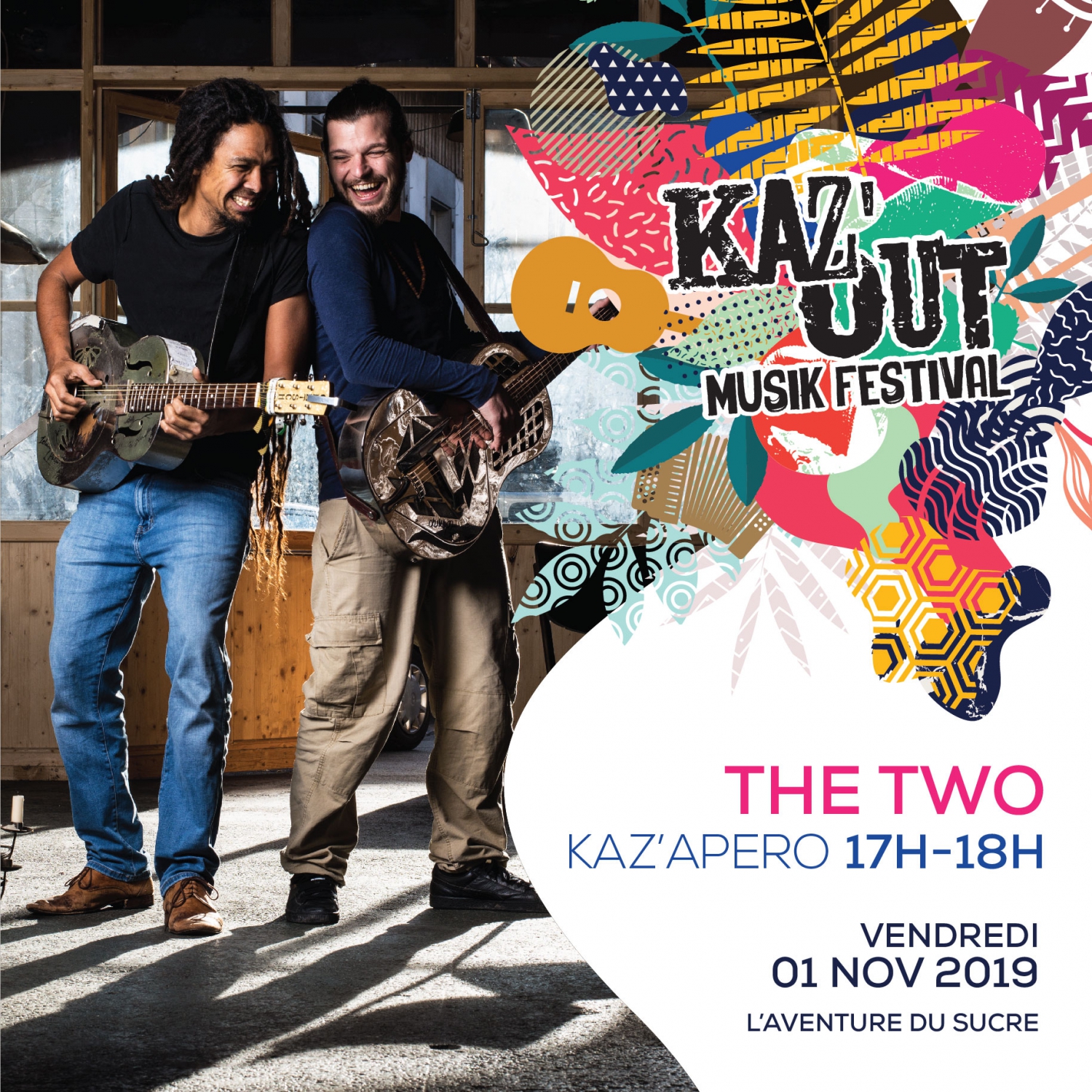 Through the Blues, the music of tormented tales, a beautiful musical collaboration
was born between the Swiss musician Thierry Jaccard and the Mauritian Yannick Nanette
They distill us their Blues music with is both subtle and inflamed.
The two artists have their roots firmly rooted in the 20s but are at the same time influenced by modern and Creole sounds. The duo leads us on maroon tracks where these two artists roam as pensive wayfarers with their major vector being the inner bubbling of the Blues that vibrates in their souls and in their bones.
But to connect the duo's blues to melancholy alone would be a serious mistake, for their musical notes shine with positive waves, along with their smiling faces. They released their first album "Sweet Dirty Blues" in 2014, "Crossedsouls"followed in 2018, reinforcing their will to simply forge bonds all way through.
They are actually nominated in two categories: - Best Act Pop/Indie/Folk & Best Live act at the SwissLiveTalents which will be held in Bern on the 15th & 16th November 2019. In January 2019, they were also nominated at the Swiss Music Awards in the category "Best Act Romandie".
«On the road again, where the music takes us.»
19hrs - 20hrs
The Dizzy Brains
Since the time Kaz'Out wanted to have them at the festival, The Dizzy Brains will finally be here in Mauritius for the 6th edition of the festival! Their career took a new turn after their performance at the 'Trances Musicales of Rennes' in 2015.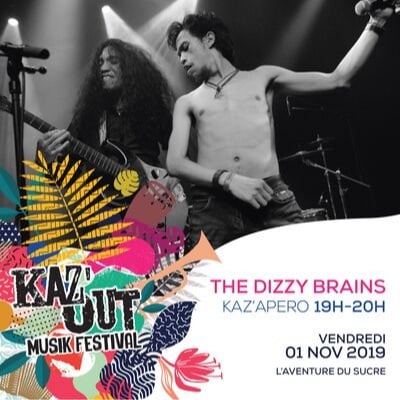 Their name which literally means "Les Étourdis" in French, is inspired by 2 French artists: Jacques Dutronc known for his irony in his texts and Gainsbourg for his "je-m'en-foutisme" (carelessness), The Dizzy Brains glorify both traits of the these two French artists. They even made a cover of one of Jacques Dutronc songs "Les Cactus", in a thorny version in their first album.
Who are 'The Dizzy Brains', we can well talk about a family dynasty just like the Asheton (The Stooges), rather than the Gallagher (Oasis). It is a garage rock band of 4 members, inspired by The Sonics. They adapted versions of "Louie Louie" and "Have Love" in Malagasy in their first album "Môla Kely" released in 2014. Their music is a mix of everyday narration and mini orchestration.
The Andrianarisoa brothers; Mahefa, the bassist and Eddy, the singer are two songwriters and music composers in their twenties, raised to the vinyls of a music-loving father (The Kinks, The Kingsmen, The Vines, The Sonics …) It was in 2011 that the idea of a rock music group sprang. The two other members are Poun at the guitar and Mirana at the drums. To date, the Malagasy rock has fewer friends than his fellow metal or folk music, yet the group fights injustice, lack of possibilities and freedom restriction in the everyday life of the islanders through this rock music giving it a freeing dimension.
They are back with a second album called "Tany Razana" which means in Malagasy the "Burnt Earth" or the "Dead Earth" in 2018. Get your ears ready for their performance at Kaz'Out, as this one will be a massive one.
21hrs - 22hrs
LT Stitchie
Kaz'Out likes having an MC every year that ignites the Kaz'Apero. This year he comes from Jamaica and is one of the pioneers of dancehall! He is easily and undoubtedly one of the most sort after Artist in the genre of reggae and dancehall; LT Stitchie.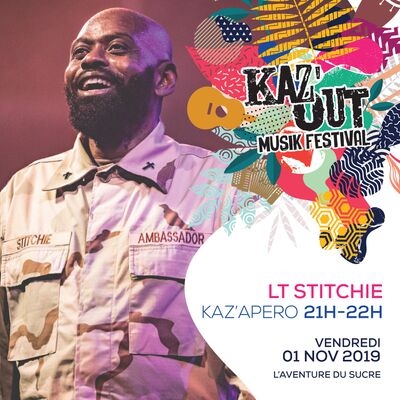 Cleve "Lt. Stitchie" Laing, is one of dancehall's most acclaimed icon. He is a gifted lyrical genius; usually described as the LEXICON of Reggae and Dance Hall Music, when it comes to writing lyrics. His superb and unique style combined with a powerful delivery made his music stand up to the harshest of critics.
He continues a high voltage trend of upward mobility of excellence with each album he releases.
When Lt. Stitchie makes an appearance on stage, get ready for an explosive, electrifying and high energy performance.
Discover this sound of Lt. Stitchie and his incomparable vocal power
23hrs - 00hrs
Ken Zo
Have you heard about Mauritian psytrance? After having studied music theory at the conservatory, Kenzo, (one of the few Mauritian producers) decided to put his passion for music at the service of electro.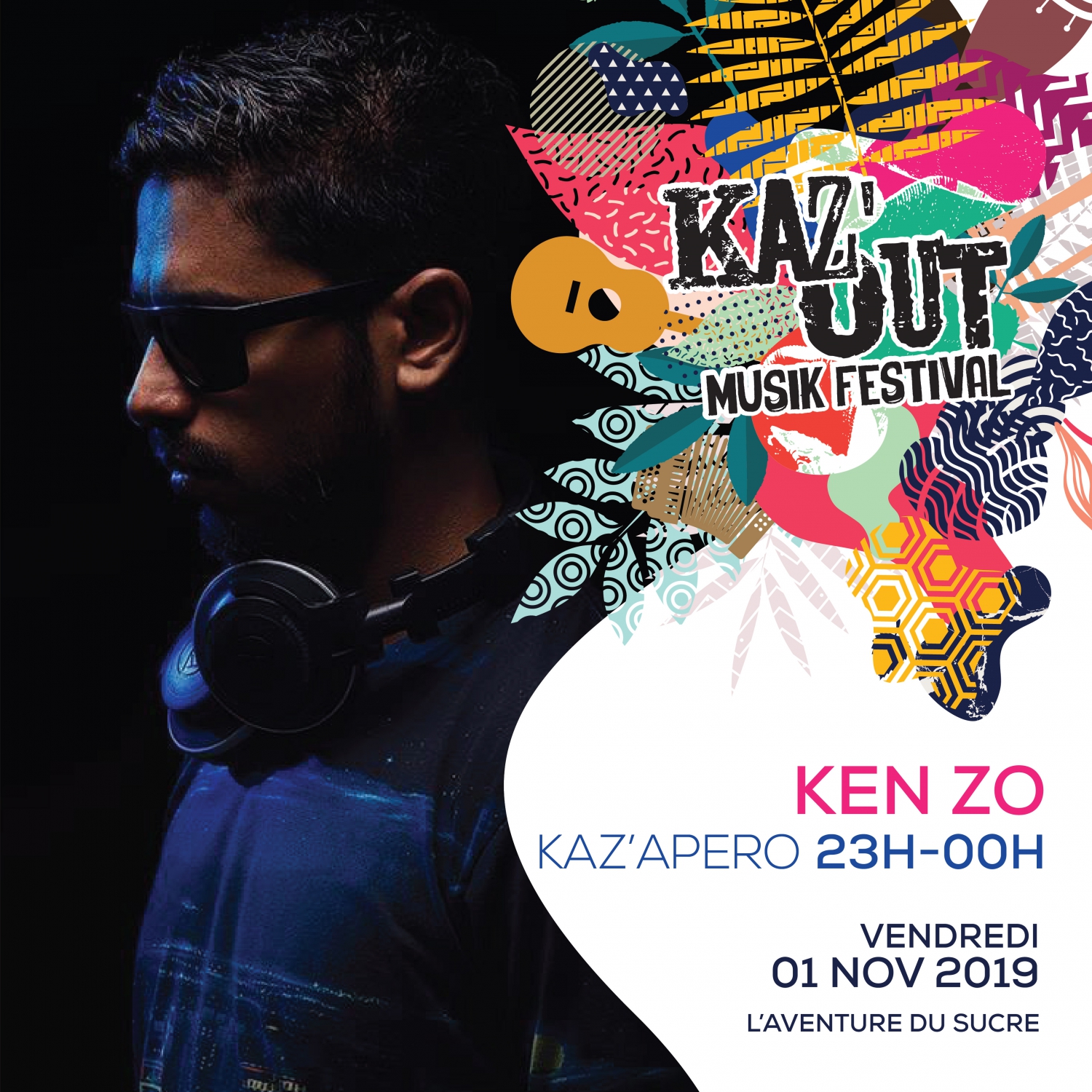 Born in Mauritius, Ken Zo grew up surrounded by music. During his childhood he attended the 'Conservatoire de Musique François-Mitterrand' and the 'Conservatoire de Musique Frédéric Chopin' where he learned to play different music instruments. Throughout his teen years he explored different genres of popular music. He finally found his passion for electronic music in 2005.
In 2007 he began DJing and made his first, and isolated, club appearance that same year. It's only in 2009, once he finished high-school that he pushed harder to integrate the mauritian nightlife to play house & techno. During that year he released his first single under the alias Mr.Snob.
In 2011 he creates the project Ken Zo while living in Melbourne for his studies. Aiming to explore the fusion of the techno & psychedelic trance genres, he releases his first EP in 2012 on the Italian label, Criminal Zone. He played across Australia for over 3 years and released tracks on two Australian labels, namely Sonic Elixir and Bassic.
Ken Zo flies back to Mauritius in late 2014 where his popularity slowly picked up with each event he performed at. He is now one of the main underground DJs of the island. In 2015, Ken Zo released with Canadian based label, Techgnosis Records and has been collaborating with them for the past 3 years.
But Ken Zo has not only made his mark through Djing and producing but also by putting up some of the biggest proper underground events; Under the banner of Omnitech Mauritius he collaborated to host Ekta 2015, Astral Dream 2015, Evolved Reality 2016 & Goodvibes 2017.
Ken Zo was awarded the Backstage at Hennessy award for Best DJ of the year 2017.
Click for the Line Up on the
Dan Vilaz stage
Click for the Line Up on the
Kanbar stage
Click for full details on the event
Kaz'Out 2019