L'Exil Lodges, nestled in Nature
Lodges
L'Exil Lodges is nestled in the unspoilt Combo Forest in the south of Mauritius in the village of Riviere Des Anguilles. Contrary to the usual, filaos, palm and coconut trees, white sand and blue lagoon of a typical Mauritius breakaway, L'Exil Lodge offers to the visitors a quieter and more relaxing break.

For those nature lovers who enjoys tranquility, quietness, greenery, rambling, waterfalls and forest atmosphere then L'Exil Lodges is definitely the place for you. When you are at the Lodge you will need to forget your everyday life as it is found in the middle of a forest.

You will only have WiFi connection in the lounge of the Lodge. Away from technology, social media, and all those other distractions to allow you to disconnect and yet re-connect with nature. It is the best place to have a real break from your busy life with an open view of the endemic forest and scenic view of waterfalls.



Highlights of L'Exil Lodges
Nestled in Nature with the magnificent views of 'Leon' Waterfall
10 lodges with a cozy and rustic-style deco
Easy access to the waterfall where you can swim
Great Place reinvigorate, re-energies and reconnect with nature
One of the favourite accommodation for Couples for honeymoon or a romantic break
Rooms have either a scenic view of Léon waterfall or the lush green forest
Restaurant and bar set on a terrace serving Mauritian food with scenic view
Wake up to the sound of birds and hear the sound of Leon waterfall from your room
Easily book 3 hour guided tour to the forest
Quad Biking also available



L'Exil Lodges - Rooms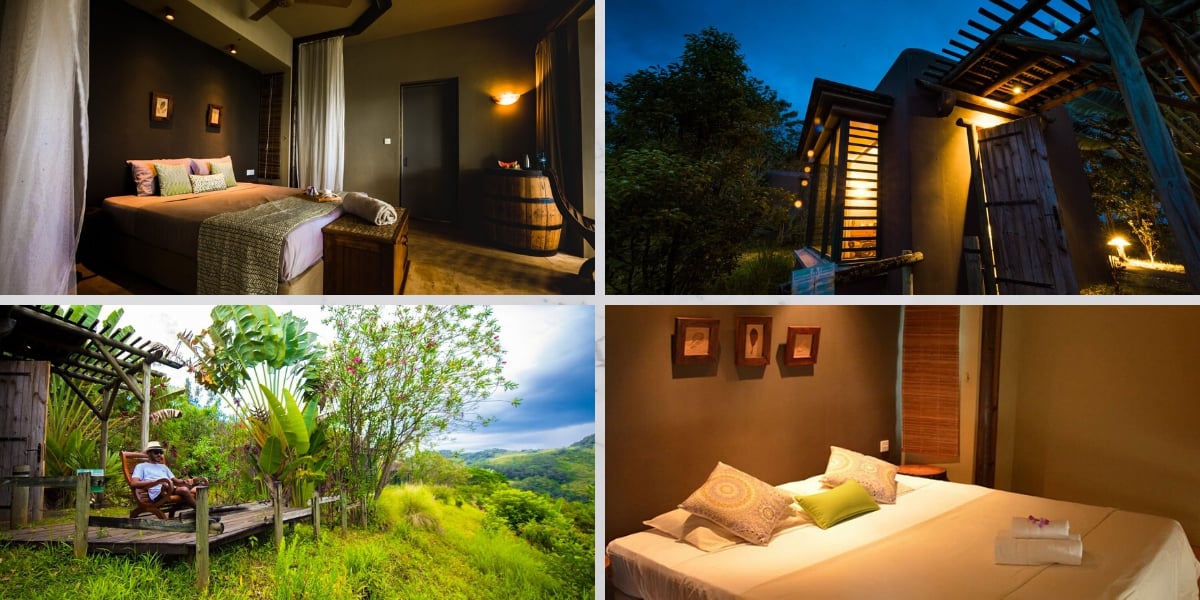 There are 10 nice spacious lodges at the L'Exil Lodges all with the same standard design, décor and amenities right in the middle of a lush green forest, the scent of hibiscus and other tropical flowers.

Some of the rooms have a scenic view of the waterfall and others are blessed with a pleasant view of the endemic forest.

Each lodge has a size of 18m2 and has the following amenities: ceiling fan, coffee/tea making facilities, in-room safe, linen, mosquito nets, shower, Toiletries and towels.

Although the room is fitted with basic amenities, it is styling and has a warmth feeling where you can really connect with nature and you will feel so great. Whether you're inside or outside you'll feel the forest all around you.

Each room can accommodate 2 adults plus a child (up to 12 years old). You can book the room with the following options:
Bed & Breakfast
Half Board
Full Board
The room may also be booked as 'Day Use' as well with lunch included.

The place is already romantic, you may also ask L'Exil Lodges to a romantic setup in your room at an additional cost to awe your love!



L'Exil Lodges - Restaurant & Bar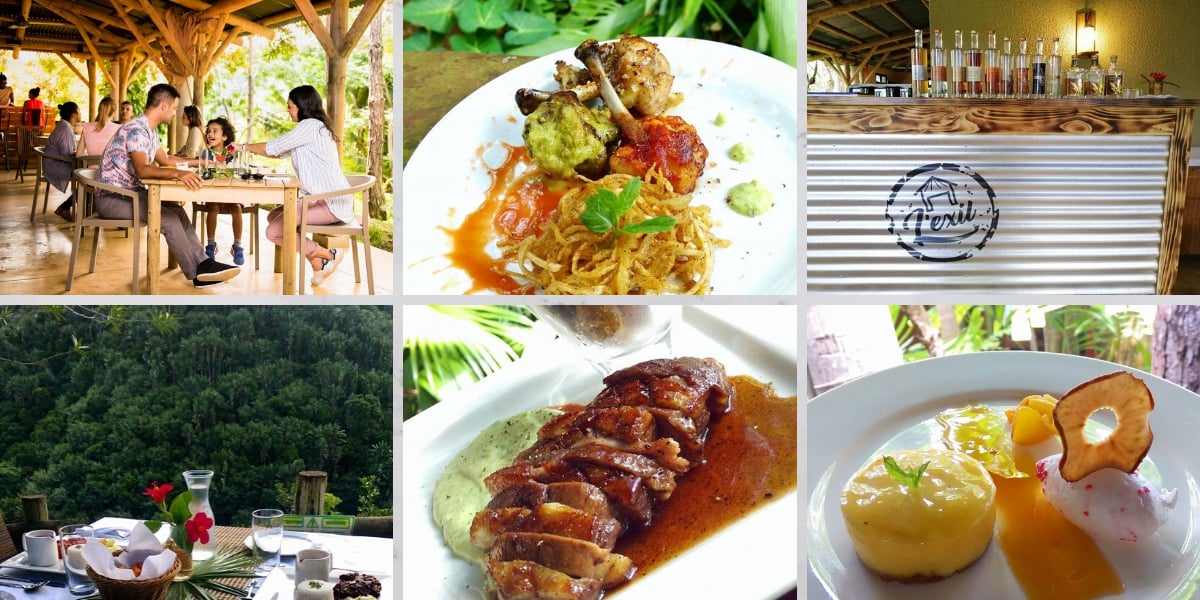 L'Exil Lodges has its own restaurant and bar, as you can imagine it is cozy and it is set on a terrace that fits well with the overall surroundings with scenic views.

Authentic Mauritian food are served at the restaurant for lunch and dinner and a continental breakfast. It is set on a terrace with a beautiful view of the valley. Do not forget to try their collection of local Mauritian rums. Plenty of drinks available onsite if you want to relax and unwind at the end of the day.

Additionally, the staff at L'Exil Lodges will prepare for you (upon request) a picnic basket full of plenty of snacks when you are headed out for a day trip hiking through the forest.



L'Exil Lodges - Activities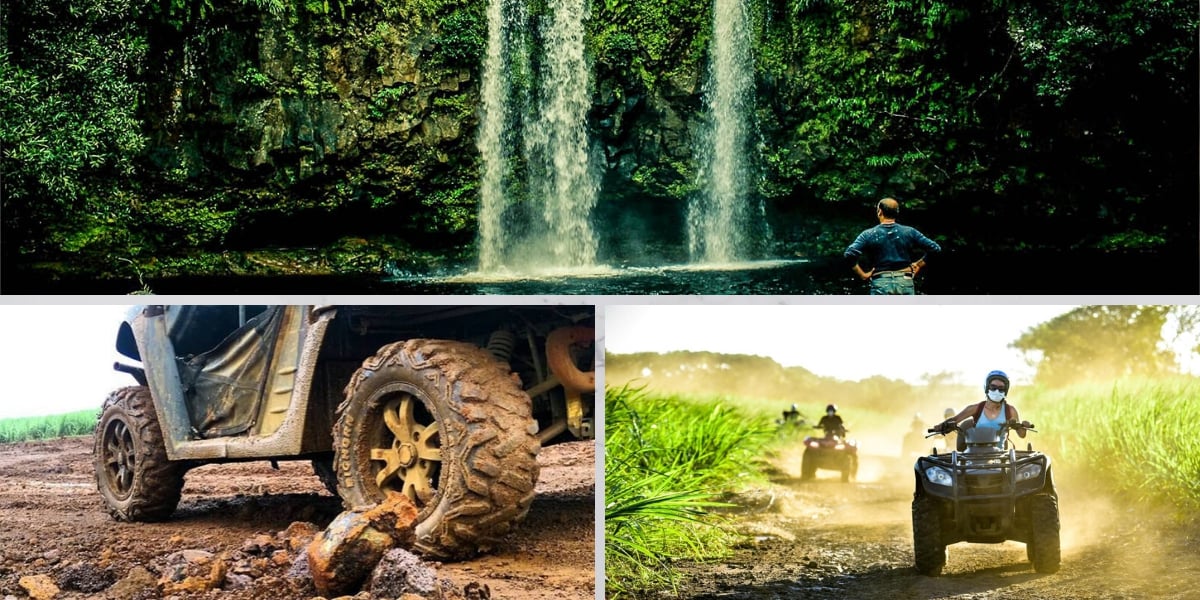 Some of the guests favourite activities are those in the forest itself. Lace up your hiking boots and head into the forest paths for some hiking under the nice shade of the trees. You may book a 3 hours guided walk through the wildlife Combo forest.

You will surely enjoy the waterfalls which are easily accessible, only a 15 minutes hike away from the lodge. Spend a few hours swimming at Leon waterfall, connecting with nature and observe fruit bats in their natural habitat. You want want to leave once you get there!

You can also do Quad Biking and explore the beautiful sights around L'Exil Lodges. A journey that will make you fall in love with the nature of Mauritius. You can easily book your quad bike ride at the reception, a service which offered by Big Foot Adventure, a well reputed company.

Places that are close to L'Exil Lodges that are worth a visit are:
La Roche Qui Pleure - 3.1 km
Telfair Garden - 2.9 km
Robert Edward Hart Memorial Museum 2.9 km
Gris Gris Beach - 2.9km
Riambel's Vortex, Surinam - 4.9km
Rochester Falls - 6.3 KM
La Vanille Nature Park - 6.4 KM
Le Domaine de Saint Aubin - 0.6 KM



L'Exil Lodges - Guests Reviews
L'Exil Lodges has received many reviews on different websites including google, tripadvisor, facebook, booking.com, agoda, expedia etc.

Overall rating across all the different sites are on average 4.3/5.

Here are some of the highlights of the reviews:
Beautiful tropical location. Staffs are very friendly and provide the best service
Lovely Lodge with great service
It is a true retreat from civilisation and a connection back to nature
We had an incredible getaway experience at L'Exil Lodges
You made us discover another aspect of Mauritius. The service from start to finish, all of you guys really exceeded our expectations
The atmosphere, the staff, the room, everything was just perfect!
A true immersion in nature
We had a really good time, the waterfall is awesome and easily accessible
Place to unwind, relax and just do nothing but enjoy the nature



L'Exil Lodges - Good to Know
As the lodge is situated in the heart of a forest there are a lot of mosquitoes especially during summer, so please bring any repellent.
Ask for a room that offers a view to the Leon Falls
The access is not appropriate to cars, it is better to take the shuttle up to the mountain if you are in an all terrain vehicle. It is a bumpy ride of approximately 3 KM to the mountain but the view up there and the scenery will blow your mind



L'Exil Lodges - Book your Room
Before you book your room at L'Exil Lodges, Click here to compare the prices with many booking sites to ensure that you get the Best possible rate


Contact L'Exil Lodges, nestled in Nature
Make Enquiry.
Directions
Budget
Best For Whom
Couples
Leisure Travellers
Best For What
A Bit of Romance
A View To Die For
Off The Beaten Path
The Local Experience
Adventure
Nature
Relaxation
Outdoor Area