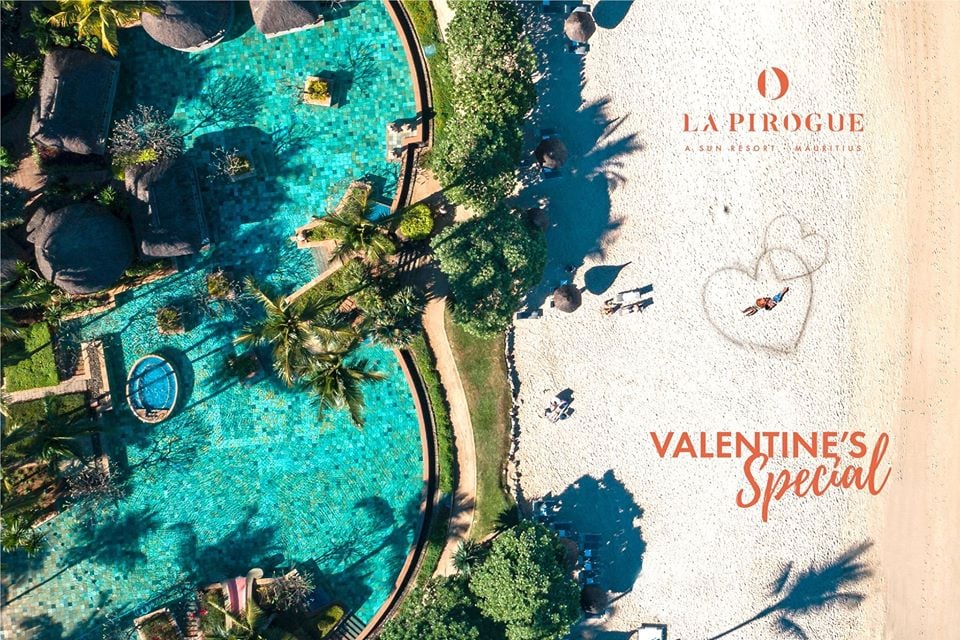 Valentines Day at La Pirogue
Fri Feb 14th 2020 at 18:30 until 22:00
---
Wolmar

,

Coastal Road

,

Mauritius

,

Flic en Flac
https://www.myguidemauritius.com/events/valentine-s-day-at-la-pirogue
---
La Pirogue Hotel
MAKE ENQUIRY
Event Details
𝗩𝗮𝗹𝗲𝗻𝘁𝗶𝗻𝗲𝘀 𝗗𝗮𝘆 𝗮𝘁 𝗟𝗮 𝗣𝗶𝗿𝗼𝗴𝘂𝗲
Whatever your belief is as to the origins of this celebration one thing is for sure that it is all about partners sharing love and affection for each other. At La Pirogue we offer 3 dinner options in some of the most romantic locations available

Option 1: 𝗧𝗵𝗲 𝗟𝗮 𝗣𝗶𝗿𝗼𝗴𝘂𝗲 𝗦𝗲𝗮𝗳𝗼𝗼𝗱 𝗕𝗮𝘇𝗮𝗮𝗿 at Rs 3,499 per person

We welcome you to an exotic beach venue, our bazaar, is set up on one of the finest beaches the west coast has to offer. You will be welcomed with a romantic touch of pink in the form of a glass of rose bubbly served with a selection of canapés at your table.
Thereafter you will be invited by one of our hosts to visit the bazaar where you will be assisted to make your selection from a choice of the finest fresh fish and seafood the island has to offer. Once done this will be prepared for you by our chefs from a kitchen under the stars and served to you, family style, in the comfort of your table. Romantic music will be provided throughout the evening by our Saxophonist and Resident International DJ, JP Chronic and for those who wish to linger our resident DJ hailing from the white island of Ibiza will keep you chilled out until late.
For the ultimate romantic experience a limited number of tables of two are available on the jetty with an additional supplement but including a bottle of French Champagne.

𝗦𝗛𝗔𝗥𝗘 𝗬𝗢𝗨𝗥 𝗘𝗡𝗧𝗥𝗘́𝗘 𝗪𝗜𝗧𝗛 𝗬𝗢𝗨𝗥 𝗟𝗢𝗩𝗘𝗗 𝗢𝗡𝗘𝗦
Lime marinated Cured Shrimp, Avocado, lime and black pepper pearl, Grapefruits and jalapenos dressing Tuna ceviche, Aji Amarillo sauce Grilled Baby Gem with Cajun and smoked paprika, Goma dressing
Palm heart salad, yuzu and curry dressing

𝗦𝗛𝗢𝗣 𝗙𝗥𝗢𝗠 𝗢𝗨𝗥 𝗘𝗫𝗢𝗧𝗜𝗖 𝗕𝗔𝗭𝗔𝗔𝗥
Fresh hand pick Local Oysters Fresh sea urchin Selection of fresh local fish (Spangled Emperor/Red Garoupa/Ruby Snapper/parrot/Sword/Dorado) Calamari brochettes Fresh Cuttlefish Stone Crab Shrimp Brochettes Spiny Rock Lobster Fresh Ocean Prawns

𝗦𝗔𝗨𝗖𝗘𝗦 Salsa Verde, creole sauce, fresh chimichurri, homemade periperi, dry seafood in spiced tomato, Sauce Rouge, red Thai curry with coconut milk

𝗦𝗪𝗘𝗘𝗧𝗡𝗘𝗦𝗦
Pink Love pot with passion and rose, macaroon brittle ice cream

𝗦𝗨𝗥𝗣𝗥𝗜𝗦𝗘
Don't break my heart

Option 2: 𝗙𝗜𝗡𝗘 𝗗𝗜𝗡𝗡𝗜𝗡𝗚 at 𝗩𝗮𝗻 𝗱𝗲𝗿 𝗦𝘁𝗲𝗹 𝗪𝗶𝗻𝗲 𝗕𝗮𝗿 Rs 1,799 per person

What better way than to pamper your better half than in the relaxed yet refined atmosphere of our unique by the glass wine bar. Enjoy an exquisite fine dining experience with recommended appropriate wine pairing with each course. The selected wines will be encoded on your personalized wine card. For modest drinkers, the menu is also available without the wine pairing option. A violinist with entertain you throughout the evening with romantic music.
𝗠𝗘𝗡𝗨:
𝐅𝐎𝐈𝐄 𝐆𝐑𝐀𝐒 𝐓𝐄𝐑𝐑𝐈𝐍𝐄 𝐏𝐑𝐄𝐒𝐄𝐍𝐓𝐄𝐃 𝐈𝐍 𝐀 𝐃𝐎𝐌𝐄 Spiced bread crunch, Cherry jelly, Apricot puree

𝐌𝐀𝐑𝐈𝐍𝐀𝐓𝐄𝐃 𝐌𝐀𝐃𝐀𝐆𝐀𝐒𝐂𝐀𝐑 𝐑𝐄𝐃 𝐒𝐇𝐑𝐈𝐌𝐏 Palm heart shaving, Ginger, Fresh Coriander, Pink bubble

𝐒𝐋𝐎𝐖 𝐑𝐎𝐀𝐒𝐓 𝐓𝐄𝐑𝐑𝐀𝐂𝐈𝐍𝐄 𝐃𝐔𝐂𝐊 𝐁𝐑𝐄𝐀𝐒𝐓 onion puree, Mango sphere, red wine poached Baby pear

𝐕𝐀𝐍𝐈𝐋𝐋𝐀 𝐀𝐍𝐃 𝐋𝐈𝐌𝐄 𝐏𝐀𝐍𝐀𝐂𝐎𝐓𝐓𝐀 pink meringue, raspberry and hibiscus sorbet


Option 3: 𝗙𝗜𝗡𝗘 𝗗𝗜𝗡𝗡𝗜𝗡𝗚 & 𝗪𝗜𝗡𝗘 𝗣𝗔𝗜𝗥𝗜𝗡𝗚 at 𝗩𝗮𝗻 𝗱𝗲𝗿 𝗦𝘁𝗲𝗹 𝗪𝗶𝗻𝗲 𝗕𝗮𝗿- Rs 2,899 per person

Same location as in option 2, however, you will have your menu paired already by the professional sommeliers at La Pirogue.

𝗠𝗘𝗡𝗨:
𝐅𝐎𝐈𝐄 𝐆𝐑𝐀𝐒 𝐓𝐄𝐑𝐑𝐈𝐍𝐄 𝐏𝐑𝐄𝐒𝐄𝐍𝐓𝐄𝐃 𝐈𝐍 𝐀 𝐃𝐎𝐌𝐄 Spiced bread crunch, Cherry jelly, Apricot puree
𝐷𝑜𝑚𝑎𝑖𝑛𝑒 𝑇𝑎𝑟𝑖𝑞𝑢𝑒𝑡 𝐴𝑚𝑝𝑙𝑖𝑡𝑢𝑑𝑒, 2018, 𝐶𝑜̂𝑡𝑒 𝑑𝑒 𝐺𝑎𝑠𝑐𝑜𝑔𝑛𝑒, 𝐹𝑟𝑎𝑛𝑐𝑒. 100𝑚𝑙

𝐌𝐀𝐑𝐈𝐍𝐀𝐓𝐄𝐃 𝐌𝐀𝐃𝐀𝐆𝐀𝐒𝐂𝐀𝐑 𝐑𝐄𝐃 𝐒𝐇𝐑𝐈𝐌𝐏 Palm heart shaving, Ginger, Fresh Coriander, Pink bubble
𝑁𝑎𝑡𝑎𝑛𝑛𝑎 𝑤ℎ𝑖𝑡𝑒 𝐵𝑙𝑒𝑛𝑑, 2017, 𝑀𝑎𝑟𝑖𝑎𝑛𝑛𝑒 𝐸𝑠𝑡𝑎𝑡𝑒, 𝑆𝑡𝑒𝑙𝑙𝑒𝑛𝑏𝑜𝑠𝑐ℎ, 𝑆𝑜𝑢𝑡ℎ 𝐴𝑓𝑟𝑖𝑐𝑎. 100𝑚𝑙

𝐒𝐋𝐎𝐖 𝐑𝐎𝐀𝐒𝐓 𝐓𝐄𝐑𝐑𝐀𝐂𝐈𝐍𝐄 𝐃𝐔𝐂𝐊 𝐁𝐑𝐄𝐀𝐒𝐓 onion puree, Mango sphere, red wine poached Baby pear
𝐵𝑒𝑟𝑜𝑛𝑖𝑎 𝐸𝑔𝑜𝑙𝑜𝑔𝑖𝑐𝑜, 𝑂𝑟𝑔𝑎𝑛𝑖𝑐 𝑅𝑒𝑑, 2017, 𝑅𝑖𝑜𝑗𝑎, 𝑆𝑝𝑎𝑖𝑛. 100𝑚𝑙

𝐕𝐀𝐍𝐈𝐋𝐋𝐀 𝐀𝐍𝐃 𝐋𝐈𝐌𝐄 𝐏𝐀𝐍𝐀𝐂𝐎𝐓𝐓𝐀 pink meringue, raspberry and hibiscus sorbet
𝐶ℎ𝑎̂𝑡𝑒𝑎𝑢 𝐷𝑜𝑟𝑙𝑒𝑎𝑐, 𝑆𝑎𝑖𝑛𝑡𝑒 𝐶𝑟𝑜𝑖𝑥 𝑑𝑢 𝑀𝑜𝑛𝑡, 2016, 𝐵𝑜𝑟𝑑𝑒𝑎𝑢𝑥, 𝐹𝑟𝑎𝑛𝑐𝑒. 100𝑚𝑙