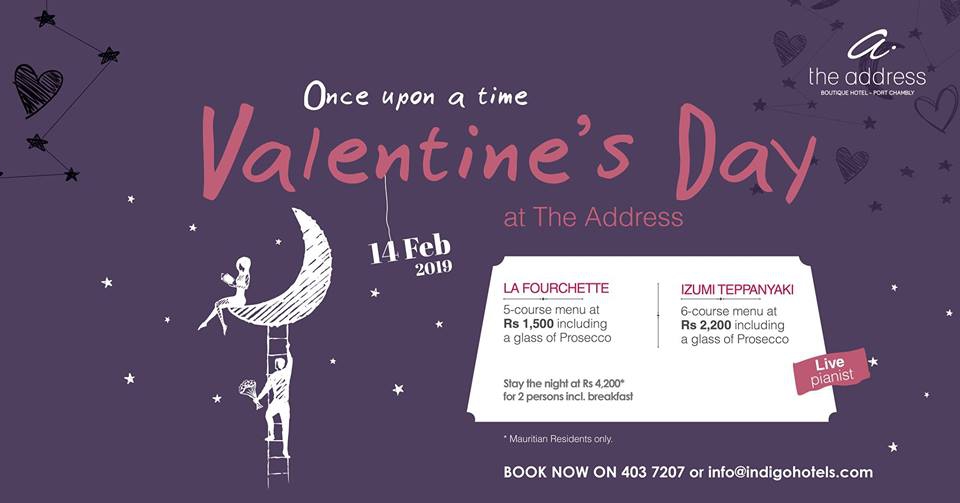 Event Details
You love her to the moon and back and want to plan the perfect date?

Start with a couples' massage at I Spa, enjoy a romantic dinner at any one of our restaurants, spend a night to remember at the hotel and finish it all up with a breakfast for 2 in the morning!

A live pianist will set the romantic mood during the dinner.

La Fourchette
5-course menu at Rs 1,500 including a glass of prosecco

Amuse-bouche
Macaron rouge aux crevettes
Red macaron with prawns
***
Médaillon de langouste à l'huile de gingembre sur son coeur de palmiste, salade d'herbes assaisonnée au vinaigre de pomme
Lobster medallion in ginger oil served on a bed of heart of palm, herb salad with apple vinegar
***
Granité de romarin parfumé au brandy
Rosemary granite with brandy flavours
***
Roulade d'agneau farcie aux champignons, gâteau de pomme de terre, asperges marinées à l'huile d'olive et jus de cuisson parfumé à l'huile de truffe
Lamb roll stuffed with mushroom, potato cake, asparagus marinated with olive
oil, truffle flavoured jus de cuisson
***
Délice de chocolat blanc et fraises accompagné de glace
White chocolate and strawberry delice served with ice cream

Izumi Teppanyaki
6-course menu at Rs 2,200 including a glass of prosecco

Zensai
Assortiment de sashimi de saumon, noix de St Jacques et thon
Assorted sashimi: salmon, scallop and tuna
***
Tofu Agedashi et truffle à l'edamame
Agedashi tofu with edamame truffle
Dobin Mushi
Soupe de fruits de mer
Seafood soup
***
Teppanyaki
Ormeau d'Australie aux épinards
Australian abalone with spinach
***
Boeuf Wagyu et champignons enoki
Wagyu beef with enoki mushrooms
Accompagné de riz frit et condiments
Accompanied with fried rice and condiments
***
Dezato
Tempura de crème glacée ou crème glacée et café
Tempura ice cream or Ice cream with coffee

Stay the night at Rs 4,200* for 2 persons incl. breakfast

Book now on 4037207!