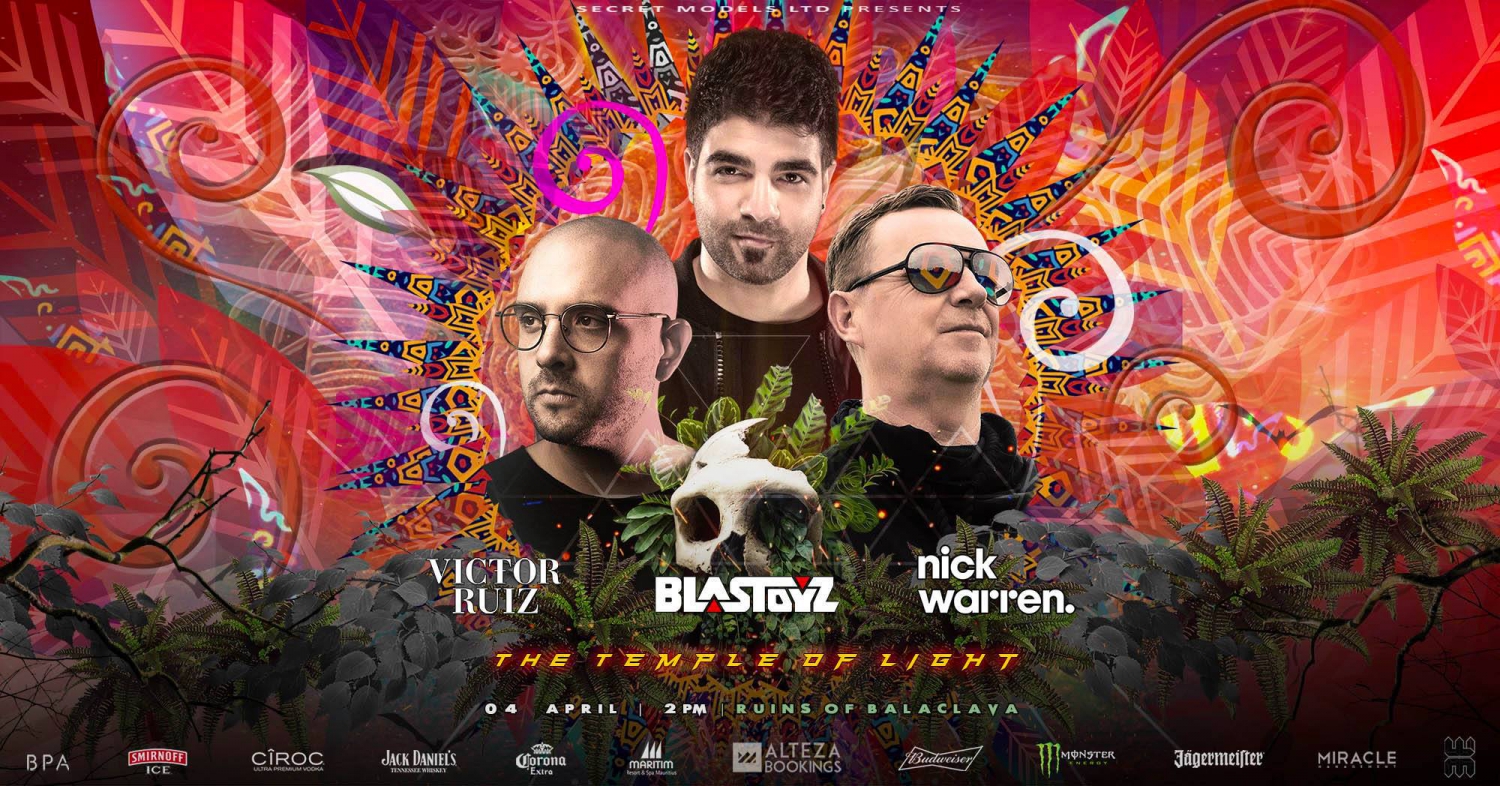 The Temple Of Light Festival
Sat Apr 4th 2020 at 14:00 until 23:30
---
Mauritius
,

Ruins of Balaclava

,

Balaclava
https://www.myguidemauritius.com/events/the-temple-of-light-festival
BOOK NOW
Event Details
... After the massive success of THE MYSTIK GARDEN & due to overwhelming requests, Secret Models is back again with another heavy lineup event for THE TEMPLE OF LIGHT featuring the legendary Nick Warren, techno lord Victor Ruiz, and psytrance prince Blastoyz! ❤️

Inspired by the actual historical location, the backdrop & theme of this event will be heavily relying on the artists' new albums and various music styles they will bring on stage. From dark melodic techno to EDM and psytrance, this show will be an excellent treat for music enthusiasts and those who have been attending our festivals since the last half-decade! 🌺🏴‍☠️🧚‍♀️

If you were blown away by THE MYSTIK GARDEN, THE TEMPLE OF LIGHT will be another event to look forward to with lots of new surprises on the last weeks prior to the show. WATCH OUT for these surprises! 💥

*****************************************************
⚠️ TICKETS INFORMATION⚠️

💥 OFFICIAL POINT OF SALES 💥

🔥 20 sur Vin - Bagatelle Shopping Mall
🔥 20 sur Vin - Jumbo Phoenix
🔥 20 sur Vin - Super U, Grand Baie
🔥 20 sur Vin - Caudan, Port-Louis
🔥 20 sur Vin - Cascavelle Shopping Mall
🔥 20 sur Vin - La Croisette, Grand Baie
🔥 20 sur Vin - Floreal
🔥 20 sur Vin - Super U, Flacq
🔥 20 sur Vin - Ruisseau Creole, Riviere Noire
🔥 Sale Sucre Pizza – Curepipe
🔥 Cave De Nicolas - Bagatelle Shopping Mall

*****************************************************

💢 PHASE 1 (Early-Birds – LIMITED!)

- Normal Ticket @ Rs 1200
- VIP Tickets @ Rs 2000
- Date : Thursday 6 Feb – Sunday 8 March

💢 PHASE 2

- Normal Ticket @ Rs 1500
- VIP Tickets @ Rs 2500
- Date : Monday 9 March – Saturday 4 April

💢 DOORS

- Normal Ticket @ Rs 2000
- VIP Tickets @ Rs 4000
- Upgrade (VIP to Normal ) @ Rs 2000

☎️ HOTLINE : 5824-2330 / 466-9999

P.s : Tickets are subject to availability! Once Phase 1 tickets are over, Phase 2 tickets will start immediately (even before the dates mentioned) DO NOT WAIT FOR LAST MINUTE TO BUY YOUR TICKETS! 💥

🌲 VIP & NORMAL TICKETS - WHAT IS INCLUDED? 🌲

• Direct and exclusive different access to the venue
• Normal ticket holders have another route to the venue
• VIPs can mix in the Normal zone
• Premium exclusive parking inside venue
• Meet & Greet with artists + autograph sessions
• Access to the PARTY PIT zone on stage with the DJs
• Dedicated bar manager & hostesses
• Exclusive area behind the stage for the VIP Area
• Exclusive bar in the VIP Area
• Secured lounge with security agents
• Premium exclusive gifts & bottle deals
• GIFTS & GOODIES in point of sales (LIMITED!)

*****************************************************
BY PURCHASING THIS TICKET YOU AUTOMATICALLY AGREE WITH THE FOLLOWING :

❌ Gates of the arena will open at 2 PM and close as from 6 PM, which means you have to be inside the venue by 5 PM latest.

❌ Make sure to come early to secure your parking at the venue. ONLY FIRST COME FIRST SERVED BASIS.

❌You are NOT allowed to bring your own food & drinks. There will be sufficient bars / food corners available in the arena at a reasonable price.

❌ The management is NOT responsible for any individual's death, theft, loss of personal belongings, injury. Everyone takes his/her own responsibility.

❌ Tickets once sold cannot be refunded or exchanged. Please buy ONLY on the official website + official point of sales. DO NOT BUY YOUR TICKET FROM ANOTHER PERSON OR RESELLER.

❌ Fake ticket holders will be immediately removed and banned from our events eternally.

❌ The management reserves the right of admission and our security team has the last word in case of discussion.

❌ Have fun but drink responsibly. Minors should be accompanied by a responsible party. ID cards will be requested at the doors.

*****************************************************
🏴‍☠️ ARTIST INFO 🏴‍☠️

🧚‍♀️ BLASTOYZ 🧚‍♀️

Kobi Nigreker, known by his stage name Blastoyz, is an Israeli Psy-trance producer, musician and DJ. Blastoyz released multiple singles and EP's on labels such as Alteza, Armada Music,
Dreamstate, Iboga Records and Spinnin' etc'.

Blastoyz' tracks have played in numerous sets and on top rated radio shows by Armin Van Buuren, Bryan Kearney, Gareth Amery, Hardwell, R3HAB, Sander Van Doorn, Seven Lions, W&W
and Will Sparks, and many more.

Blastoyz' music is steadily present on Beatport's top charts, and receiving millions of streams worldwide. In his rich musical career, Blastoyz accomplished considerable collaborations with artists
such as Vini Vici, David Gravell, Seven Lions, Skazi and many more.

Blastoyz tours constantly in Europe, US, South Africa and South America, has performed at festivals such as 'Airbeat One', 'A State of Trance', 'Dreamstate', 'Electric Daisy Carnival',
'Tomorrowland' and 'Ultra Music Festival'.

Blastoyz creates a high-energy Psychedelic Trance music sound, a later evolution of the traditional Psy Trance and is influenced by the EDM sound of the past years.

*****************************************************
🌺 VICTOR RUIZ 🌺

Music is something you have to experience. It touches you in the most intimate way.

And that's what music is to Victor Ruiz: the strongest form of art.
With a Rock 'n' Roll background, is no mystery that Victor has a unique sound. For some years now, he has been known for his high-end quality of production, which has made him an established artist in the Techno scene. His "unofficial edits" of classic songs are very famous and part of Victor's performances. The most popular ones are "Breathe" from The Prodigy, "Children" from Robert Miles, "Everything Counts" from Depeche Mode (in collaboration with Thomas Schumacher) and his latest edit of "Teardrop" from Massive Attack. He states that this is his way to pay tribute to their influences.

Apart from remixing officially big names of the electronic scene such as MOBY, Stephan Bodzin and Dubfire, he has reached many times #1 on Beatport with his signature peak time melodic sound.
Over the years, the Brazilian born Berlin-based producer has been touring all around the world, from big festivals to intimate clubs and from big clubs to intimate festivals, and it's getting busier every day. He just can't get enough!

As Victor injects pure love on every single work he does, thanks to music, he exists.

*****************************************************
🌳 NICK WARREN 🌳

Nick Warren became one of the first so-called 'superstar DJs' in the mid- to late '90s, holding down a high-profile residency at Cream in England, touring around the world, and appearing on several DJ mix albums before they became commonplace. Though he spun an eclectic array of dance styles in the late '80s and early '90s, he eventually championed the late-'90s trance sound of labels like Hooj Choons and joined the ranks of other superstar DJs like Paul Oakenfold, Sasha, and Tall Paul. Furthermore, he dabbled a bit in production, collaborating with Jody Wisternoff as Way Out West.

Before leading a jet-set lifestyle, Warren moved to Bristol in the 1980s after having just turned 20. By the early '90s, he was one of the city's top DJs, spinning upstairs at Vision, one of the city's first superclubs. At the time, Warren spun everything from dub and hip-hop to house, which became his preferred style. When fellow Bristol artists Massive Attack left to tour America in the wake of their early success, they invited Warren to accompany them on tour as their official DJ, a testament to his turntable skills as well as his reputation at the time.

Eventually, Warren began a massively successful stint as the resident DJ at Cream in Liverpool. The club's stature grew quickly, as did Warren's as a result. Mixmag asked him to mix a volume in its Mixmag Live! series, which the magazine tagged as the 'Future Sound of Europe.' Around this same time, the mid- to late '90s, Warren was also garnering quite a bit of attention for his Way Out West collaboration with Wisternoff, resulting in several popular singles for Deconstruction, most notably 'The Gift,' as well as a self-titled full-length featuring the group's hits.

Global Underground: PragueNext came an opportunity to mix the third volume in the then relatively obscure Global Underground series of DJ mix albums. The resulting mix, Global Underground: Prague (1997), featured several anthems of the time such as 'Cafe del Mar,' 'Life on Mars,' and 'Nipple Fish,' helping to define the evolving trance sound of the late '90s. Warren's mix proved so successful that he was offered the opportunity to mix a second volume, Global Underground: Brazil (1998), and then yet more successive volumes in the increasingly popular series. Moreover, DMC offered Warren the chance to mix the first volume in its Back to Mine series of downtempo albums. In particular, 2001 was a big year for Warren; the New York-based Mixer magazine chose his Renaissance: Revelation mix album on Ultra Records (also featuring Danny Howells) as its album of the year, and his second Way Out West album, Intensify, also proved to be a favorite among not only listeners but critics as well. Further Global Underground volumes followed in 2003 (Global Underground: Reykjavik), 2005 (Global Underground: Shanghai), and 2007 (Global Underground: Paris).