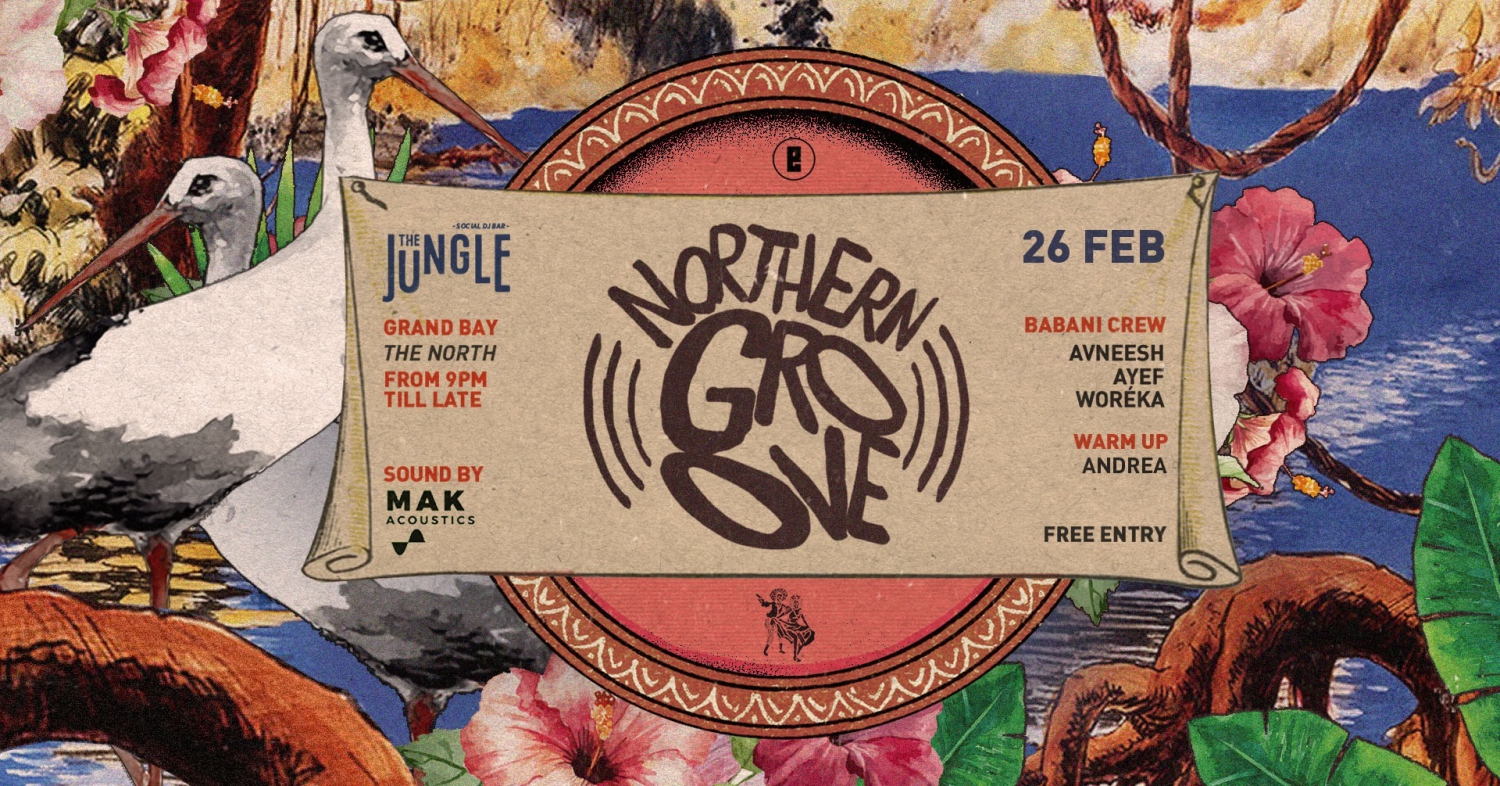 Event Details
electrocaïne brings you its 𝗡𝗼𝗿𝘁𝗵𝗲𝗿𝗻 𝗚𝗿𝗼𝗼𝘃𝗲 feat. The 𝐁𝐚𝐛𝐚𝐧𝐢 Crew!
Since the beginning, 𝗡𝗼𝗿𝘁𝗵𝗲𝗿𝗻 𝗚𝗿𝗼𝗼𝘃𝗲 has been about nothing but great vibes from the wildly talented Producers/DJ's of the 𝐁𝐚𝐛𝐚𝐧𝐢 crew, in this Intimate setting of The Jungle - Social DJ Bar.
Flexing their various sound cultures and creating a groovy and energetic atmosphere, you can expect a multi-flavoured music set, with tunes plucked out amongst the wildest music gardens and a showcase of their Indian Ocean unique sound gems.
We stay true to these roots, except with a bigger & better set up, for all of YOU!

𝗢𝗻 𝗧𝗵𝗲 𝗗𝗲𝗰𝗸𝘀
Avneesh
Ayef
Woréka
Warm Up
Andrea

𝗦𝗼𝘂𝗻𝗱
Makacoustics supports Northern Groove and ensures that you feel the groove once you step on the dancefloor.

𝗗𝗿𝗶𝗻𝗸𝘀
Special arrangement has been made to expand the outside area and add additional bars to make the event more spaced out, comfortable and the drink service Faster & Easier!

𝗙𝗥𝗘𝗘 𝗘𝗡𝗧𝗥𝗬
Yes - It's true. But please arrive early to avoid waiting to get in. We might limit capacity and require you to Q in the later hours, to make sure guests inside are never too cramped for space.
Put on your dancing shoes to The Babani crew are ready to make you move!

𝗣𝗹𝗲𝗮𝘀𝗲 𝗻𝗼𝘁𝗲
No Under 18's
Do not drink and Drive
No Alcohol allowed into the venue
Rights of Admission Reserved.