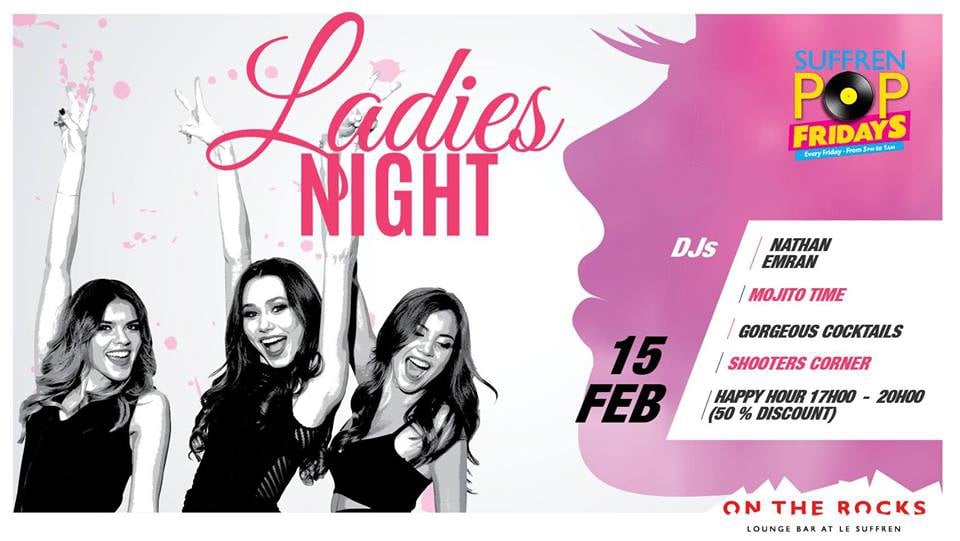 Event Details
Ladies, put on your high heels and sparkly dress and join us for a night of cocktails, dancing and partying at On The Rocks!

The night is all about YOU with a special selection of flavoured Mojitos and a stunning shooters' time.

You are definitely in for a very special and girly night!

Meet you there!

#OTRmoments #OnTheRocks #LeSuffren #HappyHour
▬▬▬▬▬▬▬▬▬▬▬▬▬▬▬▬▬▬▬▬▬▬▬▬▬

➨ #HappyHours 17h - 20h
Enjoy 50 % DISCOUNT on non-premium drinks!
A variety of delicious Signature Cocktails throughout the night.

➨Five different mojito flavours @ Rs 150 for all ladies (from 17hr to Midnight)

➨Ladies Hour from 23hr to midnight
Shooters at Rs 100 (only for ladies)

➨18h00 – Wheel of fortune time (ladies will have a number which will allow them to participate in a lucky draw. The winner will have access to the wheel of fortune where she can win spa vouchers or drinks) same will be done 4 times during the night – 18h, 20h, 22h & midnight

➨#Entertainment
Dj Nathan
DJ Emran
Shooters Corner

➨ #TheLounge
Enjoy a personlised experience between friends, family and colleagues. Enjoy good vibes and delicious premium snack and drinks menu that's exclusive to the lounge!

➨ #DressCode: Casual Smart

➨ #Drinks: Special Cocktail for the evening.

▬▬▬▬▬▬▬▬▬▬▬▬▬▬▬▬▬▬▬▬▬▬▬▬▬▬▬
✺The Management reserves the right of Admission✺
▬▬▬▬▬▬▬▬▬▬▬▬▬▬▬▬▬▬▬▬▬▬▬▬▬▬▬
By entering the event premises, you consent to be possibly photographed, video recorded and its/their release, publication, exhibition, or reproduction to be used for advertising, inclusion on websites, social media, or any other purpose by our affiliates and representatives. Images, photos and/or videos may be used to promote similar events in the future.