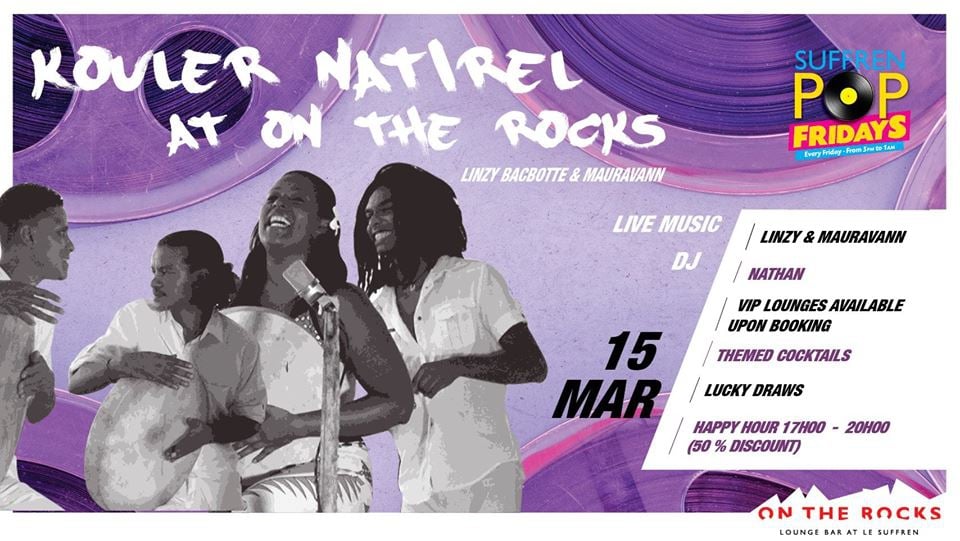 Event Details
Feel the rhythm of the local tunes played by Linzy & Mauravann and take in the echoes of our cultural heritage.

Raise your themed cocktail glasses to celebrate the independence of Mauritius.

In addition to lucky draws and themed cocktails, many surprises are awaiting you!

Join us on Friday the 15th for a great Happy Hour from 5pm till 8pm!

Grab a deliciously refreshing cocktail and get yourself in a chilling mood for the weekend.

A Mauritian buffet at Rs 990 per person will also be available!

Meet you there!

#OTRmoments #OnTheRocks #LeSuffren #HappyHour
▬▬▬▬▬▬▬▬▬▬▬▬▬▬▬▬▬▬▬▬▬▬▬▬▬

➨ #HappyHours 17h - 20h
Enjoy 50 % DISCOUNT on non-premium drinks!
A variety of delicious Signature Cocktails throughout the night.

➨#Entertainment
Dj Nathan
Shooters Corner

➨ #TheLounge
Enjoy a personlised experience between friends, family and colleagues. Enjoy good vibes and delicious premium snack and drinks menu that's exclusive to the lounge!

➨ #DressCode: Casual Smart

➨ #Drinks: Special Cocktail for the evening.

Mauritian buffet:
La cuisine d'antan
Friday march 15, 2019
Rs 990 incl

Starters:
Beignet de piment farci au poulet.
Salade de dholl gram facon grand mere
Achard de legumes.
Salade d'óurite pays, papaye vert et piment confit.
Merveille croustillant servi de chutney de pomme dámour grille
Compote de bringelle
Salade de cressonnette et coeur de palmist
Aubergine confit aux safran vert et queue dáil.
Arouille croustillant parfumé au gingembre


Main course
Rougaille de pistache, soya et fleur de brede mouroume.
Curry de poulet et coeur de palmist
''kat kat'' de fruit a pain
Salmis d'agneau
Riz frite poisson sale et piment cari
Bouillon de crabe à la coriandre
Gratin de chouchou au curcuma et chair de crabe
Curry de banane vert et chevrette sec.
Tous les plats chaud sont servis avec des farata, dholl puri, et riz blanc


Dessert

Pudding vermicelle
Tarte à la banane
Compote de bilimbi
Sagoo au lait de coco
Rasgulla
Ouder

▬▬▬▬▬▬▬▬▬▬▬▬▬▬▬▬▬▬▬▬▬▬▬▬▬▬▬
✺The Management reserves the right of Admission✺
▬▬▬▬▬▬▬▬▬▬▬▬▬▬▬▬▬▬▬▬▬▬▬▬▬▬▬
By entering the event premises, you consent to be possibly photographed, video recorded and its/their release, publication, exhibition, or reproduction to be used for advertising, inclusion on websites, social media, or any other purpose by our affiliates and representatives. Images, photos and/or videos may be used to promote similar events in the future.