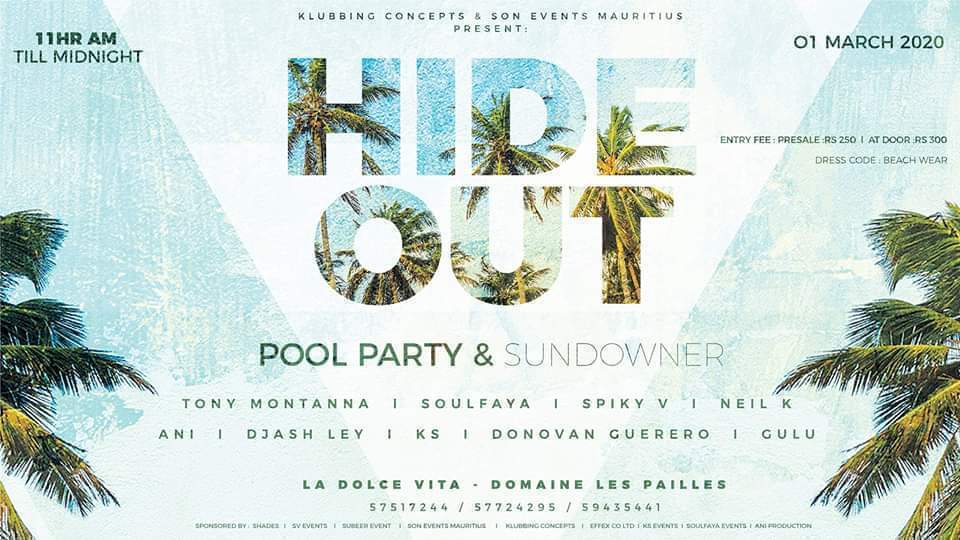 Event Details
Chilled-out tunes, ice-cold cocktails and oh-so-cool pools – these pool parties and events around the world have everything you need to beat the heat in summer
That's all good and well, but the real fun starts on 01st March when the baths are transformed into an Origin Party at the stroke of 13:00hr , featuring DJs, laser lights and party people dancing the night away in the steamy thermal waters. Does the healing water cancel out the hedonism? It's hard to say, but worth a try.

If you are excited about this POOL PARTY,
its Summer and the temperature is really High,
Your chances are you will be ready to hit the beach and pool with some friends.
However, the summer is also a time for many people to get relaxed.

EVENT DETAILS

◢ Venue: MAC ILLEAN RESTAURANT ( La Dolce Vita) - Domaine les Pailles
◢ Date: Sunday , 01 MARCH 2020
◢ Time: As from 13:00 Till 00:00 hr
◢ Entry Fee : Presale :Rs 250
: At Door :Rs 300

Supporting acts ☊ :
In Progress

🎧 TONY MONTANNA https://www.facebook.com/tony.montanna.906

🎧 SOUL FAYA
https://www.facebook.com/soulfayaproduction/

🎧 SPIKY V https://www.facebook.com/vicky.djspiky1

🎧 NEIL K
https://www.facebook.com/kunal.bundhoo.526

🎧 ANI
https://www.facebook.com/ani.pursun.djani

🎧 ASHLEY
https://www.facebook.com/profile.php?id=10000135253347

🎧 KS
https://www.facebook.com/profile.php?id=100007548346762

🎧 GULU
https://www.facebook.com/el.kgbhinesh

🎧 Donovan Guerero
https://www.facebook.com/DONOVANGUERERO/

WARM UP SESSION :-
🎧 ROHAN D
🎧 KLUBBING CONCEPTS CREW
🎧 SUNSHINE
🎧 ESHAAN..

FASHION SHOW BY :-
FG MODELS AGENCY

https://www.facebook.com/FG-Model-Agency-110877370315728/

📷 Photography 📷

♦ SHADES

♦Allan Photography

Pool Lounge. :13:00 till 00:00hr

BOOK YOUR TABLE as soon as possible. With best Menu & Snacks from our Professionals Chefs..

⚠️ Sales of Tickets :-- ⚠️
BAGATELLE MALL

JUMBO - RICHE TERE

KENDRA SHOPPING MALL - ST PIERRE

☑️☑️☑️
For More Info :
☎️ 57517244
☎️ 57724295
☎️ 59435441

SPONSORED BY:
▪ SHADES
▪ SV EVENTS
▪️SUBEER EVENT
▪️SON EVENTS MAURITIUS
▪ KLUBBING CONCEPT
▪ KS EVENT
▪ EFFEX CO LTD

By attending this event, you agree to be filmed & photographed for promotional uses.
The management reserves the right of admission.

Don't Drink & Drive.