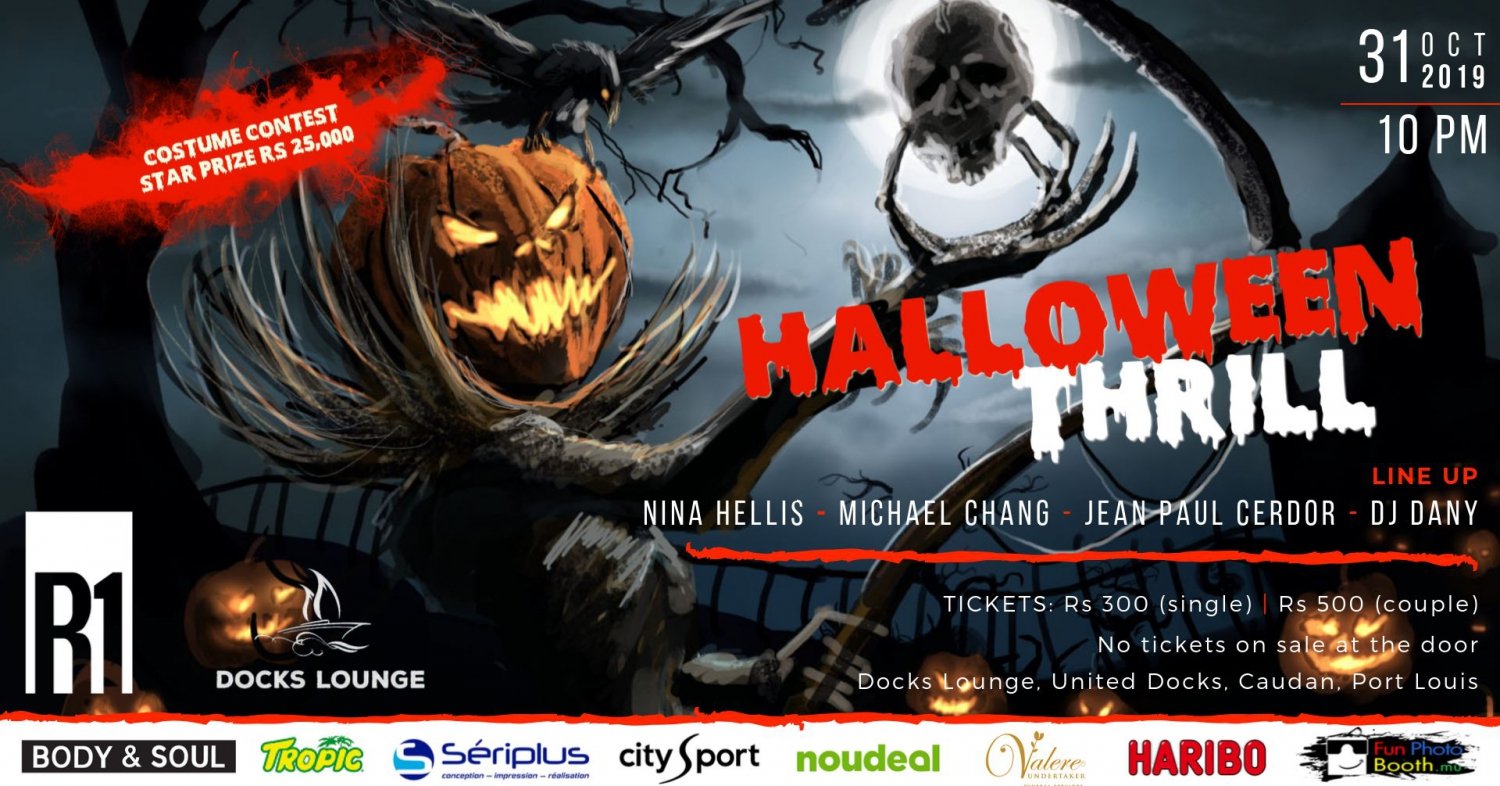 Event Details
This Halloween 🎃, Radio One is preparing a huge surprise for our fans.
Are you looking for a fun thrilling night out with your friends, family or colleagues? The Halloween Thrill 2019 is exactly what you want! 👻

• Fun Photo Booth
Photobooth with amazing visual effects will be there to keep memories from this memorable night alive! This will also be how our fans can participate in the best costume contest!

• Best costume contest
Surrounded by decomposing bodies, huge spider webs, kids eating monsters, bats and various what nots, the mood is set to welcome our fans in a dark and Halloween-y setting. There will be a best costume contest to win a cash star prize of Rs. 25,000!! That's not all there will be to win on this thrilling adventure! So many more prizes to win while attending this party. WEAR YOUR BEST COSTUME! SHOW US YOUR DARKEST SIDE!

• On the docks
Nina Hellis
Michael CHANG
DJ DANNY
Dj Jean Paul Cerdor

These legends will be there to bring the dead back to life! BUAHAHAHAHA! 😈

• Thrill Time
Enjoy the best drinks at a crazy price during mysterious hours of the night!

• Tickets
Tickets available at Radio One and Docks Lounge on reservation 211 4555
- Rs 300 (single)
- Rs 500 (couple)

Other POS:
- City Sport, Bagatelle
- City Sport, Jumbo Riche Terre
- City Sport, Port Louis
- City Sport, Phoenix Mall
- City Sport, Super U, Grand Baie
- City Sport, Caudan

NO tickets will be sold at the door!

PRE EVENT
Dinner will be available upon reservation at the Docks Lounge. Call on 214 1879 for reservations!

BRACE YOURSELVES! THE HALLOWEEN THRILL WILL KNOCK YOUR SOCKS OFF. BEWARE OF THE MONSTERS LURKING AROUND! COME WIN BIG PRIZES & ENJOY A THRILLING NIGHT OUT! 😈

Don't drink & Drive!
Coco Le Bob is here to get you home safely from the terror.
Get 10% OFF on all trips safely by using the PROMO CODE: RD10410.
Hotline: 5254 4600

By entering the event premises, you consent to be possibly photographed, video recorded and its/their release, publication, exhibition, or reproduction to be used for advertising, inclusion on websites, social media, or any other purpose by our affiliates and representatives. Images, photos and/or videos may be used to promote similar events in the future.