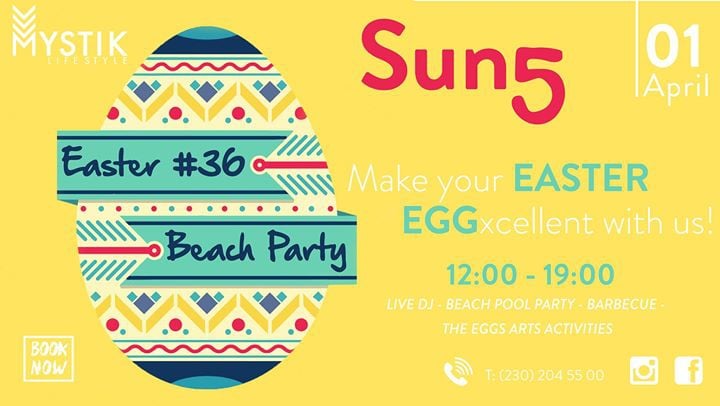 Event Details
Special Easter - Pool Beach Party - Live Djs avec Fabrice Victoire
11:00 - 19:00
Carte restaurant et bar + Barbecue ...
'Art' Animations...

Guest DJ Fabrice Victoire (Cream Craker)
'Born in the street of Mauritius island , The island's favourite groovecrafter and DJ ,CREAM CRACKER is a passionate record collector and music lover
who's collection and knowledge of deep house surpasses his years of collecting it. Falling madly in love with hip hop and House music in the 90`s ,
he spent his formative teenage melting beats and acid tracks... with a sole idea in mind: unearthing all the hidden treasures of House and hip hop music,
leaving no stone unturned.
Then, later on getting into the same process with other musical styles such as Jazz, Soul, Funk…
His sets share similar class, burning up dance floors wherever he goes &
you can be sure that the flag for 'hard core deep house' will be flying high
for years to come.'


⊙⊙⊙ Don't drink and drive ⊙⊙⊙
★Nous encourageons une mobilité douce et responsable
We encourage a soft and responsible mobility
★A pied: si vous habitez dans les environs pourquoi, ne pas marcher !
On foot: if you live in the surroundings why not walk!
★Taxi / Transport Privé : Ne prenez aucun risque et commander un transport pour vous et vos amis / famille
Taxi / Private Transport: Do not take any risks and order transport for you and your friends / family

✺The Management reserves the right of Admission✺
▬▬▬▬▬▬▬▬▬▬▬▬▬▬▬▬▬▬▬▬▬▬▬▬▬▬▬▬
By entering the event premises, you consent to be possibly photographed, video recorded and its/their release, publication, exhibition, or reproduction to be used for advertising, inclusion on websites, social media, or any other purpose by our affiliates and representatives. Images, photos and/or videos may be used to promote similar events in the future.