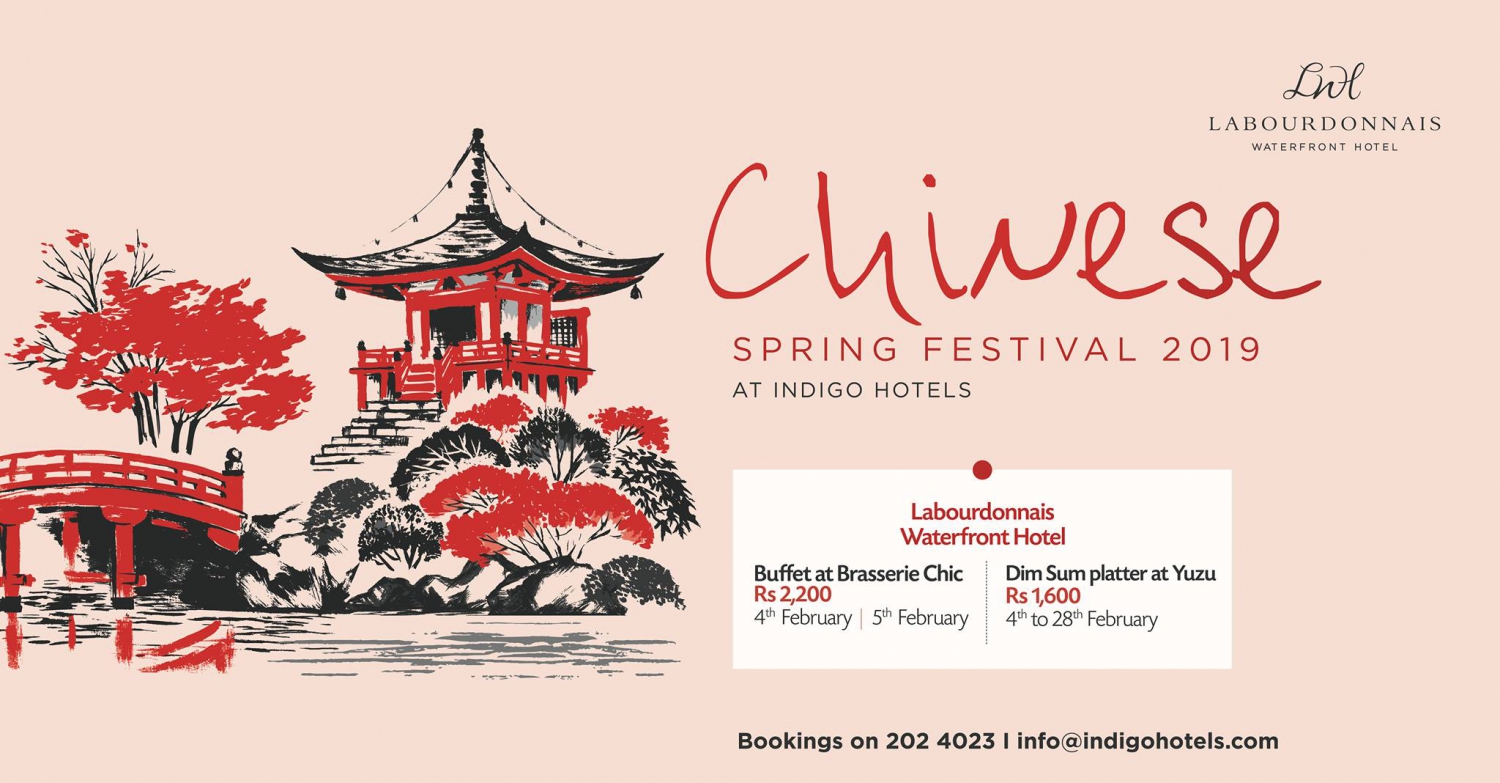 Chinese Spring Festival 2019 at Labourdonnais Waterfront Hotel
Mon Feb 4th 2019 to Tue Feb 5th 2019
---
Caudan Waterfront

,

Mauritius

,

Port-Louis
https://www.myguidemauritius.com/events/chinese-spring-festival-2019-at-labourdonnais-waterfront-hotel
---
Labourdonnais Waterfront Hotel
MAKE ENQUIRY
Event Details
Gather around a marvellous meal with your family and friends and welcome the Spring Festival with pomp at The Labourdonnais Waterfront Hotel.

Let's hope the year of the pig brings happiness and good fortune!

Brasserie Chic Restaurant
Buffet at Rs 2,200 per person
4th February (Dinner only)
5th February (Lunch & Dinner)

Yuzu Restaurant
Dim Sum platter at Rs 1,600
From the 4th to the 28th February

Book now on 202 4023 / info@indigohotels.com

Menu:
Brasserie Chic
Buffet at Rs 2,200 / pers
Entrées / Starters
Salade de crevettes et papaye marinées aux feuilles de basilic et citron
Shrimps and papaya salad marinated with crispy basil leaves and lime
***
Effiloché de poulet rôti, salade de haricots verts au piment doux et feuilles de combava
Green bean salad with chicken marinated in a Malay sauce
***
Salade de fruits et légumes aux saveurs d'Asie
Asian salads with fruits and vegetables
***
Salade de poulet croustillant aux noix de cajou et piment sec
Crispy chicken salad with cashew nuts and dry chilli
***
Salade Gado Gado aux fruits de mer façon indonésienne et sauce à la pistache
Indonesian's seafood Gado Gado salad laced with peanut sauce
***
Salade Nuam Newa au boeuf thaï relevée à la citronnelle et aux feuilles de citron vert
Nuam Newa Thai beef salad scented with lemongrass and lime leaves
***
Achard de légumes façon malaysienne relevé à la noix de coco et aux fines herbes
Vegetable pickles Malay style topped with grated coconut and herbs
***
Soupe aux fruits de mer de Kuala – Lumpur parfumée à la citronnelle et oignons frits
Kuala Lampur seafood soup scented with lemongrass and fried onions
Beignets, dim sum et gyoza d'Asie / Asian fritters, dim sum and gyoza
Beignets de légumes et fruits de mer accompagnés d'une sauce sambal
Crispy vegetable and seafood fritters with a Sambal dipping sauce
***
Sélection de dim sum et gyoza au canard, fruits de mer et légumes
Selection of dim sum and gyoza with duck, seafood and vegetables
***
Galettes de riz farcies aux légumes et canard rôti aux germes de soja
Chilled fresh rice paper rolls filled with vegetables, roasted duck and sprouts
Selection de pain d'épices / Selection of gingerbread
Plats de résistance / Main courses
Filet de boeuf rôti enrobé aux épices char shiew, gâteau de riz, purée d'arouille et champignons shiitake
Roasted beef sirloin crusted with char shiew sauce, rice cake, tarrow puree and shiitake mushrooms
***
Papillote de filet de poisson épicé et parfumé à l'huile de sésame fumée
Chard grilled spicy fish fillet with smoked seamy oil
***
Ragoût de poulet thaï parfumé aux noix de cajou et lait de coco
Thai chicken stew with cashew nuts and coconut milk
***
Agneau sauté au poivre de Sichuan et poivron
Wok lamb with Sichuan pepper and bell pepper
***
Curry thaï aux fruits de mer relevé au lait de coco et pluches de coriandre
Thai seafood curry with coconut and fresh coriander
***
Sauté de choux au lait de coco et pâte de chevrettes séchées
Sautéed cabbage in coconut milk and dried shrimp's paste
***
Riz basmati aux amandes rôties et épices
Basmati rice with roasted almonds and spices
***
Curry jaune thaï aux légumes, tofu, champignons, aubergines, potirons et lait de coco
Yellow Thai vegetables curry with tofu, mushroom, pumpkin and
eggplant laced with fresh coconut milk
Sichuan hot pot
OEuf, ciboulette, poulet, lotus, fruits de mer et légumes verts
Egg, chives, chicken, lotus, seafood and green vegetables
Desserts
Pudding de riz au sucre roux et à la mangue
Rice cake with brown sugar and mango
***
Crêpe parfumée au pandan et fourrée à la noix de coco grillée
Pandan pancake stuffed with sautéed coconut
***
Rouleaux de printemps à la banane et aux grains de sésame
Crispy spring roll stuffed with banana and sesame
***
Gâteau de sésame au miel
Sésame cake laced in honey
***
Mille-feuille à la cannelle, au caramel et aux noix
Cinnamon layered cake with caramel and nuts
***
Crème brûlée aux haricots rouges et à la vanille
Red bean and vanilla pod crème brûlée
***
Fruits et gelée de letchis
Fruit with litchi jelly
***
Sélections de gelées : crème de coco, fruits rouges, amande, haricot rouge et rose
Selections of jelly: coconut, red fruits, almond, red beans and rose water
Boissons / Beverages:
Thé glacé sans alcool à Rs 200
Refreshing Non-alcoholic Ice Tea at Rs 200
Kiwi / Kiwi
Vanille / Vanilla
Fraise / Strawberry

Yuzu Asian Fusion
Dim Sum Platter at Rs 1,600 / pers
2 pieces per items

Selon la tradition Yuzu, nos Dim Sum sont accompagnés d'un bouillon à la fleur d'hibiscus servi à table
In a true Yuzu tradition, our Dim sum are served with a hibiscus flower broth poured hot at the table

Jiaozi
Poêlée de Jiaozi au boeuf Wagyu et champignons Enoki, parfumée aux truffes
Pan-fried Jiaozi with Wagyu beef and Enoki mushroom scented with truffles

Gyoza
Ravioles japonaise aux crevettes et marron d'eau relevées au curry vert thaï et feuilles de basilic
Pan-fried Gyoza with prawns and water chestnut enhanced with Thai green curry and basil

Har Gow
Har Gow de langouste vapeur et asperges parfumées au piment chow chui
Steamed lobster Har Gow with asparagus flavoured with chow chui chilli

Sui Mai
Sui Mai aux noix de st Jacques et chair de crabe, salsa de mangue et kumquat relevée de son tobiko
Steamed scallop and crab meat Sui Mai, mango and kumquat salsa and garnished with tobiko

Taro
Croustillant d'arouille farci aux champignons, canard et oeuf de caille, herbes aux senteurs d'Asie
Crispy puffed taro filled with mushroom, duck and quail egg, scented with Asian herbs

Char Sui Bao
Gâteau aux graines d'azuki et tofu mariné au char sui
Azuki beans and fresh tofu with char sui cake

SAKE
Choose your sake (5cl) at Rs250
1. Kasen Gokai Shochikubai Takara Saké
Coffee, roasted walnuts and caramelized onion notes on the palate. Comfortable mouth feeling of tartness and creamy texture with a faint of white jasmine. Quiet yet supportive sake to bring out and enhance the flavor of food.
2. Takara Shuzo Shochikubai Classic Junmai Saké
This sake is a 2011 Gold Award winner at the U.S. National Sake Appraisal and is recognized for preserving the traditional junmai character. Enjoy this sake warm
3. Shochikubai Shirakabegura Mio Sparkling Saké
This unique sake is combined with Japanese rice, rice koji for fermentation, fresh water and a little carbonation. Enjoy chilled during any special or not-so-special occasion.