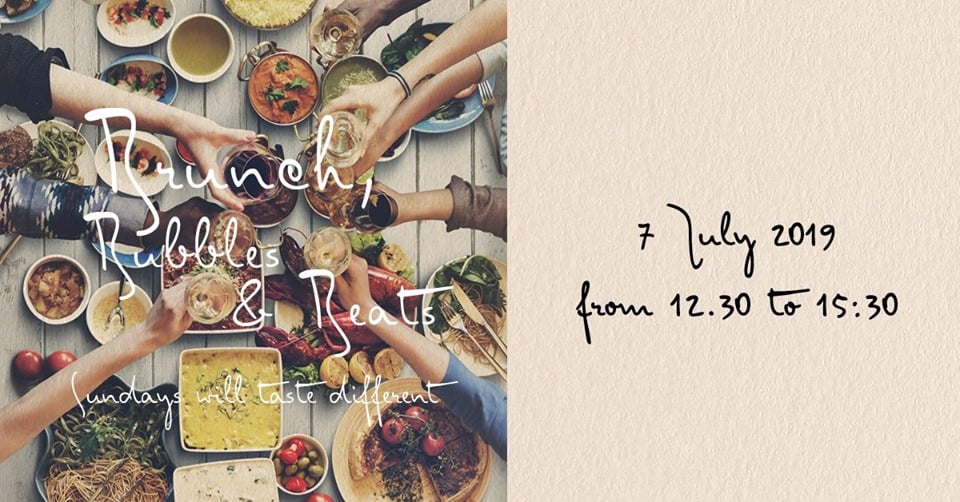 Event Details
Did you miss out on our last Brunch, Bubbles & Beats? Not to worry, you can join us for more fun and excitement at our July edition!
Sample from hundreds of the finest cuisines Mauritius has to offer and sip refreshing bubbly in luxury style!

☀☀ You'll love sitting back in wonder as you take in the Mediterranean delicacies from Le Bazar, fresh Japanese delights from Kushi and Indian flavours from Safran while listening to some of the local and ethnic music influences, performed by Emmelyne Marimootoo, filling the air!

Unlimited culinary treats with soft drinks and juices:
Rs. 1,800 per person for the teens package
Rs. 2,500 per person including unlimited beer
Rs. 3,000 per person for free flow sparkling wine & house wines
Rs. 5,500 for the unlimited Veuve Clicquot experience

July's highlights:
🍤 🐚 Seafood lovers will taste a series of shellfish on ice from oysters, sea urchins, fresh clams, black mussels to poached peeled shrimps, served with your choice of sauces.
🐟 Guests may also relish on our Catch of the Day and the grilled Cajun calamari accompanied with seasonal vegetables, potatoes sprinkled with parsley and Safran rice.

🍞 Did you know that our Italian cold cut station has a variety of succulent bites? You will savour the chicken liver mousse, smoked duck magret, marlin and tuna, assorted terrines, salmon gravlax, a gourmet selection of Italian and French cheeses alongside some crackers, seeded flatbreads and crusty baguette.

🍗 At our Asian corner, taste the green chicken curry, vegetables stir fried noodles, fried rice with prawns, octopus and salted fish and an assortment of dim sum!

🍣 🍲 🍔 Let your palate savour the all-time tantalising Brunch favourites: Tournedos with foie gras, lamb ribs, crab claws cooked with garlic and parsley, mini beef burgers and smoked cheese, dum cooked biryani, authentic seafood paella, roasted pork and lamb, wild boar salmi and various sushi, sashimi and rolls.

🍢 🍛 Those who love spices will feast at Safran, with the Chef's specials such as the live fish cooking with homemade curry spices, kadai chicken, selection of naan, whole lamb cooked in Moroccan spices and a choice of chicken, lamb kofta and giant beef skewers.

🍷 Don't forget to taste some selected wines from our preferred partners, who will be here from 1 to 2pm only, for a special wine tasting, with a supplement of Rs. 500 per person.

🍰 🍨 🍫 🍪 🍬 DESSERT ALERT!
Dessert doesn't go the stomach; it goes to the heart! And for this month, we have the famous Paris-Brest, the baba au rhum, black forest, éclair and assorted macaroons as well as chocolate mousse and various ice cream flavours!

👪 👶 The entire family can enjoy!
Teens are welcome to join the brunch festivities with their family, and children between 4-12 can join our Kids Club with a special lunch for Rs 700.

📞For reservations, please contact us on 5259 1441 / 5255 3892/ 5253 5206 or 402 7400 or email restaurant-reservations@shangri-la.com

Please note that this is a culinary experience only, and does not include access to the beach and pool facilities.

⏰ Guests will have access to the 3 restaurants only until 15:30. Entertainment will conclude at 15:30.