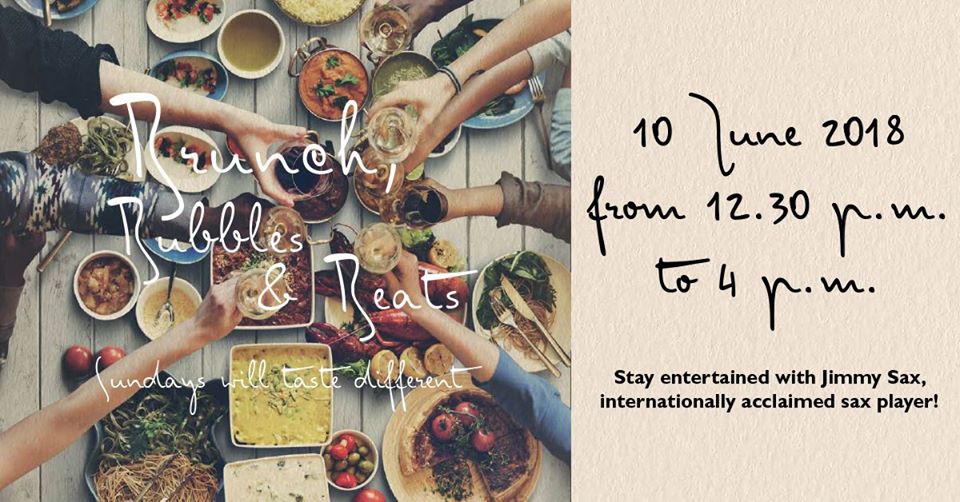 Event Details
Brunch, Bubbles & Beats has an exciting twist this month...

This extraordinary brunch will take place on SUNDAY 10th JUNE as we welcome back a very special guest - Jimmy Sax! 🎷

Entertainment will be on point with the internationally acclaimed Jim Rolland, known internationally as "Jimmy Sax", the incredible saxophonist and entertainer!

Chill out in either Kushi, Safran or Le Bazar as Jimmy plays his famous freestyle house, deep funk and electro music to wow the crowd!

Jimmy has performed more than 1000 shows all around the world including in St Tropez, Miami, New York, Monaco, Cannes, St Barth, Dubai, Mexico, Berlin, Toronto and Paris! During his career he has played beside the Top 100 DJ and artists such as Bob Sinclar, David Guetta, John Legend, and Quincy Jones.

Make sure to book your spot early: 52591441 / 5255 3892 / 4027400 / restaurant-reservations.sltr@shangri-la.com

Indulge in delicious wild boar with cranberry sauce, and sweet water prawns flambéed with spices and rum at Le Bazar.
Delight your senses at Safran restaurant with our spicy prawn filled pani puri in our special live station! Or discover the specialties of our different chefs: Chef Ahmed with his mini Tournedos Rossini, Chef Francois' Pan fried fish Provencal, and Chef Ong's beef Rendang (stew beef with fresh herbs and grated coconut).

A live ofyr grill with many culinary options also awaits you! Or you may choose to indulge in our selection of pasta and ravioli del Devendra! For dessert, visit Chef Raj's cupcake station, with assorted butter cream and topping

Unlimited culinary treats with soft drinks and juices:
Rs. 1,700 per person for the teens package
Rs. 2,200 per person including unlimited beer
Rs. 2,700 per person for free flow sparkling wine & house wines
Rs. 4,700 for the unlimited Veuve Clicquot experience

🥂 🍾 🥂 🍾 🥂 🍾 🥂 🍾 🥂 🍾 🥂 🍾 🥂 🍾 🥂

Bring the family! Teens are welcome to join the brunch festivities with their family, and children between 4-12 can join our Kids Club with a special lunch for Rs 700.

Please note that this is a culinary experience only, and does not include access to the beach and pool facilities. Guests will have access to the 3 restaurants only until 4 p.m.

Entertainment will conclude at 4p.m.

Make sure to book your spot early: 52591441 / 5255 3892 / 4027400 / restaurant-reservations.sltr@shangri-la.com

We look forward to welcoming you to your Personal Paradise.