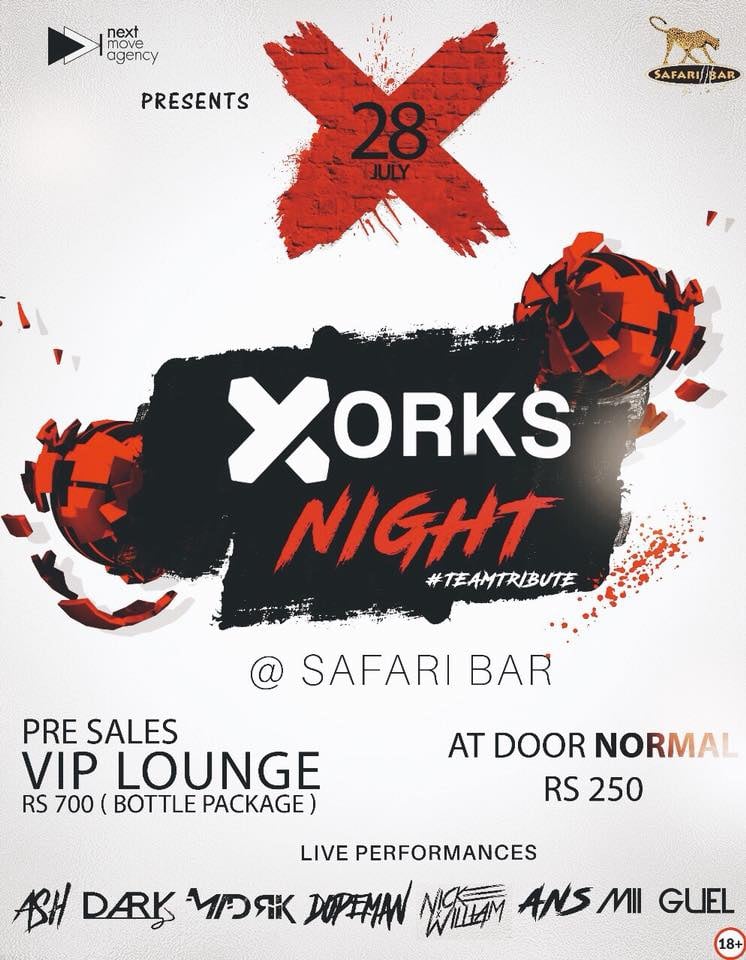 XORKS NIGHT #TEAMTRIBUTE AT SAFARI BAR
Sat Jul 28th 2018 at 22:00 until 05:00
---
Royal Road (Beside Store 2000)

,

Grand Baie
https://www.myguidemauritius.com/events/xorks-night
---
Safari Bar
MAKE ENQUIRY
Event Details
▬▬▬▬▬▬▬ XORKS NIGHT 2K18 #TEAMTRIBUTE▬▬▬▬▬▬▬

Hey party people, we're back ! As we mention on our instagram. Only two Xorks Night will be held by year. We reach our 5th Edition of the event. To celebrate this 5th Edition #TEAMTRIBUTE , of pure madness with you, following the great success of SAFARI BAR Grand-Baie, Next Move Agency's and Safari Bar in collaboration with Xorks Tv are pleased to come up with a big surprise for this festive season. With new a new huge line up. And more to come.
#TEAMTRIBUTE?
Well, this year. Xorks Tv & Next Move Agency Team, has lost the only one, a brother, a friend, an artist, an idol, a golden star and much more. He was too beautiful for this world. Maybe that's why he had to go. But one thing is real, HE IS NEVER GOING TO STAND ON THAT EMPTY SPOT ON THE STAGE, WHERE THE SPOTLIGHT WILL BE SHINING FOREVER, ONLY FOR HIM. #NICOLIUS #TEAMTRIBUTE

▬ NEXT MOVE AGENCY & XORKS TV ▬

Next Move Agency & Xorks Tv has the pleasure to convey all of you for the Xorks Night #TEAMTRIBUTE edition. This event will be packed, a whole new line up and a lit set up, with all your favourite DJ's under one roof to party fantastically. Get Ready for 8 hours of summer madness, overwhelming fun and a breathtaking showcase!
About Xorks Tv :

CLUBBING SOUNDS FOR ALL !
Xorks consists of a project known as XORKS TV (pronounced 'zorks'). It is a music channel created for music promotion which is the first youtube channels in mauritius, consisting of several Moombathon Music, Afro, Latin. I think you being clubbing in Mauritius, used to listen to it. With 295,053 Subscribers, and over 94,246,079 views. It is a music channel created for music promotion. And an Independent Label on Soundcloud.
Want your dose of Moombahton, Afro, Latin... etc? See you on the 28th July 2018!
From the Director ! Mr.C x
▬▬▬▬▬▬▬ WE PARTY LEGENDARY !! ▬▬▬▬▬▬▬
The event is scheduled on Saturday 28th of JULY at SAFARI BAR Grand-Baie, with the 7 Best Local DJ's of Mauritius, and from the YouTube Channel for a truly unique musical experience with the Best Moombhaton, Afro, Dancehall and Latino beats for you clubbers, to make it unforgettable. This #TEAMTRIBUTE edition is guarenteed to be high and lit, so save the date and turn on guys for unleashed fun cause WE PARTY LEGENDARY!!!

► LOCATION : SAFARI BAR Grand-Baie

► TIME : 22 p.m - 5 a.m

► DATE : Saturday 28 JULY 2018

• DRESSCODE • : WHITE
▬▬▬▬▬▬▬ LOCAL PERFORMERS ▬▬▬▬▬▬▬

★● BEST MOOMBATHON, SHATTA, DANCEHALL, LATIN DJ'S ●★

◢◤ ASH
◢◤ DARK
◢◤ MADRIK
◢◤ DOPEMAN
◢◤ ANS
◢◤ MII GUEL
◢◤ NICK WILLIAM

▬▬▬▬▬▬ TICKETING ▬▬▬▬▬▬
LIMITED VIP LOUNGE TICKETS - (First come first serve)

★● PRE-SALE V.I.P LOUNGE ●★

✺ VIP = Rs 700 per Group of 10 Pax ( UPSTAIRS / ENTRY + 1 BOTTLE OF WHISKY )

- Tickets will be available as from 20/06/18.
RESERVATION ON : 5477 96 38

★● AT DOOR ●★

✺ NORMAL ENTRY = Rs 250

▬▬▬▬▬▬ CONTACT US ▬▬▬▬▬▬

★ NEXT MOVE AGENCY ★

54779638 / 59168393/ 59273194

★ SAFARI BAR ★
58859616

▬▬▬▬▬▬ SUPPORTED BY ▬▬▬▬▬▬

★ XORKS TV ©️
★ Safari Bar
★ Coralie MK
★ Golden Entertainment
★ NZ Photography
★ Next Move Agency
★ Johnny Dracunova

▬▬▬▬▬▬ IMPORTANT ▬▬▬▬▬▬

• ID CARD WILL BE CHECK AT DOOR / EVEN FOR V.I.P TICKETS HOLDERS • So, Don't forget Yours !

📷 Photographer : Plus Ultra Studio
✔ By attending this event, you agree to be photographed and/or filmed and give permission to use your likeness in promotional purposes.

⚠ SAFARI BAR Reserves The Right Of Admission

🚫 Don't drink & drive !