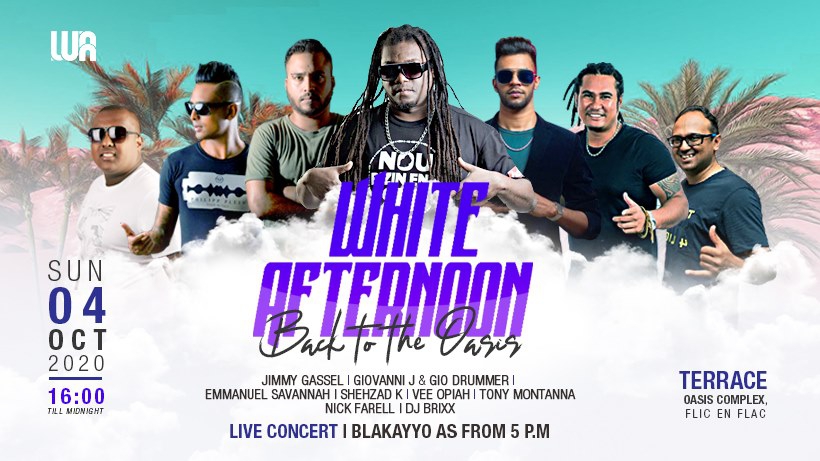 Event Details
WHITE AFTERNOON is BACK TO THE OASIS!
It has been a very LONG 4 YEARS wait but we are bringing WA back to the OASIS Terrace!!! Remember the MADNESS, the FUN, it was CRAZY!!!
WA family, it is time to create new memories, to meet new people and to party like there is NO TOMORROW, this one will be EPIC!!!
We are going all out, 2 STAGES, not less than 14 DJs and add on that a full live CONCERT! If this doesn't convince you that we will be having A HELL OF A PARTY, what else will!?
People, it has been a rollercoaster ride, time to blow off some steam and rekindle with the Positivity of our WHITE.
For the First Time we are adding a LIVE CONCERT to our traditional White Afternoon.
PEOPLE: WELCOME the ORIZINAL BLAKAYYO!
Blakkayo is known to be a master at live performances, one of the few artists to have perfected his craft over the years, he is coming to add his touch to WA.
THREE experiences in one: OUTDOOR LIVE CONCERT, MAINSTAGE DJs & a DARKROOM for the strong hearted.
We have a total of 14 DJs for our return to OASISI!
OUTDOOR MAINSTAGE:
►ORIZINAL BLAKKAYO Full Live Concert to start this WA!
► Jimmy Gassel
► Giovanni J x Gio Drummer
► Emmanuel Savannah
► Shehzad K
► Vee Opiah
► Tony Montannah
► Nick Farell
► DJ BRIXX
DARK ROOM:
► Mathias Duval
► Dereck Guillaume Bignoux
► Jason KwoK
► Jean Michel Rey
► Lucas Cunee
►Stephan Boncoeur
✺✺✺✺✺✺✺✺✺✺✺✺✺✺✺✺✺✺✺✺✺✺✺✺✺✺✺✺
►DATE: Sunday 04.10.2020
►TIME: As from 16:00
►VENUE: Terrace of OASIS COMPLEX, Flic en Flac
►TICKETING:
➨ At door only: Rs 300
◢◤DRESS CODE: White
✺✺✺✺✺✺✺✺✺✺✺✺✺✺✺✺✺✺✺✺✺✺✺✺✺✺✺✺
By participating to this event, you accept to be photographed and filmed.
The Management reserves the Right of Admission.
This is a +18 event and ID may be asked to confirm age.
We want to have a great party, Inappropriate behaviour will NOT be tolerated.
DO NOT DRINK & DRIVE!