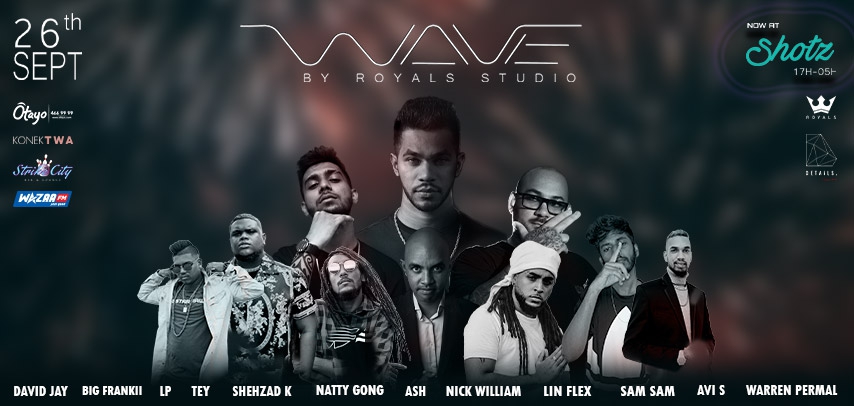 Wave by Royals Studio
Sat Sep 26th 2020 at 17:00 until 05:00
---
,

Mauritius

,

Flic-en-Flac
https://www.myguidemauritius.com/events/wave
---
Shotz
MAKE ENQUIRY
BOOK NOW
Event Details
ROYALS STUDIO IS HONOURED TO INTRODUCE
WAVE

A massive event with a massive collab of your favourite artists and dj ready to light up the dancefloor and the presence of successful influencers in Mauritius upon your social account.
You really wouldn't want to miss this for the world.
Party along with the great tunes of Bigg Frankii, Nick William, Natty Gong, Ash, Shehzad K, David Jay, LP, Avi S, Warren Perma, Tey Officiel, SamSam & Lin Flex for hours upon of good music and fun.

If you didn't have enough reason to attend the Wave party, all ticket holders will have the privilege of meeting their favourite artists. For extra flair, VIP and VVIP ticket holders get access to a special VIP and VVIP area as well as a photobooth, to mark these exceptional moments.
Opt for the VVIP table package, where you get an exclusive table just for you and your mates, alongside a drinks package of 3 Red Label bottles.

TICKET CATEGORIES

Standard Ticket : Rs 400

Access to Wave Party
Meet & Greet with influencer/artists

VIP Tickets : Rs 700

Access to Wave Party
Meet & Greet with influencer/artists
Special photo booth with backdrop
VIP area

Royals VVIP Table : Rs 12,000

5 VVIP Tickets
Dedicated Table
3 Red Label Bottles
Access to Wave Party
Meet & Greet with influencer/artists
Special photo booth with backdrop
VVIP area

Artist Line up :

BIGG FRANKII
A very prolific singer, Bigg Frankii has millions of views on the platforms where his songs and videos are offered to his fans. This Roche Bois singer enjoys a star status with the new generation where Picoti Picota, Tic Tac, My one in a million are essential hits.

NATTY GONG
Benoît Girodeau, better known as Natty Gong was influenced very early by Seggae Music as well as the discovery of Bob Marley and a lot of Jamaican Dancehall singers. Natty Gong's Welkom dan Moris and Latet, were greatly appreciated by those in the reggae and dancehall world, and he has gone on to conquer the local stages by playing at popular music festivals and events.

WARREN PERMAL
His cover of Agatha was crowned record of the year 2018. He has collaborated with the greatest on songs that have moved more than one.Since his debut in 2017, Warren Permal has never ceased to defy the norm with songs as atypical as him. And 2020 is no exception. The 22-year-old has just released a new opus called Hold me, in collaboration with the great Nigerian singer Singah, to music by DJ Nick William.

TEY OFFICIEL
Son of artist Jean-François Antoinette, Tey grew up surrounded by music. He started his career in 2008 by joining a group with his cousins 'XV Balles Hood', as a rapper under the name of Youth. It was in 2014 that he decided to go solo and was quickly spotted on social media. His first single 'A ses côtés' was a fresh sound with pop-reggae tunes, followed by many other hit songs including "Perdi Ou Leker" ft. Cindia Amerally which amassed 3.6M views on Youtube.

DJ Line up :
David Jay
LP
ASH
NICK WILLIAM
SHEHZAD K
FABRICE DUVAL
AVI S
DARK
JORDAN
SAMSAM
LIN FLEX

Influencers :
Ornella Lafleche
AB Production
Coralie MK
Ally Royals
Christopher Ludovic
Vincent de Rossignol
Identity
Mishika Milena
Julie
Lord Alaska
Shanny Ramsamy
Ryan
Bindisha Balloo
Sinoi Local
Raju Birion
Julie
Sharfa
WAMAN
Kendrick Kevin
Djevin
John Ducon
Peanut Curls
Joshua
V STUDIO
Venue:Shotz, Flic en Flac

By taking part in this event you grant the event organisers full rights to use the images resulting from the photography/video filming, and any reproductions or adaptations of the images for fundraising, publicity or other purposes to help achieve the group's aims. This might include (but is not limited to), the right to use them in their printed and online publicity, social media, press releases and funding applications.