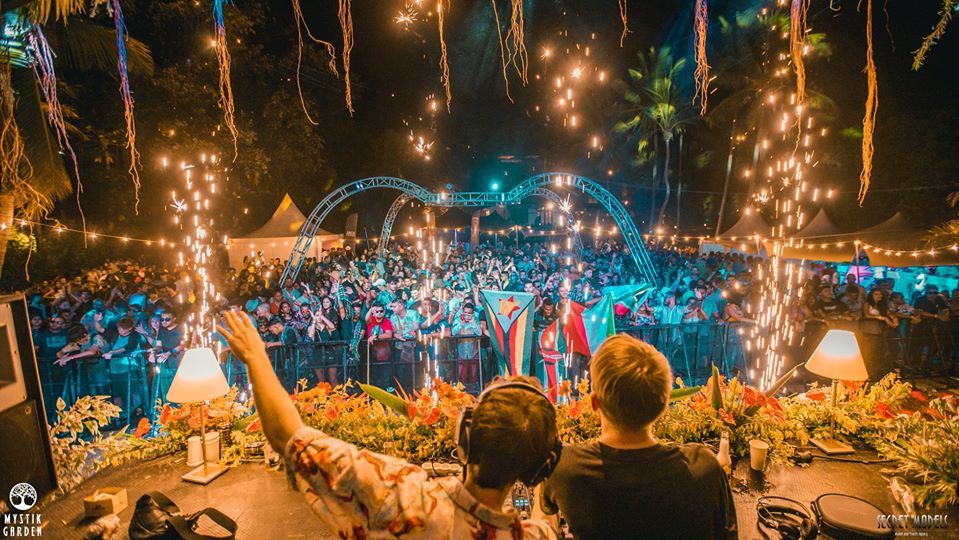 Event Details
... After the massive success of THE MYSTIK GARDEN & due to overwhelming requests, Secret Models is back again with the SECOND edition of #TheMystikGarden. After nearly 3 months of lockdown, we are more than thrilled to see you again! ❤️

Inspired by the actual historical location, the backdrop & theme of this event will be heavily relying on our local artists and various music styles they will bring on stage for more than 15 hours of nonstop party! From dark melodic techno to psytrance, this show will be an excellent treat for music enthusiasts & those who have been attending our festivals since the last half-decade! 🌺🏴‍☠️🧚‍♀️

If you were blown away by THE MYSTIK GARDEN, the second edition will be another event to look forward to with lots of new surprises on the last weeks prior to the show. WATCH OUT for these surprises! 💥

*****************************************************
⚠️ WHAT TO EXPECT ⚠️

🍇 3 Stages
🌺 Rooftop Afterparty
🎯 More than 15 Artists
🌻 Massive Location
🎲 New Production Team
🌼 Organic Decoration
🍟 Multiple food & bar corners
🔥 Organic Stage Design & Setup
⭐️ Fireworks
💐 Fire Breathers
🌺 1 Happy Family

*****************************************************
⚠️ TICKETS INFORMATION⚠️

💥 OFFICIAL POINT OF SALES 💥

🔥 Cave De Nicolas - Bagatelle Shopping Mall
🔥 Citysport - Bagatelle Mall
🔥 Citysport - Beau Vallon Mall
🔥 Citysport - Phoenix Mall
🔥 Citysport - Riche Terre Mall
🔥 Citysport - Caudan Waterfront
🔥 Citysport - Grand Baie Super U
🔥 Sale Sucre Pizza - Curepipe

🌼 Physical tickets on sale as from 1st week of July 2020

🌺 Online tickets available on OTAYO as from 27 June 2020

⚠️ All those who bought tickets for April (Temple of Light) can now use them & enter FREE in this event! Yes, the tickets are redeemable now! ❤🙏❤

*****************************************************
💢 TICKETS (Only 400 tickets available!)

- Normal Ticket @ Rs 1000
- VIP Tickets @ Rs 2000

💢 DOORS

- Normal Ticket @ Rs 1500
- VIP Tickets @ Rs 2500
- Upgrade (Normal to VIP + AfterParty) @ Rs 1500

☎️ HOTLINE : 5824-2330 / 466-9999

P.S : Tickets are subject to availability & are limited to avoid overcrowding ! DO NOT WAIT FOR LAST MINUTE TO BUY YOUR TICKETS! 💥

🌲 VIP TICKETS - WHAT IS INCLUDED? 🌲

• Direct and exclusive different access to the venue
• Normal ticket holders have another route to the venue
• VIPs can mix in the Normal zone
• Premium exclusive parking inside venue
• Meet & Greet with artists + autograph sessions
• Access to the PARTY PIT zone on stage with the DJs
• Dedicated bar manager & hostesses
• Exclusive area behind the stage for the VIP Area
• Exclusive bar in the VIP Area
• Secured lounge with security agents
• Premium exclusive gifts & bottle deals
• GIFTS & GOODIES in point of sales (LIMITED!)
• VIP ticket holders will get free access to the private rooftop AFTERPARTY at ANNO 1743 (Maritim) from 1am till sunrise

*****************************************************
BY PURCHASING THIS TICKET YOU AUTOMATICALLY AGREE WITH THE FOLLOWING :

❌ Gates of the arena will open at 2PM and close as from 5PM, which means you have to be inside the venue by 5PM latest.

❌ Temperature check at the entrance + sanitary measures to be adhered at all costs.

❌ Masks to be worn at the event. No mask, no entrance. You can buy our custom merchandise masks available at the entrance.

❌ Make sure to come early to secure your parking at the venue. ONLY FIRST COME FIRST SERVED BASIS.

❌You are NOT allowed to bring your own food & drinks. There will be sufficient bars / food corners available in the arena at a reasonable price.

❌ The management is NOT responsible for any individual's death, theft, loss of personal belongings, injury. Everyone takes his/her own responsibility.

❌ Tickets once sold cannot be refunded or exchanged. Please buy ONLY on the official website + official point of sales. DO NOT BUY YOUR TICKET FROM ANOTHER PERSON OR RESELLER.

❌ Fake ticket holders will be immediately removed and banned from our events eternally.

❌ The management reserves the right of admission and our security team has the last word in case of discussion.

❌ Have fun but drink responsibly. Minors should be accompanied by a responsible party. ID cards will be requested at the doors.