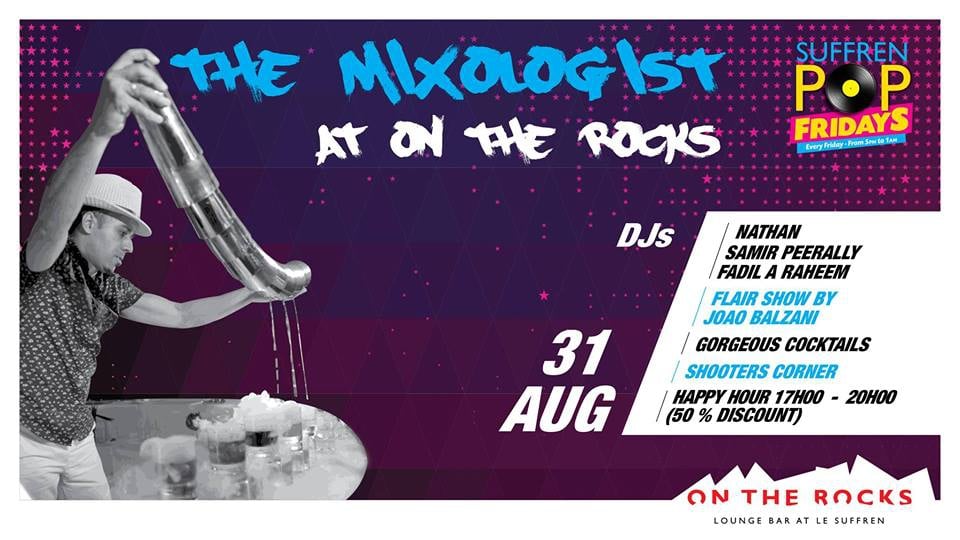 Event Details
Get ready for a head-turning performance from award winning mixologist, Joao Balzani, who will captivate you with his own take on new cocktail creating techniques and an out of this world Flair show.

Happy Hour from 5pm to 8 pm with the night ending on a high note with guest DJs Samir and Fadil.

Meet you there!

#OTRmoments #OnTheRocks #LeSuffren #HappyHour
▬▬▬▬▬▬▬▬▬▬▬▬▬▬▬▬▬▬▬▬▬▬▬▬▬

➨ #HappyHours 17h - 20h
Enjoy 50 % DISCOUNT on non-premium drinks!
A variety of delicious Molecular Cocktails throughout the night.

➨#Entertainment
Dj Nathan
Shooters Corner

➨ #TheLounge
Enjoy a personlised experience between friends, family and colleagues. Enjoy good vibes and delicious premium snack and drinks menu that's exclusive to the lounge!

➨ #DressCode: Casual Smart

➨ #Drinks: Special Cocktail for the evening.

▬▬▬▬▬▬▬▬▬▬▬▬▬▬▬▬▬▬▬▬▬▬▬▬▬▬▬
✺The Management reserves the right of Admission✺
▬▬▬▬▬▬▬▬▬▬▬▬▬▬▬▬▬▬▬▬▬▬▬▬▬▬▬
By entering the event premises, you consent to be possibly photographed, video recorded and its/their release, publication, exhibition, or reproduction to be used for advertising, inclusion on websites, social media, or any other purpose by our affiliates and representatives. Images, photos and/or videos may be used to promote similar events in the future.