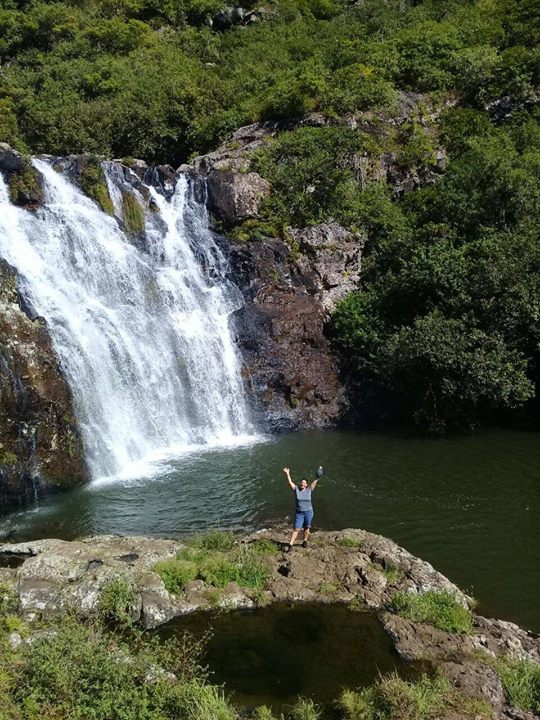 Event Details
Hiking Trip to Tamarin Waterfalls
Randonnée aux 7 Cascases

EN: Maurirando is organizing an exiting hike to the beautiful Tamarind Waterfalls on Sunday, 18/03/2018, starting at 9:3h0. We meet at 9:00h at the bus station in Henrietta (Vacoas) from where we will ride another 3km to the starting point of the hiking trip. We will need about 1:30h to decend four of the seven waterfalls. At the forth waterfall we will have time for a swim and enjoy the amazing surroundings. We will have time to enjoy a snack and get some rest before ascending back to to our starting point which we will reach at approx. 13:00h.

No special knowledge or gear needed: Everyone being able to walk 2 hours across country will be able to join the trip!
Please bring: Hiking/sport shoes, water, snack, swim suit, mosquito repellent, sunscreen, hat, camera 😀

Everyone is welcome to join, but please do not show up unannounced, as there is always the possibility for last minute changes due to weather conditions. Please send us an email at maurirandonnee@gmail.com or text/whats app Jean Francois at 57710319 or Sagar at 58120113 if you are interested in joining. Transportation can be organized from the West Coast Area. Participation Fee: 400 RS/person
--------

FR Maurirando organise une randonnée aux merveilleuses Sept Cascades le dimanche, 18/03/18 à 9:30h. Point de rencontre: l´arret de bus d´ Henrietta (Vacoas) à 9:30h. Nous allons conduire encore 3km afin d´arriver au point de départ. Nous allons décendre environs 90min afin d´arriver à la quatrième cascade où nous avons l´occasion de baigner et de prendre un snack dans un environement formidable avec une vue magnifique sur la vallée. Après une montée courte nous allons arriver au point de départ vers 13:00h.
Toutes personnes étant capable de marcher 2 heures dans un environement montagneux sont capable de participer.


A emmener: chaussures de sport/de rando, de l´eau, un petit snack, maillot de bain, spray contre les moustiques, crème solaire, un chapeau solaire et une caméra 😀

Tout le monde est bienvenu, mais nous vous prions de nous annoncer votre participation comme il peut y avoir des changements à la dernière minute à cause du temps. Envoyez un message à maurirandonnee@gmail.com ou un sms/what´s app Jean Francois sur 57710319 ou Sagar sur 58120113. Transport de la cote ouest peut etre arrangé. Frais de participation: 400Rs/personne.