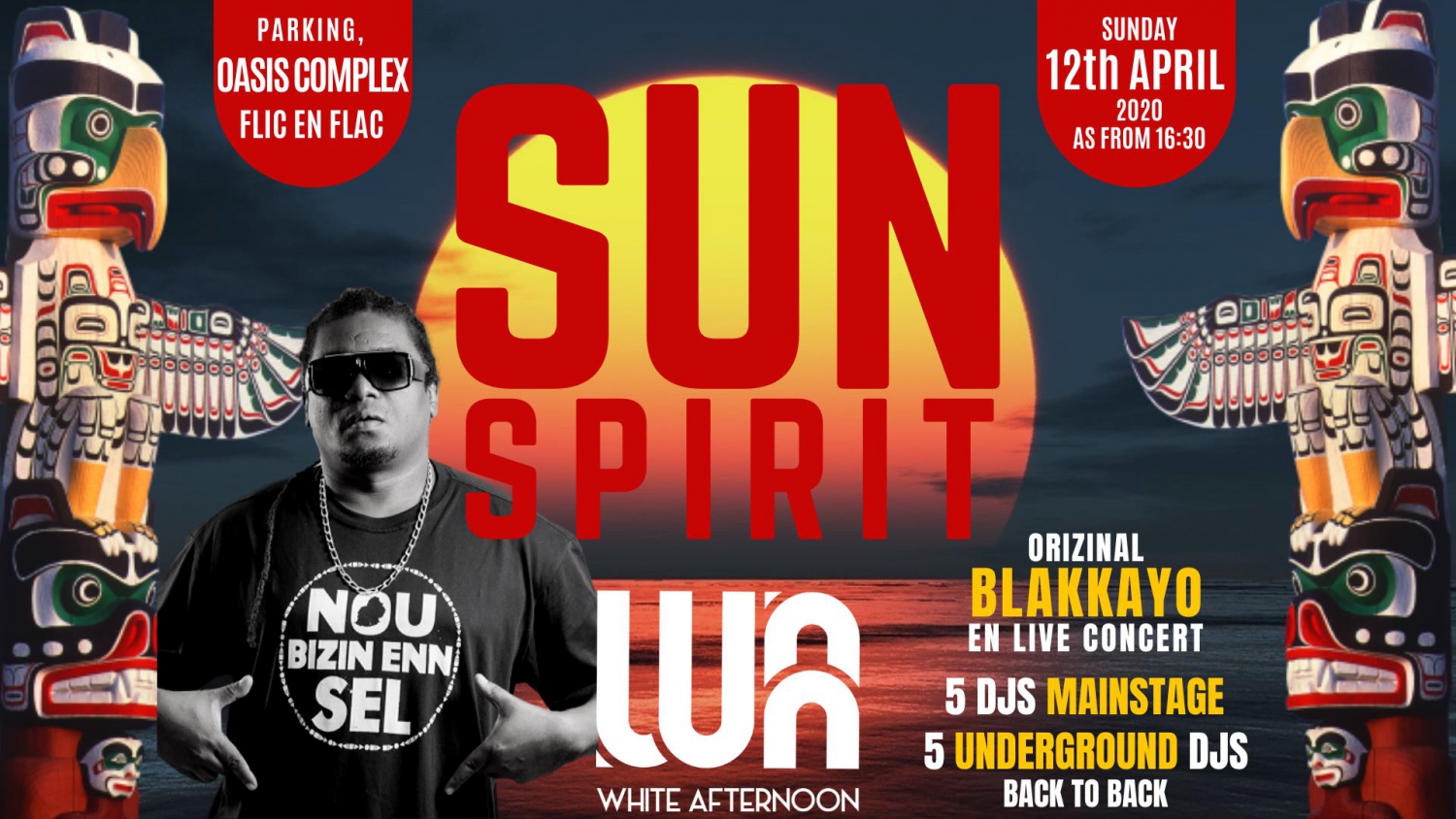 SUN Spirit at White Afternoon 2020 with Original Blakkayo at Oasis Complex Flic en Flac
Sun Apr 12th 2020 at 16:30 until 00:00
---
Mauritius
,

Parking Oasis Complex

,

Flic en Flac
https://www.myguidemauritius.com/events/sun-spirit-at-white-afternoon-2020-with-original-blakkayo-at-oasis-complex-flic-en-flac
Event Details
🗿☀️🍂 SUN SPIRIT at White Afternoon 2020 🍂☀️🗿

👹 WA Family, Gather around, Get in, Let the SUN heat our Spirits!

🔥We are adding to our customs, it is time to add a LIVE CONCERT to our traditional White Afternoon.🔥
PEOPLE: WELCOME BLAKAYYO to our tribe!
Blakkayo is known to be a master at live performances, one of the few artists to have perfected his craft over the years, he is coming to add his touch to WA.

☀️OPEN AIR LIVE CONCERT ☀️ MAINSTAGE DJs ☀️ UNDERGROUND SCENE☀️
We have it all, Full Concert Experience then we go to the Mainstage or if you like the Underground Scene, we have that too!

🌞🌼 TWO venues in one: OUTDOOR MAINSTAGE & an UNDERGROUND for the purists. 🌼🌞
Gentlemen's Club will be repurposed as a proper underground club, and of course, same as last time, the Gentlemen's Club Ladies will be alongside us, partying, playing in the foam, together as one Tribe ;)

🔷We have a total of 10 DJs for SUN SPIRIT, want to know who? follow our event page, we will disclose them one by one. Let's slowly savour this one ;) 🔷

☀️OUTDOOR MAINSTAGE:☀️

►ORIZINAL BLAKKAYO Full Live Concert to start this WA

☀️OUTDOOR MAINSTAGE:☀️

► 5 DJs firing up the Mainstage

☀️UNDERGROUND:☀️

► 5 DJs Back to Back

✺✺✺✺✺✺✺✺✺✺✺✺✺✺✺✺✺✺✺✺✺✺✺✺✺✺✺✺
►DATE: Sunday 12.04.2020
►VENUE: The parking of OASIS COMPLEX, Flic en Flac and Gentlemen's Club
►TICKETING:
➨ At door only: Rs 300
◢◤DRESS CODE: White
✺✺✺✺✺✺✺✺✺✺✺✺✺✺✺✺✺✺✺✺✺✺✺✺✺✺✺✺
By participating to this event, you accept to be photographed and filmed.
The Management reserves the Right of Admission.
We want to have a great party, Inappropriate behaviour will NOT be tolerated.
DO NOT DRINK & DRIVE!