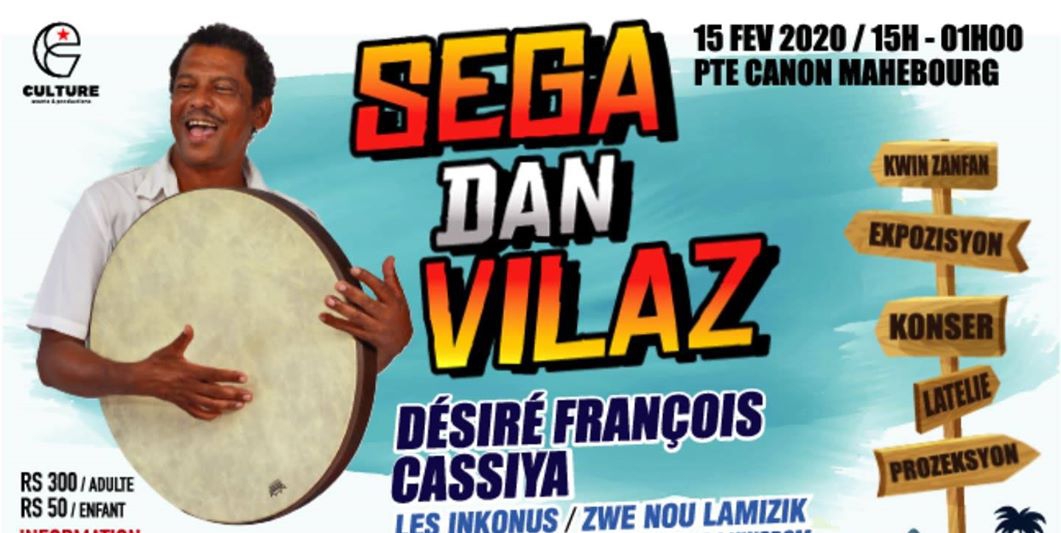 Event Details
SEGA DAN VILAZ

The concept is to go to the villages where DESIRE FRANCOIS & CASSIYA are not used to doing concerts. They go to meet their fans around the island, through 5 concerts.

The First will take place on Saturday February 15, 2020 at Pointe Canon, Mahebourg

*PROGRAM *

15h00: Doors open
15h00 - 23h00: Bouncy castle & children's games
15h00 - 17h00: KAN recycling workshops
15h00 - 23h00: Instrument Expo
15h00 - 17h00: Instrument initiation by Kurwin Castel
16h30 - 17h30: Film screening

19h00 - 19h30: Tony Belle
19h45 - 20h15: Mahela
20h30 - 21h15: Valo
21h30 - 22h30: Les Inkonus
22h45 - 00h00: Désiré Francois and Cassiya

DJ Kingdom will also be there to set the tone !!

Tickets on sale at Rs 300 only for adults & Rs 50 for children at:
* Power Music - Curepipe
* Metro Music - Super U, Grand Baie & Belle Rose
* Ah Kaye - Rose Hill
* Marideal
* Otayo

10% of the revenue from the ticket sales will be donated to the ENN REV ENN SOURIR association.