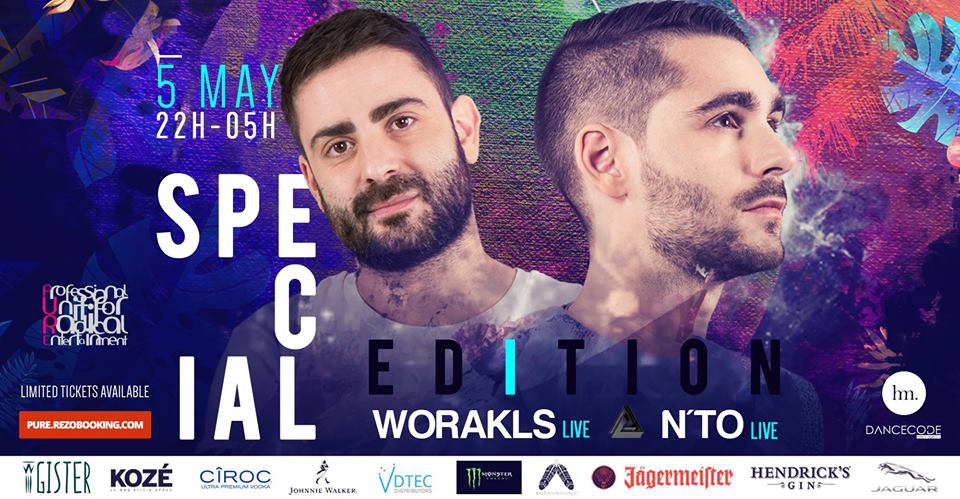 Event Details
PURE special edition: Worakls & N'to
Saturday 05 May
Insomnia Nightclub

✺✺✺✺✺✺✺ UNIQUE NIGHTCLUB INDOOR EDITION ✺✺✺✺✺✺✺

PURE will always be an outdoor premium brand.

We invite you for a special & unique indoor edition featuring our headliners Worakls & N'to!

After exploring many kinds of outdoor events - far far away - we decided to organise a long overdue nightclub event in the North.

The chosen venue is Insomnia, well located in the centre of Grand Bay which can accommodate our crowd in 2 separate zones: the main dance floor and the VIP lounge.

Because this event is indoor, tickets are LIMITED and we have to work on a first come first served basis.

Our last festival was a sold-out event, do not miss your chance this time and buy your tickets as soon as possible.

⊙⊙⊙ Concept ⊙⊙⊙

The finest night-clubbing experience by PURE.

PURE always create a new atmosphere in venues where we set our foot. Expect an upgraded venue with a new decor, sound & light system and brands activations.

Our team is taking over the whole management of the club for this special evening.

⊙⊙⊙ Ticket sales (As from 06 April) ⊙⊙⊙

Exclusively on http://pure.rezobooking.com and at the door.

X Regular & VIP ⊙⊙⊙

First 100 Tickets

Pre-sale ticket - Regular: MUR 1,000
Pre-sale ticket - VIP: MUR 1,400

***As from 14th April
Pre-sale ticket - Regular: MUR 1,200
Pre-sale ticket - VIP: MUR 1,600

***As from 28th April
Pre-sale ticket - Regular: MUR 1,400
Pre-sale ticket - VIP: MUR 1,800

At the door (If not sold-out):
Regular: MUR 2,000
VIP: MUR 3,000

The VIP ticket will give you access to the VIP lounge with the following amenities:

- Open bar from 22:00 to 23:00
- Private Dance floor
- VIP bar
- Private table service (only if you buy a table package)

X VVIP Table Packages ⊙⊙⊙ Only 10 tables available!

Packages to be bought online: pure.rezobooking.com

ALL TABLE PACKAGES EXCLUDE TICKETS WHICH MUST BE BOUGHT SEPARATELY

3 packages are available for tables:

★ Silver package - MUR 15,000 (incl. 3 premium bottles)

★ Gold Package - MUR 20,000 (incl. 4 premium bottles)

★ Platinum Package - MUR 25,000 (incl. 6 premium bottles)

⊙⊙⊙ Hungry Music

Hungry Music was born from the chance encounter of three artists, each with their own universe, but a common taste in sound esthetic. They naturally gathered to work on a project allowing them to produce the kind of music they like, the kind of music that would allow them to express their whole artistry, beyond the traditional borders of electronic music. From this french label transpires new sonorities : sharp, but hypnotic, elegant, but very powerful. In 2015, they created « Hungry Band », a live performance uniting the skills of Worakls (piano), N'to (machines), and Joachim Pastor (guitar).

VIDEO LIBRARIES :
https://www.youtube.com/user/HungryMusicTV/videos
https://www.facebook.com/hungrymusic.fr/videos

SOCIALS : http://www.hungrymusic.fr
https://www.facebook.com/hungrymusic.fr
https://www.youtube.com/user/HungryMusicTV/
https://soundcloud.com/hungry-music
https://www.instagram.com/hungrymusic/
https://twitter.com/Hungry_Music_fr

⊙⊙⊙ WORAKLS (Hungry Music // FR) - LIVE

The young French prodigy Worakls is a composer above all. As he grew up in a family of musicians, he started to learn the piano at the age of 3. Soon after the Conservatory, he finds in electronic music a perfect way to give his melodies this incomparable onirism and strengh that suit them so well.

He draws his creativity from many genres such as movie soundtracks and classical music. In 2014, he creates the label Hungry Music with his friends N'to and Joachim Pastor, allowing him to fully express those influences.

Even before the release of his first album, several of his tracks already imposed themselves as classics of a genre. He is now unveiling his new project, Worakls Band, a live performance gathering several musicians (violin, alto, cello, and guitar).

⊙⊙⊙ N'TO (Hungry Music // FR) - LIVE

70s rock, 30s swing, hiphop, triphop, pop, jazz, soul, classical music are as many shades N'to can use to colour his tracks.

However it is through electronic music that he expresses and fulfills himself completely. He creates a distinctive, pure and « pointilliste » sound that already makes him a key player on the French techno market. He works every inch of his generous rhythmic, he deconstructs the sounds, betrays our habits and yet those melodies of his go straight to the point and far beyond our expectations.

Creating Hungry Music label alongside with his friends Worakls and Joachim Pastor is a chance for him to let his imagination and musical eclectism flow freely so that he continuously reinvents himself. That's how appeared his latest project, N'to Perc Live 2015, illustration of this blurring of the borders between electronic and acoustic.

⊙⊙⊙ Partners ⊙⊙⊙

Ciroc Vodka, Gister Beer, Moët & Chandon, Jack Daniel's Tennessee Whiskey, KOZÉ, MONSTER Energy, VDTECH.

⊙⊙⊙ Highlights ⊙⊙⊙

- 1st 100% nightclub event from PURE since 2015
- Indoor Event
- VIP lounge
- Improved Sound System
- Special Edition Decoration
- Quality music, set-up and crowd

⊙⊙⊙ Dress Code ⊙⊙⊙

---- BOHO CHIC ----

⊙⊙⊙ Disclaimer ⊙⊙⊙

Event strictly 18+ (ID card will be asked at the door)
By participating to this event you accept to be photographed, and filmed.

✺✺✺✺✺✺✺✺✺✺✺✺✺✺✺✺✺✺✺✺✺✺✺✺✺✺✺✺✺

The Management of PURE reserves The Right of Admission.