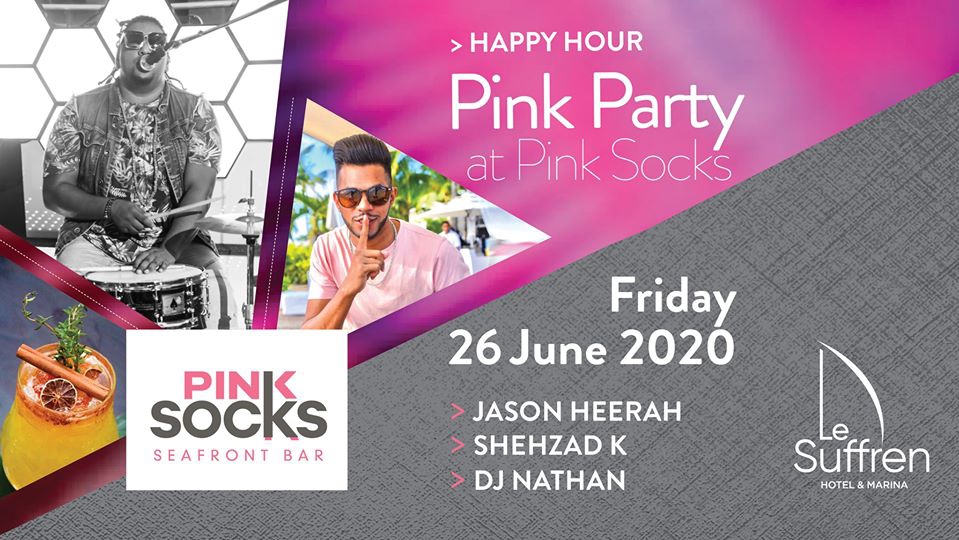 Event Details
Let's have some great vibes with Jason Heerah and Shehzad K this Friday 26th June during the Pink Socks Happy Hour!
Bringing his legendary smiling voice to your favourite place, Jason Heerah will undoubtedly get you in the mood while Shehzad K will, as always, take it up a notch with his amazing mixes! You won't have any reason not to dance!
Happy Hour from 5pm to 8pm every Friday with 50%
off all drinks*!

#LeSuffren #HappyHour #pinksocks
▬▬▬▬▬▬▬▬▬▬▬▬▬▬▬▬▬▬▬▬▬▬▬▬▬

➨ #HappyHours 17h - 20h
Enjoy 50 % DISCOUNT on non-premium drinks!
A variety of delicious Signature & Classic Cocktails throughout the night.

➨#Entertainment
DJ Nathan
DJ Shehzad K

➨ #DressCode: Casual Smart

➨ #Drinks: Special Cocktail for the evening.

▬▬▬▬▬▬▬▬▬▬▬▬▬▬▬▬▬▬▬▬▬▬▬▬▬▬▬
✺The Management reserves the right of Admission✺
▬▬▬▬▬▬▬▬▬▬▬▬▬▬▬▬▬▬▬▬▬▬▬▬▬▬▬
By entering the event premises, you consent to be possibly photographed, video recorded and its/their release, publication, exhibition, or reproduction to be used for advertising, inclusion on websites, social media, or any other purpose by our affiliates and representatives. Images, photos and/or videos may be used to promote similar events in the future.