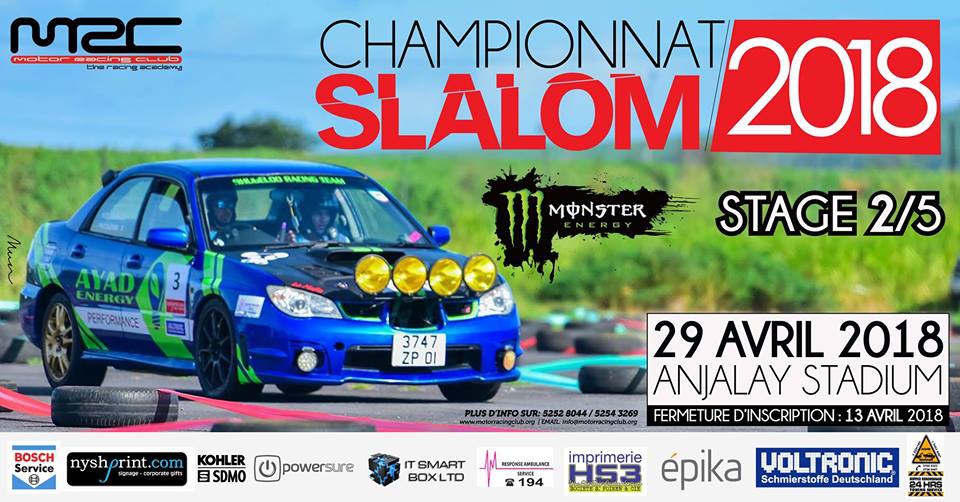 Event Details
MRC Slalom Championship 2018 (2nd Tour) - Powered By Monster Energy Drink
Date: April 29, 2018
Location: Anjalay Stadium Parking

#SlalomMauritius

1st Briefing: Thursday 15th March 2018 as from 19hrs,
Venue: Gold Crest Hotel, Quatre-Bornes

Technical & Administrative check: - Tuesday 17 April to Friday 20 April 2018

Presentation & unveiling of the circuit: - Tuesday 24 April 2018

#MRC Slalom 2 Application Form 2018: http://motorracingclub.org/download/2018/Registration%20form%20Slalom%202%202018.pdf
Closing Registration: Friday, April 13, 2018
Participation fee Rs 2,500 per day

Form must be submitted to:
1. Concept Cars Shop Malartic Street, Rose Hill
2. Store K. Dim Co. Ltd. Royal Road, Curepipe Road opposite BM Bookcenter & Shalimar Trading

Web site: www.motorracingclub.org
Email: info@motorracingclub.org

MotorRacingClub reserves the right to cancel or change the date in the event of force majeure

-------------------------------------------------------------------------------------

MotorRacingClub does not assume responsibility for any lost or stolen personal property. Please keep all personal property under observation or secured in a locked vehicle.


Photo and drone coverage: By entering the event premises, you consent to interview(s), photography, audio recording, video recording and its/their release, publication, exhibition, or reproduction to be used for news, web casts, promotional purposes, telecasts, advertising, inclusion on websites, or any other purpose by Motor Racing Club and its affiliates and representatives. You release Motor Racing Club, its officers and employees, and each and all persons involved from any liability connected with the taking, recording, digitizing, or publication of interviews, photographs, computer images, video and/or or sound recordings.

By entering the event premises, you waive all rights you may have to any claims for payment or royalties in connection with any exhibition, streaming, web casting, televising, or other publication of these materials, regardless of the purpose or sponsoring of such exhibiting, broadcasting, web casting, or other publication irrespective of whether a fee for admission or sponsorship is charged. You also waive any right to inspect or approve any photo, video, or audio recording taken by Motor Racing Club or the person or entity designated to do so by Motor Racing Club.