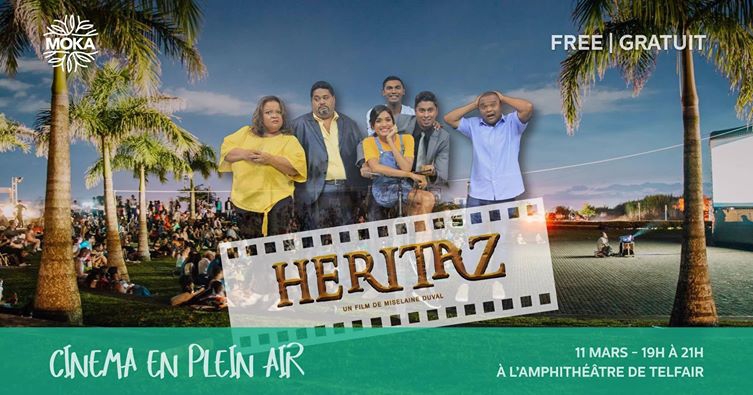 Event Details
CANCEL UNTIL FURTHER NOTICE

🎬 Notice to all Mauritians and especially Komiko fans!

Join Us on March 11 - on the eve of the Independence Day - from 7 p.m. to 9 p.m. for a 100% local cinematographic event, free and open to all, in the Telfair Amphitheater in Moka!

On the program: the screening of Komiko's latest feature film, HERITAZ, which we proudly sponsored.

-------------------------------------------------

📜 Synopsis of the feature film

Both entertaining and emotional at the same time, HERITAZ relates the story of a rich planter who, before dying, entrusts his son with the mission of finding the three grandchildren he has denied. Treated like bastards forever, will these children be able to forgive this authoritarian grandfather, who never accepted that his son marry the mother of each of his grandchildren ...?

🎥 Find the trailer for the film at https://youtu.be/URt_Hjp0Oz4

-------------------------------------------------

📅 Film lovers mark your calendars for this evening now!

👌🏻 Free access
👨‍👩‍👧‍👦 Come with friends, lovers or with your family
🍿 Popcorn & gadjaks on sale on site
🏕 Don't forget your mats and blankets for more comfort!

-------------------------------------------------

disclamer

By participating in an event organized by Moka City Limited,

(a) you agree that your photo and / or image will be taken, recorded, processed, saved and published in digital form and printed for and on behalf of Moka City Limited through various means of communication in order to disseminate information about its events; and

(b) you agree to hold harmless and release Moka City Limited from any claim or request arising out of or related to the use of your photos, images, likeness, name or identity, including, without limitation, any claim from 'invasion of privacy, defamation or financial compensation.

If you do not want your photo and / or image to be used, you must notify us in writing at info@moka.mu before the event.