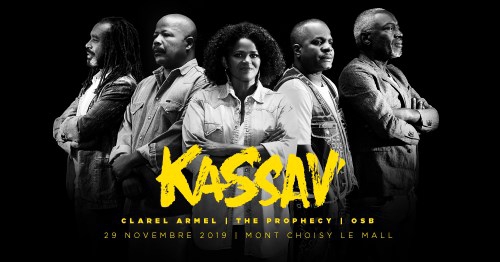 Live Concert of Kassav in Mauritius
Fri Nov 29th 2019 at 20:00
---
Mauritius
,

Mont Choisy Le Mall

,

Mont Choisy
https://www.myguidemauritius.com/events/live-concert-of-kassav-in-mauritius
BOOK NOW
Event Details
KASSAV live concert in Mauritius followed by an evening with CLAREL ARMEL, RUN HIT, THE PROPHECY, RUN HIT-OSB

Kassav in Mauritius - Friday, November 29, 2019 🔥🔥

Tickets will be sold on Ticketbox.mu with the exclusive discount of my.t money 🔥🔥
Send us your phone number if you want to buy tickets and to be eligible for this exclusive discount! Tickets: http://bit.ly/kassav-in-mauritius HOTLINE: 52528233 (SMS / CALL / WHATSAPP)

DESCRIPTION
KASSAV 'live concert in Mauritius, Mythical group of zouk from the 80s to this day we all love! And to continue the evening in the second part: CLAREL ARMEL that we no longer present with his legendary swaying and hits, THE PROPHECY, the artist who hit hard in 2018 with his single 'laglwar', RUN HIT: group of our neighbors Reunion to discover and to finish the evening in apotheosis: The OSB. Date: 29 NOVEMBER 2019 in MONT CHOISY LE MALL

from 20: 00-23: 00 LIVE KASSAV Concert

From 23:30 Followed by an evening with CLAREL ARMEL (LIVE) RUN HIT THE PROPHECY (LIVE) RUN HIT-OSB (LIVE)

On-site catering provided by the restaurant LE CALLYPTUS

For those who do not know RUN HIT, Reunionese artists, here are some YouTube links of artists:
​https://youtu.be/jM397wKs_E4
https://youtu.be/dZGSgNWrk2E
https://youtu.be/OPapZyjl5wk
https://youtu.be/xo3mAkOslf4
https://youtu.be/jNYyfKMwkqE
https://youtu.be/ynYCpv6bquw
https://youtu.be/apmDFL2MdNo
https://youtu.be/UkFeoLGUcM0
https://youtu.be/FZyXyuTSBFw

About KASSAV

Kassav 'is a band created in Guadeloupe in 1979. Kassav' means cassava (cassava cake) in Creole. The adventure began when Pierre-Edouard DECIMUS, a former musician from the West Indies, member of the group VICKINGS, decided to create a new musical approach with Freddy MARSHALL (Guadeloupe artist). They call on Georges DECIMUS, brother of Pierre Edouard, and Jacob DESVARIEUX at the time guitarist and arranger, rather in love with Rock and R'n'B. Very attached to the popular music of Guadeloupe, Pierre-Edouard Decimus seeks to adapt it to modern musical techniques. For the recordings, they work with many studio musicians, who will have to realize what they have in mind. It is first experimental. The original rhythms, coming mainly from Gwoka (musical genre of Guadeloupe), will serve as a basis for the music they dream of. Kassav is a concept before being a group. A reflection, a desire for progression, a return to the sources. The band's core trio returned to the studio in November, and in early 1979, Kassav's debut album 'Love and Ka Dance' was released. The group will be formed gradually, in different forms 'Soukwé kò'w' or Kassav, with the comings and goings of musicians and singers until 1984. At that time, Caribbean musicians are rarely professional: the music is a hobby and hardly a job - 'it does not pay'. KASSAV 'will upset one and the other habit: performing mainly in concert, recording disc on disk, fifteen so far (not counting the 'live') under the generic name of the group, and more than thirty solo albums of its members. By conquering an increasingly large and loyal audience, the ZOUK's founding group is proud and considerate of Caribbean music and musicians, in the Caribbean as in France and in the rest of the world where many young people, far from the island of their parents, can finally identify with a group, a culture. The first albums of the group, considered at the time by the French majors as being too 'ethnic' are produced by various producers of Caribbean music, and generally distributed by Sonodisc.