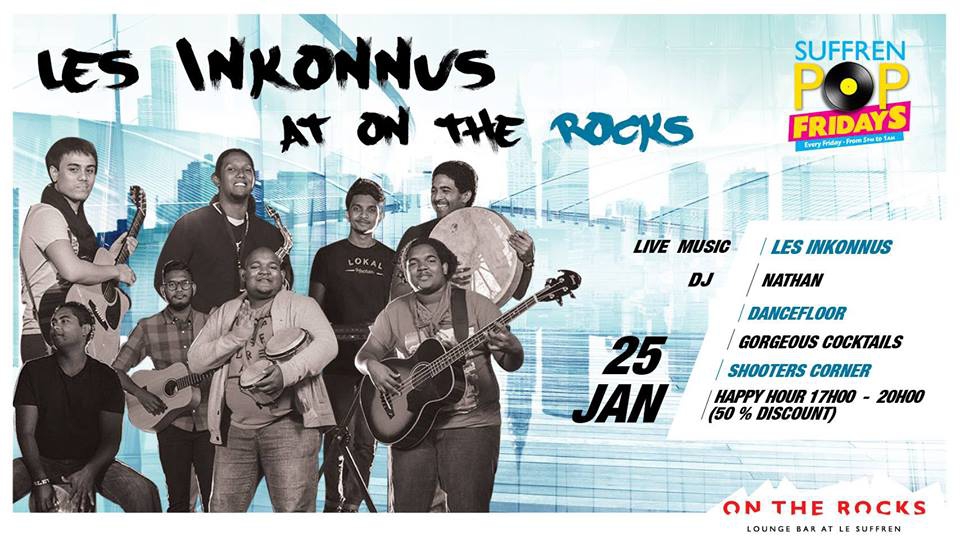 Event Details
No one knows who we will be presenting on Friday the 25th, not even us! They are unknown but yet loved so much!

Les Inkonus at On The Rocks!!!

Be swayed by their amazing voices, their large repertoire and their contagiously fun attitude!

Do not forget our Friday nights Happy Hour at On The Rocks from 5pm to 8pm. All drinks except champagne at half price during the happy hour!!

Meet you there!

17h00-20h00: Happy Hour 50% discount on all beverages except Champagne and bottles

Don't Drink and Drive, stay the night for Rs 2,100 per person sharing a double room.

Coco Le Bob, the solution for a safer driving, is here to take you home. A driver will drive your vehicle from Le Suffren to your house, anywhere in Mauritius! Please book beforehand!

➨ #DressCode: Casual Smart

▬▬▬▬▬▬▬▬▬▬▬▬▬▬▬▬▬▬▬▬▬▬▬▬▬▬▬
✺The Management reserves the right of Admission✺
▬▬▬▬▬▬▬▬▬▬▬▬▬▬▬▬▬▬▬▬▬▬▬▬▬▬▬
By entering the event premises, you consent to be possibly photographed, video recorded and its/their release, publication, exhibition, or reproduction to be used for advertising, inclusion on websites, social media, or any other purpose by our affiliates and representatives. Images, photos and/or videos may be used to promote similar events in the future.