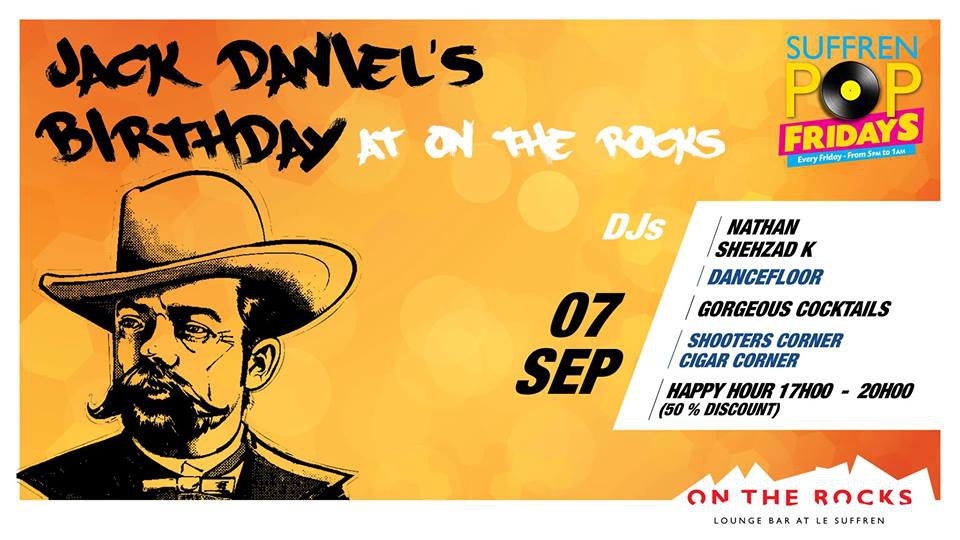 Event Details
A birthday is always an event to celebrate, and a friend's birthday should never be missed!

Join us on Friday the 7th September for a night of partying with Dj Nathan & Shehzad K at On The Rocks.

This is not a simple day; it is the birthday of our friend, the man, the legend, Jack Daniel!

Celebrate Jack's birthday this Friday with a gourmet pairing dinner at Rs1200 per person.

Do not miss our 50% discount happy hour on non premium drinks. Meet you there!

#OTRmoments #OnTheRocks #LeSuffren #HappyHour
▬▬▬▬▬▬▬▬▬▬▬▬▬▬▬▬▬▬▬▬▬▬▬▬▬

➨ #HappyHours 17h - 20h
Enjoy 50 % DISCOUNT on non-premium drinks!
A variety of delicious Jack Daniel's Cocktails throughout the night.

➨#Entertainment
Dj Nathan
Dj Shehzad K
Shooters Corner

➨#FoodPairing
Beef Steak Flambé with Jack (Garnish: Half peach and pear)
Roasted Meat Glazed With Whisky and Herbs (Garnish: Cherry tomato, Mushroom, English mustard and Cooking juice)

➨#Starters
Duck liver terrine, Himalayan salt pear chutney
Shot with green peas puree, smoked salmon and lemon pearl
Air dry beef with onion marmalade on brioche
Pan-seared scallops, seaweed salad, and butternut puree
Cherry mozzarella, tomato skewers, and basil pesto

➨#Cheese&➨#Coldcuts
Blue cheese, Munster, English cheddar, Gouda
Dry plum, Apricot
Raisins, Whole Fig (fresh)
Salamis, Chorizo

➨#Desserts
Chocolate truffle (whisky jelly)
Pavlova orange & Jack
Macarons
Verrine (crumble, white chocolate, jack mousse with vanilla)
Choux with jack cream

➨ #TheLounge
Enjoy a personlised experience between friends, family and colleagues. Enjoy good vibes and delicious premium snack and drinks menu that's exclusive to the lounge!

➨ #DressCode: Casual Smart

➨ #Drinks: Special Cocktail for the evening.

▬▬▬▬▬▬▬▬▬▬▬▬▬▬▬▬▬▬▬▬▬▬▬▬▬▬▬
✺The Management reserves the right of Admission✺
▬▬▬▬▬▬▬▬▬▬▬▬▬▬▬▬▬▬▬▬▬▬▬▬▬▬▬
By entering the event premises, you consent to be possibly photographed, video recorded and its/their release, publication, exhibition, or reproduction to be used for advertising, inclusion on websites, social media, or any other purpose by our affiliates and representatives. Images, photos and/or videos may be used to promote similar events in the future.