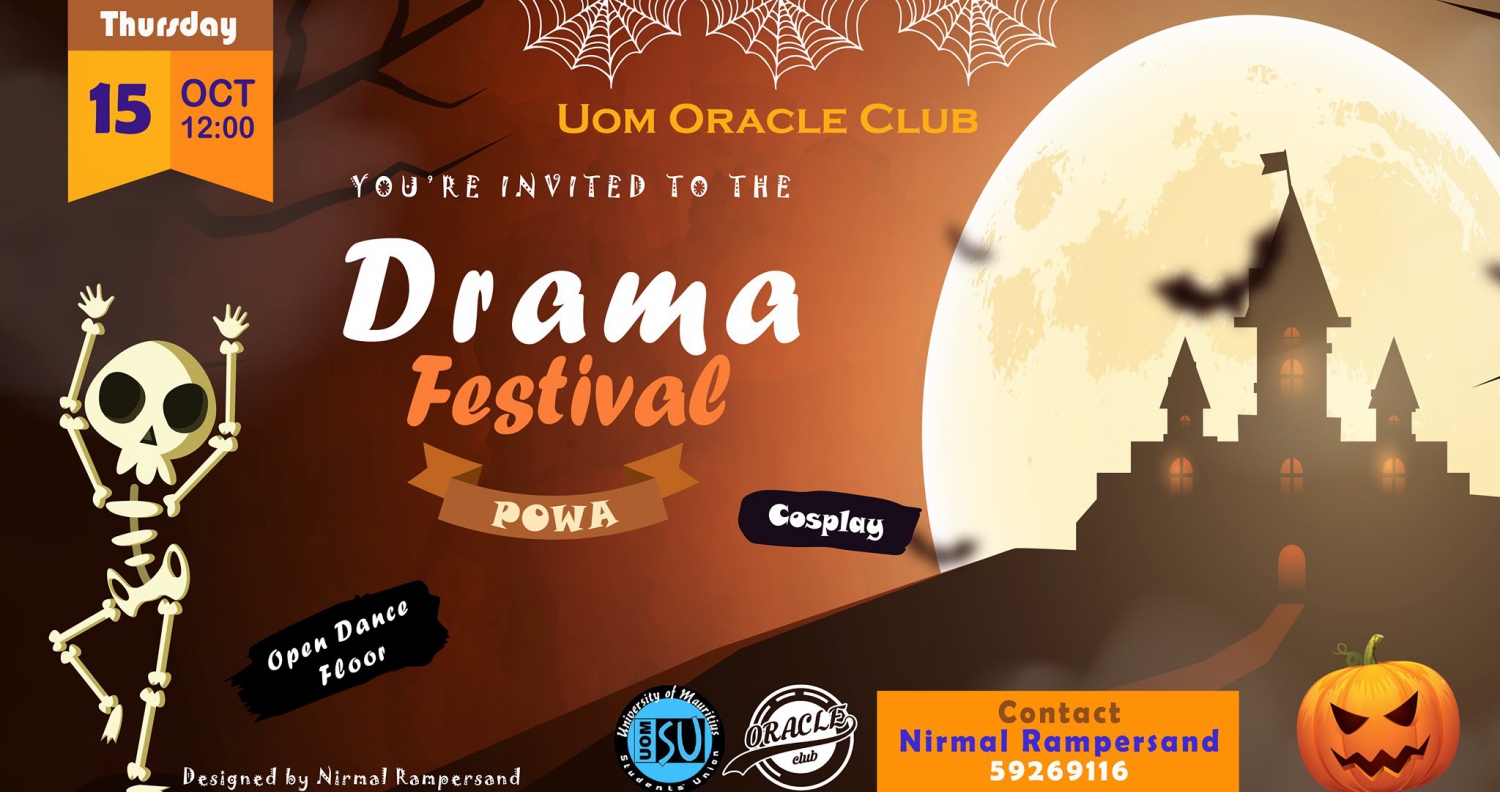 Event Details
Halloween themed Drama Festival 🎃

The UoM Oracle Club in collaboration with the Student's Union is pleased to invite all UoM students to the Drama Festival this Thursday at 12.00 🎃.

🗓️ Date: Thursday 15 October 2020
⏰ Time: 12:00 - 16:00
📍Venue: POWA (Auditorium)

Expect many surprises in a spooky environment 👻. You will be thrilled with the various range of spectacles, that we have planned for this unique show 💀

Watch our exclusive teaser of this hand-crafted story and drama act which our talented team has dedicated time and energy into.🎥

Programme
Drama show (1 hour) 🎭🎬
Cosplay show and competition 👹🈹
Music and Dance performances 🥁🎸
Stand-up comedy 🎤🤡
Open Dance floor 🕺🏻💃🏻

Extras 🎭
A cosplay show and competition shall be hosted after the drama act where different participants will be able to display their costumes on stage.
If you want to participate in the cosplay show during the event, please register in the link below:
https://forms.gle/XYWVwpPTpr4dShyu5

Note that you have the right to be photographed by Avishek Ramrup, the official SU Photographer, for this event.

We are looking forward to see your creativity through your Halloween costumes in the cosplay show. 🧚‍♀️🧚‍♂️

Head Organisers
● Nirmal Rampersand
● Nawsheen Baichoo

Co-Head Organiser
● Daveen Persand

For any queries concerning the event, do not hesitate to contact me via messenger or whatsapp.
Messenger: Nirmal Rampersand
Phone: 59169116

Regards,
Nirmal Rampersand,
President Oracle Club.