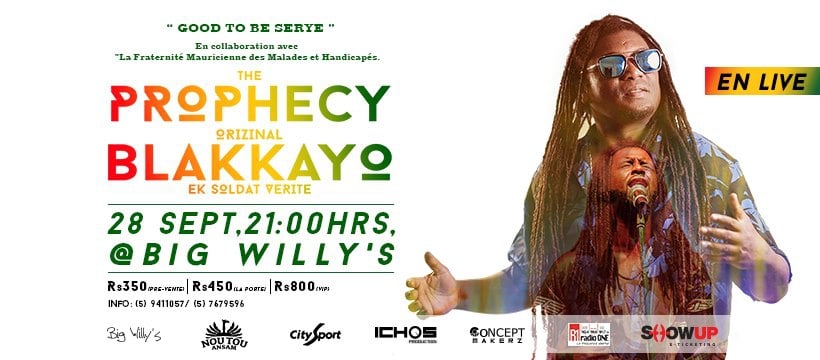 Good to be Serye [Concert Live The Prophecy x Blakkayo]
Sat Sep 28th 2019 at 21:00 until 00:00
---
Le Barachois

,

Mauritius

,

Tamarin Bay
https://www.myguidemauritius.com/events/good-to-be-serye-concert-live-the-prophecy-x-blakkayo
---
Big Willy's
MAKE ENQUIRY
Event Details
Do not miss the Concert with a lot of surprises
----------------------------
Live Concert of The Prophecy and Blakkayo with Solda verite ...
Two generations gathered on a single stage in an amazing place
Come live a truly unforgettable moment with two of the biggest artists of the local music and with surprise guests ...

▬▬▬▬▬▬ Ticket ▬▬▬▬▬▬
Rs350 Prevent
At the door Rs450
VIP Rs800 (vip bracelet on the door)
tickets are limited. First come first served
Minor authorized for the concert only

Point of Sale

Prime Caffè Eben 59436666
Dhany music shop (vip) Port louis 58656522
deejay Nitish (vip) Rose hill 54962100
metro music shop Belle rose super u 58403433
metro music shop Grand baie 58524215
Big Willy's (vip) Tamarin 4837400
Master Sound Bambous 4522900
swan video club mahebourg 6310504
power music shop jan pallach curepipe 57550566
Pret a Manger arcades currimjee curepipe 59335922
Citysport Bagatelle 4688472
Go Sport Bagatelle 4688429
Citysport Phoenix Mall 6860350
Citysport Caudan 2112210
Citysport Riche Terre Mall 2493207
Citysport Grand Baie 2633226
Holdem Show UP onli 4608500

▬▬▬▬▬▬ ▬▬▬▬▬▬ ▬▬▬▬▬▬ ▬▬▬▬▬▬ ▬▬▬▬
The group 'The Prophecy' was created by two childhood friends; Murvin Clélie and Olivier Dauphine.
Murvin Clélie was born on January 2, 1995 and at the age of 12, thanks to his father, he discovers the music through a guitar received on a Christmas morning.
Transported by this mystical instrument, he transmits this musical power to his forever friend ; Olivier Dauphine. Murvin in writing, Olivier on guitar, they work hard and manage to compose several songs.
It is through reggae and seggae music that they express themselves to get their message across. Their common idea was to form a band and it is it happened in 2009 The Prophecy is born. Today it is a group of nine people.
In 2015, the group released their first album entitled '21st Century'. It was a great success right up to being the revelation of the year and winning the 'Backstage Music Band' award. Concerts after concerts, the band gets more maturity and experience. In 2018, they release their second album 'Where we belong'.