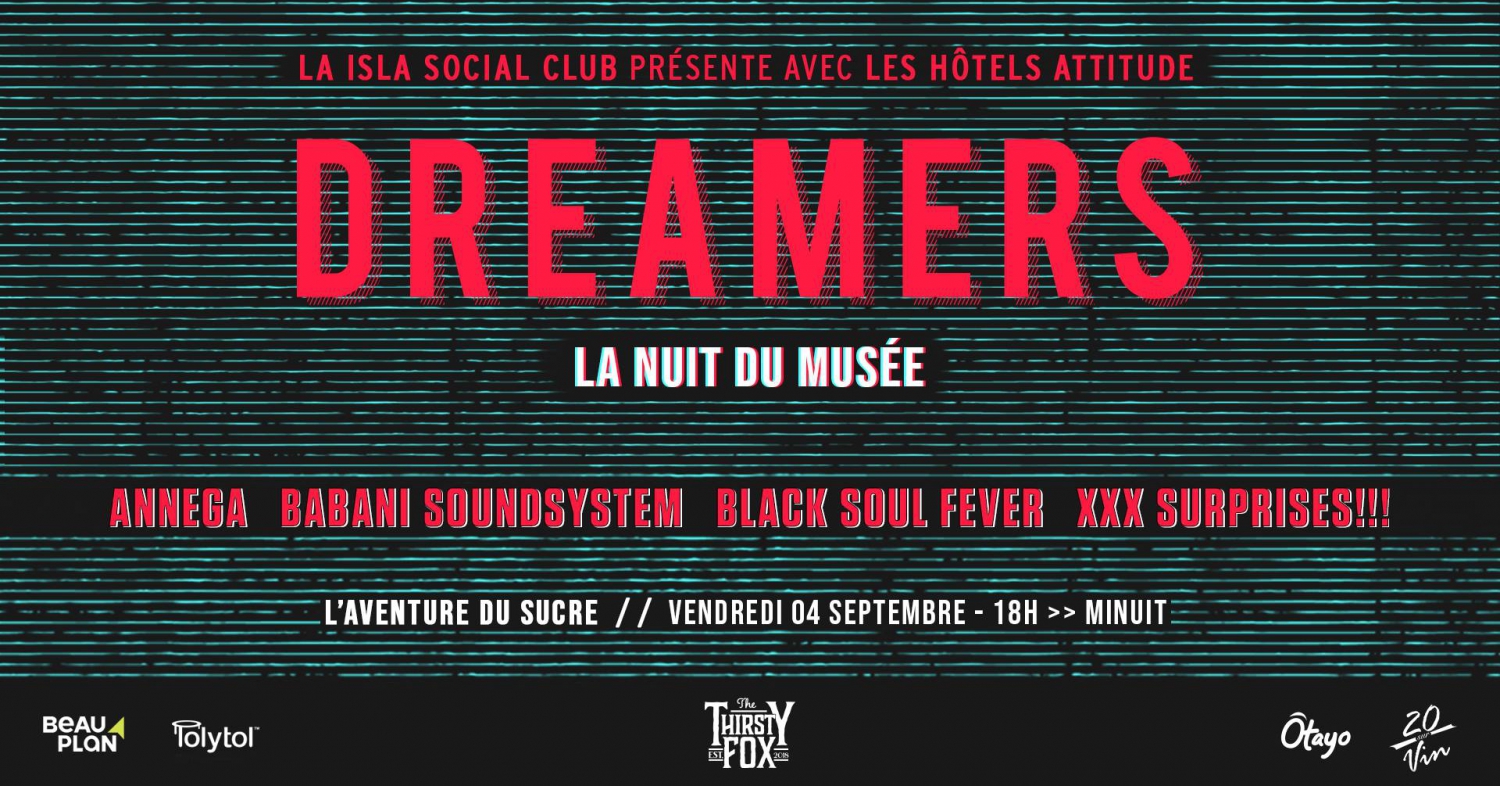 Event Details
📢 Friday September 4, it's the big night, it's the rendezvous of the Mauritian new wave, it's DREAMERS!

La Isla Social Club presents 'Dreamers - La Nuit du Musée' and takes possession of an emblematic site of Mauritian culture, currently closed: the Sugar Adventure Museum! Meeting from 6 p.m. to midnight with a hot program:

⚡ 6:00 PM HAPPY HOUR THE THIRSTY FOX
Come early! One The Thirsty Fox beer purchased = 1 free beer, while listening to La Isla Social Club's electric playlist.

🔥 7:00 p.m. BLACK SOUL FEVER
Soul-Electro // The winners of the Konpoz to Lamizik competition open the event with their contagious energy. The discovery of this Dreamers!

🔥 8:30 p.m. ANNEGA
Pop // The new star of Mauritian music takes the Dreamers stage with her head full of dreams. Before the release of his 1st album, this is the concert not to be missed.

🔥 10 p.m. BABANI SOUNDSYSTEM
Electro-Fusion // Mauritius' most exciting electronic band is preparing a big surprise for Dreamers. Promise it will shake ... and dance! ️

🎨 Live Painting with ROMAIN GOVIND
⚡ And full of surprises!
---

TICKETS //
🎟️ Super Early Birds (Rs400) - SOLD OUT
🎟️ Cool Price (Rs500) - SOLD OUT
🎟️ Last Chance (Rs600) >> NOW

Where to buy your ticket ?:
👉 www.laislasocialclub.com/tickets
👉 Le Rendez-Vous (Grand Baie La Croisette)
👉 La Terrasse (Labourdonnais)
👉 L'Aventure du Sucre (Beau Plan)
👉 Otayo
🚪 Rs800 - Subject to availability // Free for kids (-12)

MUSEUM INFO // Especially for Dreamers, the Sugar Adventure Museum turns on its lights again in its 2 main hangars. A large part of the museum will be open to visitors, including the temporary exhibition by Joshila Daby. As the museum is non-smoking, an outdoor area will be set up with a bar.

BARS & FOOD INFO // 🍺 Main Bar in the boat with The Thirsty Fox 🍹 Cocktail Bars with Grays (New Grove, Jack Daniel's) 🍷 Outdoor Bar with The Thirsty Fox & Oxenham 🍔🍟 Food with Le Fangourin ♻️ Dreamers is 100% Ecocups

CAR ACCESS INFO //
⚠️ Beau Plan being under construction, the museum is accessible from the 1st roundabout of Pamplemousses for those coming from Port-Louis (that of Engen, direction SSRN Hospital).
🅿️ The first to arrive park at the museum, then at the Balance, then at the Business Park.
➡️ The Dreamers entrance will be at the back of the museum on the Balance side!

LA ISLA TV INFO
🎬 The La Isla TV team will film the artists' performances for broadcast on the La Isla Social Club YouTube channel. © ️
📷 By participating in Dreamers, you agree to appear in the photos and videos of the evening which will be published by La Isla Social Club on its Instagram, Facebook and YouTube pages. La Isla Social Club and L'Aventure du Sucre reserve the right to use these images and videos for any other distribution.

--- Dreamers is an event imagined by La Isla Social Club in collaboration with Attitude hotels and with the support of The Thirsty Fox, Beau Plan, L'Aventure du Sucre, Polytol, Otayo and 20surVin.