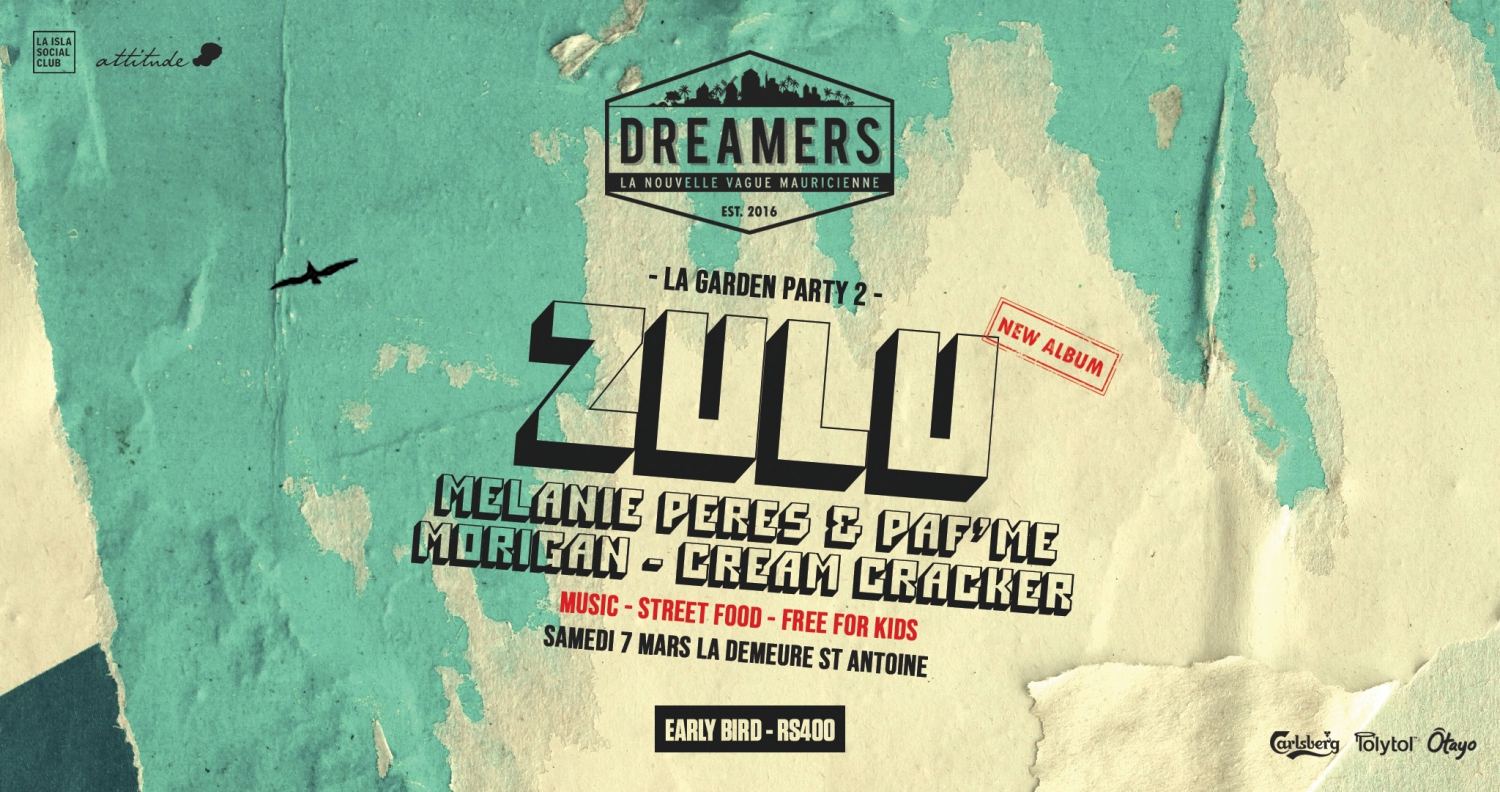 Dreamers - La Garden Party 2
Sat Mar 7th 2020 at 15:00 until 22:00
---
Mauritius
,

La Demeure St Antoine

Mauritius
https://www.myguidemauritius.com/events/dreamers-la-garden-party-2
BOOK NOW
Event Details
Zulu has chosen Dreamers to launch his new album 'Tango Bluz'! For the occasion, La Isla Social Club has imagined a lively program in the magical setting of La Demeure St Antoine. The artist from Mahébourg will be surrounded by new Mauritian groups that are rising, Mélanie Peres ft Paf'Me (winners of Konpoz to Lamizik) and Morigan. The electro producer Cream Cracker will close this Garden Party 2 full of promise. Come with family and friends, Saturday March 7 from 3 p.m. to 10 p.m., at La Demeure St Antoine!

THE ARTISTS
⭐ ZULU // For Dreamers, the artist from Mahébourg unveils 'Tango Bluz', his 3rd album. After 'La Métisse', 'Gabriella' or 'Piment Rouge', Zulu returns with 12 titles with touching texts and frenzied rhythms. Fruit of 2 years of work, this new album with the sounds of 'Africa, Havana, India and Cape Verde', is the event of this Dreamers.

⭐ MELANIE PERES FT. PAF'ME // Attention blow of heart! The winners of Konpoz to Lamizik, a dream association between the former Flashback singer and half of the group Les Inkonnus, promise a lively (and moving) live.

⭐ MORIGAN // This Dreamers will start (very) strong with Morigan! Unanimously praised at the Underground Rock Festival, Morigan is THE new rock band to follow on the island. Get ready, the first album is coming soon

⭐ CREAM CRACKER // We no longer present Cream Cracker. The Mauritian electro producer, armed with his machines, will be in a dj set from 8 p.m., to close, his feet in the grass and his arms in the air, this Dreamers La Garden Party 2.

⭐ ?? - [Live painting] // Polytol, painting partner of La Isla Social Club, is associated with the live painting of this Dreamers La Garden Party 2. The artist will be unveiled soon ...

THE TICKETS ️
Early Bird: Rs400 (Sold Out) ️
Cool Price: Rs500 (Currently & Limited)
👉 Available only on www.laislasocialclub.com/tickets OR via the Otayo network (466 99 99) 👩‍👧

Free for kids (-12 years old)
🚪 Doors Rs800
DRAW ⛱ Win 1 night for 2 at The Ravenala Attitude (with your presale only) 🎩 Draw with Zulu

THE PLACE & THE RESTAURANT
🌳 La Demeure Saint Antoine, a Mauritian heritage site, is located in Goodlands in the direction of Poudre d'Or.

The restaurant at La Demeure will offer a 'Special Dreamers' Menu. Book your dinner now on 282 18 23 or info@lademeuresaintantoine.com

BARS
🍸 The Cocktail Project with New Grove Rum Citizen Bar with Jack Daniel's
🍺 Tranquilo Bar with Carlsberg STREET FOOD
🍟 Snacks with La Demeure Saint Antoine
🍕 Pizza Truck KIDS CORNER
🍭 Cotton candy Popcorn
💈 Grated ice cubes
🏰 Bouncy castle

STANDS
🔥 LA ISLA 2068: Unveiled programming and sale of the latest Super Early Birds. ️🎶 Konpoz To Lamizik: CD sale 👕 The Kreol Republic: The Mauritian pop and trendy brand returns with a new collection! (more info to come)

----- Dreamers is a cultural event imagined by La Isla Social Club in collaboration with the Attitude group, and with the participation of the Grays group (New Grove Rum, Carlsberg, Jack Daniel's), Polytol and Otayo. The concept of 'Dreamers: The Garden Party' was born out of a collaboration between La Isla Social Club and La Demeure Saint Antoine.