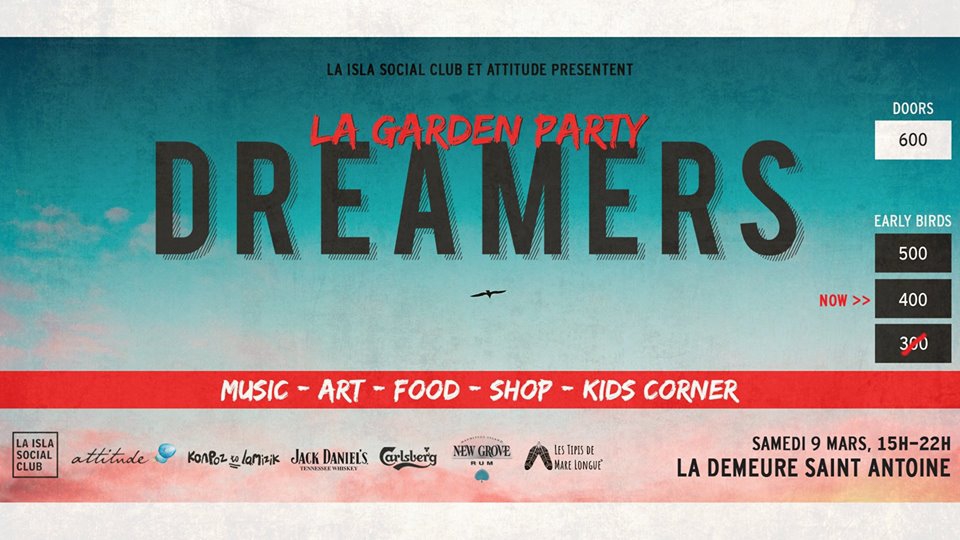 Dreamers: La Garden Party
Sat Mar 9th 2019 at 15:00 until 22:00
---
Mauritius
,

La Demeure Saint Antoine

,

Riviere du Rempart
https://www.myguidemauritius.com/events/dreamers-la-garden-party
BOOK NOW
Event Details
Before the big jump in the second edition of the LA ISLA 2068 festival, La Isla Social Club celebrates the ninth edition of DREAMERS on a new and exceptional format: a Saturday afternoon, from 15h to 22h, in the magical setting of La Demeure Saint Antoine. This Saturday, March 9 will be sunny, festive and family. Welcome to Dreamers: The Garden Party!

THE PROGRAM [unveiled over the next few days here]
⭐ Richard Beaugendre - [Live]
⭐ Sebastien Margéot - [Live]
⭐ Shekina Mootanah - [Live piano]
⭐ Matsonic - [Dj set]
⭐ NIM - [Live painting]

THE TICKETS
️ Super Early Bird: Rs300 (50 tickets) - Sold Out
️ Cool Price: Rs400 (100 tickets) - CURRENTLY
️ Last Chance: Rs500 - Coming Soon
🚪 Doors Rs600

Buy your ticket (Rs400) now on:
- www.laislasocialclub.com/tickets
- or in our 5 points of sale:
✏️ The Workshop - Pamplemousses
👒 The Rendez-Vous - Grand Baie
☕ La Terrasse Cafe Labourdonnais - Mapou
The Saint Antoine - Goodlands
💈 The Isla Social Club - 5 718 5074 / Corderie street - Port Louis

👩👧 Free for kids (-12 years old)
✉ ticket@laislasocialclub.com

THE PLACE & THE RESTAURANT
🌳 The Saint Antoine mansion and its unique historical setting, will be the magical setting of this 'Dreamers: The Garden Party'. This Mauritian heritage site is located in Goodlands in the direction of Poudre d'Or.

La Demeure's restaurant will offer a 'Special Dreamers' Menu including the entrance ticket to the event. Book now your dinner + entry on 282 18 23 or info@lademeuresaintantoine.com

BARS & FOOD
🍸 The Cocktail Project with New Grove Rum // Citizen Bar with Jack Daniel's Mauritius and Carlsberg // Bottle Bar with 20 / Wine // 🍕 1 Pizza Truck with Slice Wood Fire Italian Pizza // 🍟 Snacks with La Demeure Saint Antoine. ..

KIDS CORNER
👩👧 Free for kids (-12 years old)
🍭 Cotton candy // Popcorn // 💈 Grated ice cubes // 🏰 Inflatable castle

STANDS
🔥 ISLA 2068: 2 tickets to win for the 2nd edition of La Isla Social Club's New Generation Festival
️🎶 Konpoz To Lamizik: Registration for the musical contest initiated by Attitude Hotels
✊ The Kreol Republic: The Brand designed and made in Mauritius for all Cool Mankind

DRAW
⛱ Earn 1 night for 2 in the Hotels Attitude (with your presale only)
🎩 Draw on stage, the Dreamers night

Dreamers is a cultural event conceived by La Isla Social Club in collaboration with the group Attitude, and with the participation of the Grays group (New Grove Rum, Carlsberg, Jack Daniel's), and the Tipis de Mare Longue. The concept of 'Dreamers: The Garden Party' was born from a collaboration between La Isla Social Club and La Demeure Saint Antoine.