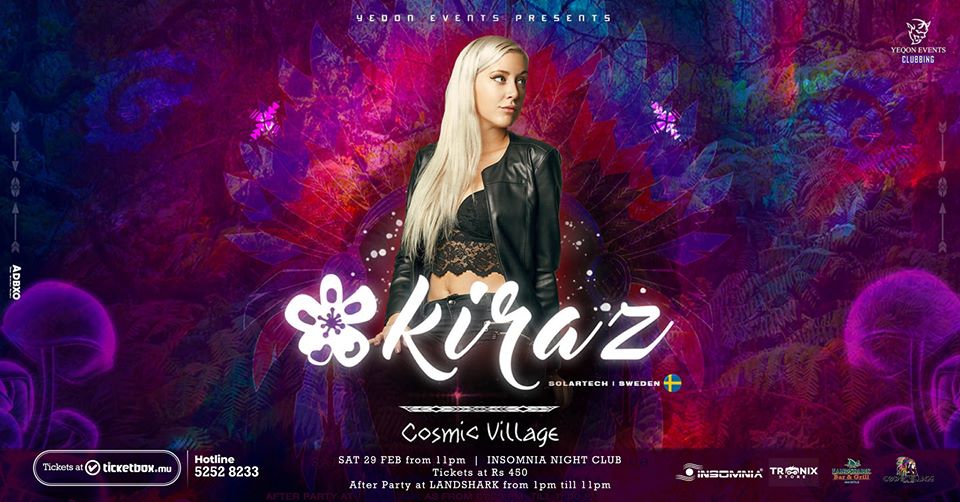 Event Details
International PSY TRANCE DJ. Kiraz from Sweden represented by Solartech Label
Kiraz is an international PSY Trance DJ from Sweden and represents SolarTech Labels.

Kiraz first made her mark on the electronic music scene as a DJ in Tokyo between 2010 and 2013, where she regularly played some of the biggest clubs and festivals in and around the city. Over the last few years this Swedish-born artist has also been gaining attention in the U.S. becoming a resident at top performing nightclub Exchange LA. After her success as a DJ, Kiraz delved in to the art of music production and had her first release on Lono Records in April of 2017. Her continuous dedication to and love for the psychedelic trance sound shines through in her DJ sets, and she conveys that energy and emotion to her audience through her music.
Two Dancefloors (1 psy trance and 1 techno music )

Tickets: Online

Rs450 Presale
At door Rs500

Line up:
PSY Trance
She Devil
Vee Opiah
Kiraz (Headliner)
DJ Yankee

Techno
DJ Jean Domingo
Ceam Cracker
Aakash Kalachan
Thierry Maurel (Fraktal)
Kevin O'keeffe
Yuanka G.

Free entrance for those who celebrate there birthday on 29.02.2020.

Then 01.03.2020

After party at landshark as from 01 pm till 11 pm at door Rs500. Free entrance for ticket holder of the main event.