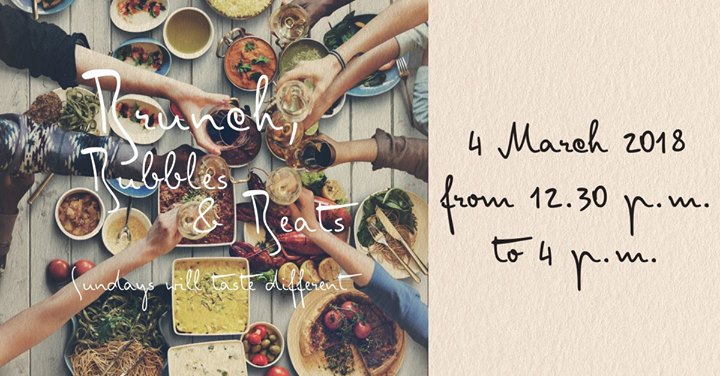 Event Details
Brunch, Bubbles & Beats is back again this March 4th!

Sample from hundreds of the finest cuisines Mauritius has to offer and sip refreshing bubbly on the East Coast!

Make sure to book your spot early: 52591441 / 5255 3892 / 4027400 / restaurant-reservations.sltr@shangri-la.com

You'll sit back in wonder as you take in the Mediterranean delicacies from Le Bazar, fresh Japanese delights from Kushi and Indian flavours from Safran, and listen to some of the best live entertainment in Mauritius filling the air!

- At Kushi, taste the excellent ceviche station and the Red Grouper cooked by 5 techniques (Tataki, sashimi, steamed, tartare and blow torch)

- Be amazed at Safran with our Paani poori live station served with 3 different fillings & chutneys, the Peshawari naan (naan stuffed with raisin, coconut & cardamom powder) and the hot venison soup

- Experience a whole lamb cooked underground in an earth oven and a pork iberico corner with spare ribs, glazed loin, roasted neck and glazed ham at Le Bazar

- Our cold section will include a large cheese display (30 types of cheese) with cheese fondue

- At Place du Village, indulge in Chef Ahmed's short ribs with BBQ sauce and shaved truffle; Chef Andras' seared salmon sashimi with foie gras and yuzu miso sauce; Chef Francois' poached seabass with bouillabaise reduction, saffron potatoes, rouille and garlic crouton and prime ribs carving

- For dessert, try Chef Raj's chocolate chips cookies filled with vanilla bourbon ice cream and salty caramel sauce

Rum & Jazz Band with Toto Lebrasse and Philippe Thomas will provide some amazing beats for the afternoon, and guests artists will include Mylene, Roxanne and Judex Bamboche!

Unlimited culinary treats with soft drinks and juices:
Rs. 1,500 per person for the teens package
Rs. 2,000 per person including unlimited beer
Rs. 2,500 per person for free flow sparkling wine & house wines
4,500 for the unlimited Veuve Clicquot experience
🥂 🍾 🥂 🍾 🥂 🍾 🥂 🍾 🥂 🍾 🥂 🍾 🥂 🍾 🥂

Bring the family! Teens are welcome to join the brunch festivities with their family, and children between 4-12 can join our Kids Club with a special lunch for Rs 500.

Please note that this is a culinary experience only, and does not include access to the beach and pool facilities. Guests will have access to the 3 restaurants only until 4 p.m.
Entertainment will conclude at 4p.m.

Make sure to book your spot early: 52591441 / 5255 3892 / 4027400 / restaurant-reservations.sltr@shangri-la.com

We look forward to welcoming you to your Personal Paradise.