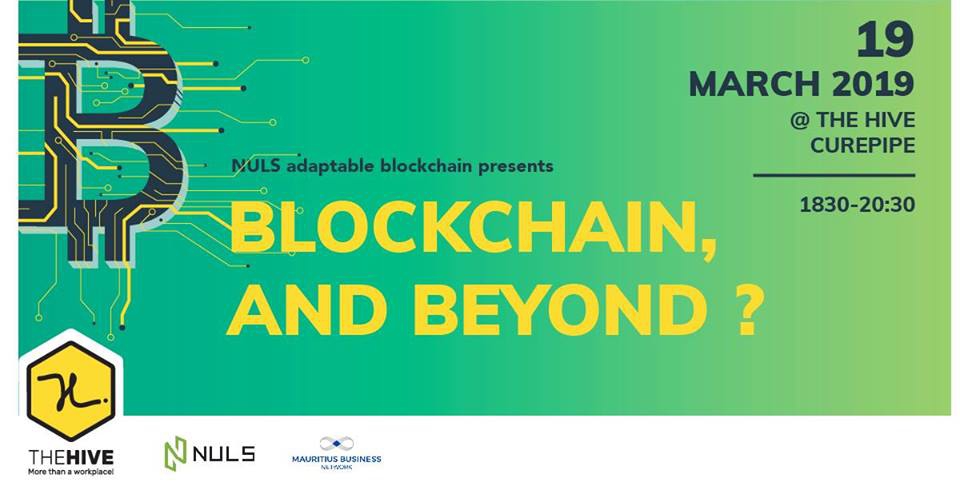 Event Details
Blockchain & Beyond # 2
The Hive in collaboration with NULS adaptable Blockchain and Mauritius Business Network is organizing a series of events around the topic of Bitcoin & Blockchain.

The event #1 was mainly about getting an introduction on the concept of Bitcoin.

For event #2, we will focus on Blockchain and we will go beyond!
You will get a deep understanding on what is blockchain, why are their so many types of blockchain and what is the difference between them. And as an example, Sebastien Ng Cheong Tin, our speaker and NULS Ambassador of Africa, will explain you the Nuls platform and how it works

This session will be interactive and much fun!

So if you are curious, come and join us on the 19th of March 2019 at 18h30 @ The Hive Curepipe!

After the session some snacks & drinks will be served ;-)

FEE:
Non-members: 150 Rs
Members of The Hive/ Nuls/ Mauritius Business Network: For Free

BOOK YOU SEAT by completing the form below:
https://goo.gl/forms/y4EFWMJ9pUMyDv3n2
Before the 16/03/19

If you have any question, feel free to contact us via: hello@thehive.mu

Special thanks to our sponsors PhoenixBev, Gister, BrandActiv, Baked In Brooklyn & Aloe Drink for Life!