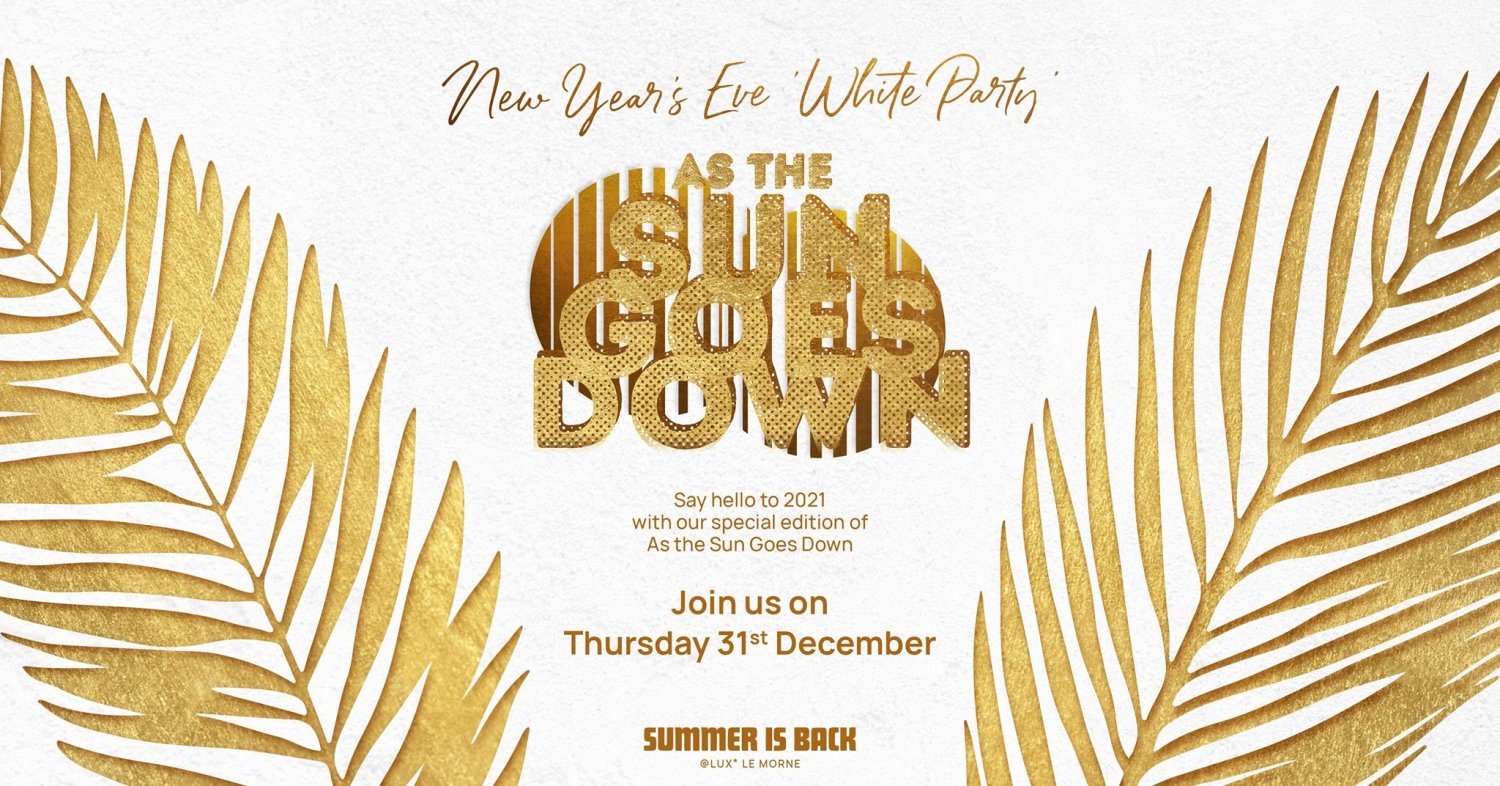 As The Sun Goes Down x NYE White Party
Thu Dec 31st 2020 at 23:00 until 06:00
---
Coastal Road

,

Mauritius

,

Le Morne
https://www.myguidemauritius.com/events/as-the-sun-goes-down-x-nye-white-party
---
LUX Le Morne
MAKE ENQUIRY
Event Details
𝗔𝘀 𝗧𝗵𝗲 𝗦𝘂𝗻 𝗚𝗼𝗲𝘀 𝗗𝗼𝘄𝗻 𝘅 𝗡𝗬𝗘 𝗪𝗵𝗶𝘁𝗲 𝗣𝗮𝗿𝘁𝘆
Say hello to 2021 with an exclusive edition of As the Sun Goes Down: a New Year's Eve 'White Party'.
Picture this: Dancing 'til sunrise toes-in-sand under the stars. Thousands of lights. Bonfires. Fireworks.
𝗜 𝗹𝗼𝘃𝗲 𝘁𝗼 𝗱𝗮𝗻𝗰𝗲. 𝗪𝗵𝗮𝘁'𝘀 𝘁𝗵𝗲 𝗽𝗹𝗮𝗻?
23:00-00:00: Temptation Band
00:00: Fireworks
00:00: DJ Francois Li / Avneesh / WOREKA /Brainlove
𝗪𝗵𝗲𝗿𝗲?
LUX* Le Morne Beach
Access to the event will be from Emba Filao restaurant – Le Morne Public Beach. Parking facilities.
Directions: -20,4546 S, 57,3126 E
𝗛𝗼𝘄 𝗺𝘂𝗰𝗵 𝗶𝘀 𝗶𝘁?
Entrance fee of Rs 1500 gives you access to the event
Early bird: Rs 1500 (until 12th December)
Regular entry: Rs 1,800 (13th to 30th December)
Tickets at the door: Rs 2,000
𝗖𝗔𝗟𝗟 𝟱𝟵𝟭𝟵𝟭𝟵𝟮𝟯 𝗧𝗢 𝗕𝗢𝗢𝗞 𝗬𝗢𝗨𝗥 𝗧𝗜𝗖𝗞𝗘𝗧𝗦
𝗪𝗵𝗮𝘁'𝘀 𝘁𝗵𝗲 𝗱𝗿𝗲𝘀𝘀 𝗰𝗼𝗱𝗲?
Beach White and barefoot!
𝗜 𝗹𝗼𝘃𝗲 𝘁𝗼 𝗲𝗮𝘁. 𝗪𝗵𝗮𝘁 𝗸𝗶𝗻𝗱 𝗼𝗳 𝗳𝗼𝗼𝗱 𝗮𝗻𝗱 𝗱𝗿𝗶𝗻𝗸𝘀 𝘄𝗶𝗹𝗹 𝘆𝗼𝘂 𝗵𝗮𝘃𝗲?
There will be an array of festive stands and live cooking stations with affordable drinks and food.
𝗖𝗮𝗻 𝗜 𝗰𝗼𝗺𝗲 𝗲𝗮𝗿𝗹𝗶𝗲𝗿 𝗳𝗼𝗿 𝘁𝗵𝗲 𝘀𝗽𝗲𝗰𝗶𝗮𝗹 𝘄𝗵𝗶𝘁𝗲 𝗱𝗶𝗻𝗻𝗲𝗿?
Call us on 59128644 to book your New Year's Eve table – limited seats.
𝗗𝗶𝘀𝗰𝗹𝗮𝗶𝗺𝗲𝗿
By participating in this event you accept to be photographed and filmed.
New hygiene standards – Compulsory: We recommend to wear masks while accessing the event – Temperature check and hand sanitization

*The management reserves the right of admission.
*Security check at the entrance.