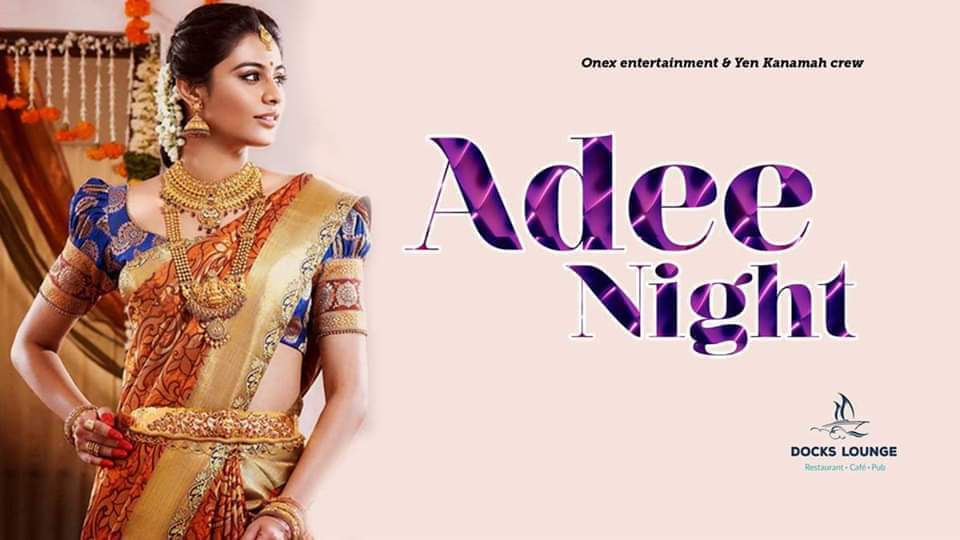 Event Details
ONEX Entertainment PROUDLY PRESENT:-
――――――――――――――――――――――――――――――
★ ☆ ★ ADEE NIGHT ★ ☆ ★
――――――――――――――――――――――――――――――
WE ARE SO PROUD TO PRESENT YOU ADEE NIGHT 2020
THIS YEAR, WE WILL BE INTRODUCING AN EXCLUSIVE AREA IN PORT LOUIS
▬▬▬▬▬▬ OPENING CEREMONY ▬▬▬▬▬▬

▬▬▬▬▬▬ ARTISTS ▬▬▬▬▬▬
HEADLINER: SKY TO BE
★★ LOCAL ACTS ★ - ★ MAIN STAGE ★
SKY TO BE
Nitish Joganah
Ram Joganah
Bruno Mooken
Zul Ramiah
Grup Latanier
Cannen Samynaden
YEN KANNAMMA Crew
Velex
Madii Madii

★★ LINE UP ★ - ★ SECOND STAGE ★

10pm DJ Gulu
11pm DJ KOV
12pm DJ EJILEN FAYA
01am DJ Steven Makiah
02am Sivam Chellen
03am DJ ANGEL
04am DJ Gulu

★★ MASTER OF CEREMONY ★
Ryan Top FM
Elvissen Adaken
Dishnee
▬▬▬▬▬▬ TICKETING ▬▬▬▬▬▬
PRESALE
STANDARD RS 350 | VIP ON RESERVATION ONLY
AT DOOR
STANDARD RS 400 | VIP ON RESERVATION ONLY
BUY YOUR TICKETS NOW !
ONLINE TICKETS: Coming Soon
IN-SHOP
Point of sale
▷ V.S FASHION - CUREPIPE
▷ V.S FASHION - EBENE
▷ V.S FASHION - ROSE HILL
▷ VASSEN SHOPPING CENTRE - PORT LOUIS
▷ METRO MUSIC SHOP - BELLE ROSE
▬▬▬▬▬▬▬▬▬▬▬▬▬▬▬▬▬▬
THE STRICT DRESS CODE: SMART & STYLISH ATTIRE ALLOWED, NO SPORTSWEAR OR HATS ALLOWED
WE RESERVE FOR YOU:
AN EXCLUSIVE LIVE SHOW !
THE PRESENCE OF OUR BEST LOCAL DJ!
2 BIGGEST DANCE FLOOR
A STAGE OF THE BEST LOCAL ARTIST !
AN INFORMED AND SECURE PARKING !
SECURITY OFFICERS TRAINED!
A BAR SERVICE WITH THE BEST TEAM!
AN EMERGENCY SERVICE!
TOILET WITH ALWAYS CLEANING SERVICE FOR EACH SECTION!
HOTEST ARE WELCOME IN HIGH HEELS!
FIREWORK SHOW
▬▬▬▬▬▬▬▬▬▬▬▬▬▬▬▬▬▬▬▬▬▬▬▬▬▬▬▬▬▬▬▬▬▬
THE MANAGEMENT OF ONEX ENTERTAINMENT RESERVES THE RIGHT OF ADMISSION.
LA DIRECTION DE ONEX ENTERTAINMENT RÉSERVE LE DROIT D'ADMISSION.
BY ATTENDING THIS EVENT YOU ARE AGREEING TO BE FILMED & PHOTOGRAPHED.
HOTLINE: 5 792 07 28
FOR ALL PRESS RELATED INQUIRIES PLEASE CONTACT: 5 909 80 16 OR EMAIL: onexfm@gmail.com
Proudly Sponsored by
PR Legal
Le Capitaine GBaie
Renganaden Pillai SOUND
Vasen Big Security Ltd
Air Austral
Vassen Shopping Center
Magasin Rajen
Shop Worthy
Bella Amigo Petit Raffray
VS Fashion
Metro music shop
The Club House
ONEX FM
ONEX Entertainment
Let's all enjoy the party!